CyclistsHub is supported by its readers. We may receive a commission if you buy products using our links (learn more).
This is my comparison of Garmin Edge 1030 Plus vs. Edge 1040 (Solar).
I used both bike computers for a few months, so I summarized their pros, cons, and differences in this article.
The main difference between Edge 1030 Plus and Edge 1040 is that the Edge 1040 has a longer battery life, is faster, and comes in a Solar version that can charge itself while riding. Other improvements include a redesigned user interface, a USB-C charging port, and many new features.
So, is the Edge 1040 worth paying more?
Let's find out, or…
Edge 1030 Plus vs. Edge 1040 Basics
Here is the summary of the main differences between Garmin Edge 1030 Plus vs. Edge 1040 (Solar).
This table compares the main features of Garmin Edge 1030 Plus vs. 1040 (Solar).
¹Based on my unscientific testing - multiple rides with multiple connected sensors (HR, power meter, radar), and navigation turned on during about 30% of rides. Auto brightness on.
²Almost 2-year-old device.
³In ideal conditions.

Let me now explain them in depth.
Edge 1030 Plus vs. Edge 1040 What's the Same?
Edge 1030 Plus and 1040 are similar to a large extent. This is because the Edge 1040 is the new generation of the Edge 1030 Plus. They share the same:
Display size,
box contents (mounts, tether, charging cable, documentation), the Solar comes with 3 mounts and a case,
water resistance (IPX7),
connectivity,
safety features,
and more details.
Other features differ. Let's examine them in more detail.
Edge 1030 Plus vs. Edge 1040 Features Comparison
Below, I compare these two bike computers' most important features and differences.
Physical Dimensions & Weight
Garmin Edge 1030 Plus and 1040 have almost the same dimensions. However, the 1030 Plus is slightly lighter at 124g compared to the 1040's 126g. The Solar version of the Edge 1040 is slightly heavier at 133g.
Both models are among the largest head units available. On the other hand, alternative bike computers like Bryton Rider 750, Wahoo ELEMNT ROAM, etc., are smaller and lighter.
The Edge 1040 (Solar) features a new metal mount and sleeker curves, making it feel more premium in hand than the 1030 Plus. Additionally, the eyelet for the safety tether is no longer centered.
Display
The display size of 3.5 inches, resolution, responsivity, and readability remained the same. It's one of the biggest among all bike computers on the market.
They can show up to 10 data fields that are easy to read. It's disappointing that Garmin doesn't allow for more data fields to be displayed, even though there's enough space for 12.
But, thanks to the improved user interface, the Edge 1040 and 1040 Solar feel clearer.
The Edge 1040 Solar has an in-built solar panel that allows it to charge itself, but more about this feature later.
It's important to note that the 1040 Solar display is slightly dimmer than the Edge 1040 because of the solar panel.
Winner: It's a draw
Control & User Friendliness
Although the Garmin Edge 1030 Plus and Edge 1040 bike computers look almost identical on the outside, they differ in software.
The Edge 1040 features a fully redesigned user interface that is much easier to navigate and more intuitive than the previous one. Garmin deserves credit for the improvement.
However, the touchscreen display has minor reliability issues when wet. Simply wiping the water off with your hand can improve control.
Tapping the desired field while wearing full-finger gloves is sometimes difficult, so I recommend buying tight touchscreen-compatible gloves for easier control.
You can also customize the Edge 1040's data fields and other settings via the Garmin Connect smartphone app, but I found it paradoxically faster to do so on device.
It appears that Garmin took note of reviews and feedback on Wahoo ELEMNT bike computers, known for their intuitiveness.
We'll see if Garmin implements this functionality into older units like the Edge 830 or 1030 Plus via future updates.
Winner: Edge 1040 (Solar)
Battery Life
Battery life is one area where there are significant differences between these bike computers.
Garmin claims the 1030 Plus can last up to 24 hours of 'heavy' use. The Edge 1040 can last up to 35 hours, and the Edge 1040 Solar can last up to 45 hours in ideal conditions.
In battery saver mode, the Edge 1040 can last up to 70 hours, and the Edge 1040 Solar can last up to 100 hours. That's impressive!
But what about real-life usage?
With the 1030 Plus, I got about 18 and a half hours with a connected Varia radar, HR sensor, power meter, and phone, and turned on navigation for about 30% of the rides. Please note that the tested head unit was almost 2 years old.
The Edge 1040 lasted 31.5 hours. Crazy.
NOTE: I used both head units on auto-brightness.
The 1040 Solar can charge itself while riding. Garmin claims Solar extends battery life up to 42 minutes per hour in battery saver mode. In ideal conditions, of course.
It has a fully dedicated screen that informs you about this data. It's pretty cool.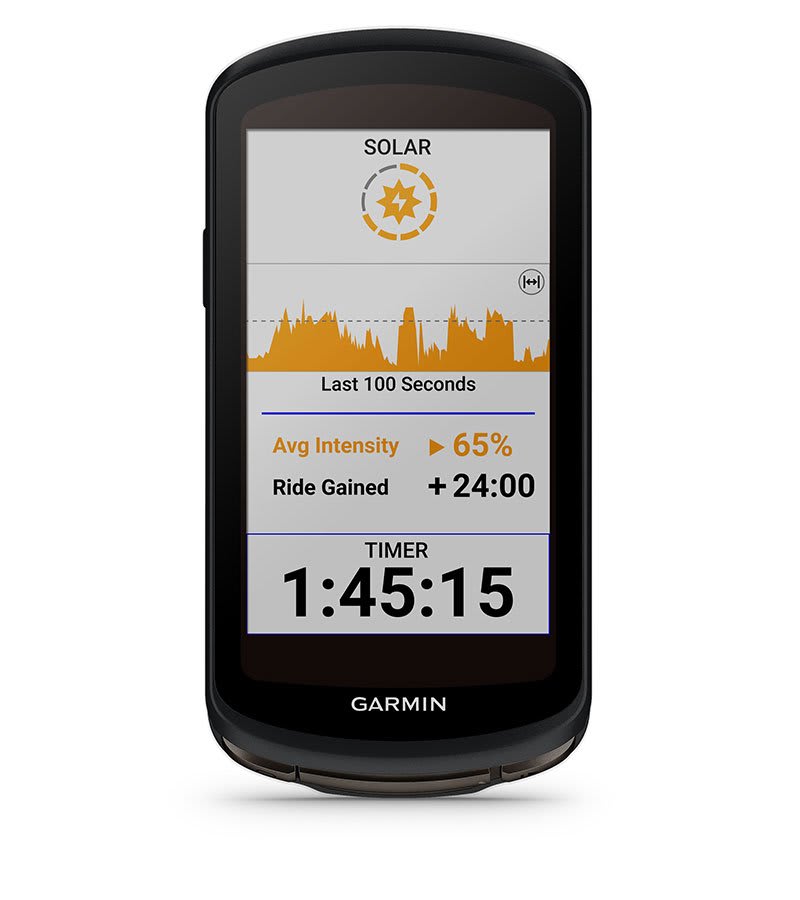 Is the Edge 1040 Solar worth the extra $150?
I don't think so. To me, the solar display (and the 64GB storage) seems more like a gimmick than a necessary feature.
Ultimately, it doesn't matter if you recharge the head unit every two or three weeks. The battery life is long enough for most riders. However, those who participate in ultra-distance cycling events may argue differently.
If you go bike packing, you can extend the battery life with Garmin Charge Power Pack.
Nevertheless, some may appreciate every extra hour of battery life.
Are you one of them? What are your thoughts on the Solar version?
Winner: Edge 1040 (Solar)
Maps & Navigation
Garmin Edge 1030 Plus and 1040 offer a wide range of navigation features, but they mainly differ in speed and accuracy of calculations.
The Edge 1040 is on another level. It's super fast and accurate.
For example, loading a 130 km (about 80 miles) route took more than a minute on 1030 Plus, while 1040 was ready in a few seconds.
The Edge 1040 is also more accurate, thanks to the multi-band GNSS. See the following pictures from my ride. It even nailed what side of the road I was riding on!
Both computers come with preloaded Garmin Cycle Maps and can store additional regions.
The Edge 1040 comes with preloaded maps based on the location where you buy it, while the Edge 1040 Solar has all regions preloaded thanks to its 64GB storage.
Unfortunately, downloading maps wirelessly using the smartphone app is impossible, and you must use the Garmin Express desktop app, which seems outdated. Come on, Garmin, it's 2022!
Another change worth noting is the overall speed of the device. The Edge 1040 is not only faster at calculating routes but also when browsing points of interest (POIs).
It also has an up ahead waypoints feature that shows the distance and estimated time to reach a waypoint. However, the estimated time is based on average speed and may not consider uphill sections.
We will see if Garmin will adjust this feature to provide estimates based on the current speed and other data.
Winner: Garmin Edge 1040 (Solar)
ClimbPro
One of the most popular features of Garmin bike computers, ClimbPro, also got an upgrade. The new version shows more detailed gradients, providing more information about upcoming terrain changes.
The Edge 1030 Plus had trouble accurately tracking gradient changes, but the Edge 1040 appears to be more reliable in this regard.
Winner: Garmin Edge 1040 (Solar)
Real-Time Stamina
Garmin introduced the Real-Time Stamina feature earlier this year on their Garmin Fenix 7 smartwatches, and now, they implemented it on the Edge 1040.
What is Real-Time Stamina?
In short, Real-Time Stamina shows how long you can ride at your current pace and how much energy you have in the tank.
Here's a more detailed explanation of how this feature works: Real-Time Stamina estimates your exertion during your ride, allowing you to manage your effort more effectively.
It works based on your heart rate, power, and VO2 max.
Stamina displays how much performance you have left at your current pace, factoring in your current effort and previous activities. However, if you haven't fully recovered from your last ride, your stamina won't be 100% at the start of a new one. Slowing down and riding at a lower intensity can help you restore some of your stamina.
Potential stamina indicates the percentage of potential energy you've used up, making it especially helpful for longer rides.
What if your stamina comes close to zero?
As your stamina approaches zero, you will likely find that your ability to sustain hard efforts is significantly compromised. You may be unable to attack or maintain speed on climbs. You will still, however, likely be comfortable sustaining moderate-intensity efforts slightly below your lactate threshold or FTP provided you still have potential stamina available. (Source)
What if your potential stamina comes close to zero?
When your potential stamina is depleted, you will probably find maintaining even a moderate-intensity effort is a significant challenge. It doesn't necessarily mean you won't be able to put one foot in front of the other but expect to find yourself more focused on simply completing the course than achieving a great result. (Source)
I recommend watching the following video where Dan explains the feature based on his Time Trial.
I appreciate the feature, although I don't depend on it entirely (at times, you just have to stick with the group pace).
In any case, Garmin appears to be moving towards offering useful information to its customers and keeping them within its ecosystem.
Power Guide
Power Guide is a feature comparable to structured training, but it's applicable to routes.
With Power Guide, you can adjust your effort level based on your FTP, and the device will calculate your power targets to keep you from overexerting yourself.
This feature is particularly helpful if you want to ride in your endurance zone. You can also adjust the power levels during the ride if you feel good.
I find this feature useful when I want to improve my performance on a specific route, but I don't use it often.
Winner: Garmin Edge 1040 (Solar)
Other Features
Garmin Edge bike computers offer many features. To name a few:
Cycling Ability is a new feature in 1040. Based on your riding data, it tells you your rider type (climber, sprinter, etc.).
ClimbPro shows stats about the upcoming climbs based on a pre-planned route. This feature is helpful for climbers and riders who want to pace themselves better in climbs.
MTB Dynamics measures your jumps, grit, and flow. It's useful mainly for mountain bikers.
Incident/crash detection detects if you crash and notifies your emergency contacts.
Virtual Partner that you can use for pacing yourself.
Suggested workouts (and rest days) based on your activities.
Points of Interest navigation, and many more.
Both head units can display Strava live segments, are compatible with apps like Trailforks, and you can customize them with 3rd party apps from the Connect IQ store.
1040 is richer in features, but both bike computers crush their competitors.
Winner: Garmin Edge 1040
Total score: Garmin Edge 1030 Plus (0) | Garmin Edge 1040 (4) | It's a draw (1)
Edge 1030 Plus vs. Edge 1040 FAQ
My Verdict
The Garmin Edge 1040 brought many improvements and features compared to the 1030 Plus. Most notably:
Longer battery life (especially the 1040 Solar)
New features (Real-Time Stamina, Power Guide, etc.)
More detailed ClimbPro
Redesigned user interface
More accurate GPS
The Edge 1040 line has become the most advanced bike computer available in the market, making it the clear winner of this comparison.
However, this doesn't mean the 1030 Plus is a bad bike computer. Due to the significant discounts available, it is more enticing than ever before.
So, which one will you choose? Let me know in the comments below.