CyclistsHub is supported by its readers. We may receive a commission if you buy products using our links (learn more).
This article includes the best road bike wheels on the market. I spent dozens of hours researching and evaluating owners' reviews to provide you with tips on:
Aluminum and carbon wheels
Shallow and deep-section wheels
Wheels for rim and disc brakes
If you have no idea which wheels to choose, don't worry. Feel free to read my guide on choosing the right wheels based on your needs and riding preferences.
Let's dive in.
What Are the Best Carbon Road Bike Wheels?
The best carbon road bike wheels are those that meet quality standards like ISO 4210, are UCI-approved, or are certified by 3rd party authorities. They also should provide the right combination of weight, stiffness, aerodynamics, and durability.
Click here to learn more about carbon wheels and how they differ from aluminum wheels.
---
Lún (Winspace) HYPER
Lún (Winspace) HYPERs took the internet by storm in 2020. Some people think that the hype surrounding this Chinese wheelset is not justified. I don't think so (also based on my riding experience with them).
Many engineers and mechanics (e.g., Hambini, Peak Torque, Luescher Teknik, and more) reviewed this wheelset in-depth. They all came to a similar conclusion – these wheels are exceptionally good for their price.
I've been using them for several hundred km (I test more wheelsets at once), and their riding characteristics are great.
The only minor downside is their crosswind stability which is not as good as on heavier wheels.
TIP: Read this article to learn why Winspace introduced the 'Lún' brand and the differences between HYPERs and Lún Road Series wheels.
You can choose from the rim or disc brake option and multiple rim depths (38mm, 50mm, and 65mm), depending on your preference.
The packing includes QR skewers and brake pads (rim brake wheels), and tubeless rim tape, tubeless valves, and valve extenders (rim + disc).
HYPERs are covered with a 2-year warranty against manufacturing defects.
---
Zipp 303 S and 303 Firecrest
When talking about mainstream wheel manufacturers, Zipp is among the first few most people can think of.
Zipp's 303 'S' and 'Firecrest' series belong to the most popular thanks to their versatility, durability, and performance.
These wheelsets are perfect not only for road cycling but also for gravel. Thanks to their wider rim widths, they are suitable for wider gravel tires.
The difference between the 'S' and 'Firecrest' series is that the S series is more affordable but a little bit heavier. The Firecrest series is the best that Zipp offers – according to Zipp, Firecrest wheels are also faster.
There is no doubt that people who buy Zipp wheels also show their social status. Zipp wheels are more expensive than wheels of many brands. So, their price-value ratio is questionable.
Another feature that I want to point out is the hookless design of the rim bed. It brings a few benefits like lower weight and better transition between the rim and tire, but also a risk of blow-off at high pressures*. You also have to buy hookless compatible tires.
*The maximum allowed pressure is 72.5 PSI. (Source)
On the other hand, the other major advantage of Zipp wheels is their lifetime warranty.
---
Farsports Ventoux S
Farsports is one of the Chinese bicycle brands that have rich experience and produce high-quality wheels. They are on the market since 2004, but they are not widespread in the US or European market yet.
However, their wheels belong to the most premium Chinese wheels out there. The Ventoux series is the best they offer.
The more affordable Ventoux-C comes with Sapim spokes. The more advanced Ventoux S (EVO) with in-house carbon spokes and hubs.
Many engineers and experts reviewed and tested these wheels and agreed that the in-house-made hubs and spokes are well-designed and high-quality.
When riding them, I appreciated their high stiffness and resulting responsivity. They also can maintain speed on flats well and are more stable in crosswinds than HYPERs, for example.
Although they are not UCI-approved because Farsports haven't applied for this certification, they meet the UCI quality and ISO 4210 safety standards.
Demanding riders will appreciate a large number of options. You can also choose from:
Tubeless and tubular
Shimano, Campagnolo, or XDR hub
Steel or Ceramicspeed bearings
Multiple rim depths
Disc or rim brakes option
Farsports wheelsets come with a 2-year warranty and crash replacement program. If you damage your wheels during a crash, you get a 35% discount on the next pair.
---
Are these wheelsets too expensive for you? Check out the best road bike wheelsets under $1000.
---
Shimano Dura-Ace
Shimano is a leading manufacturer of bike components and accessories. Their Dura-Ace line is the best they offer. Naturally, it also includes wheels.
The Dura-Ace 9170 carbon disc wheels and the WH-R9100 carbon wheels with aluminum brake track (rim) are popular thanks to their durability, longevity, low weight, and high stiffness.
Both these wheelsets were released in 2017. The disc Dura-Ace 9170 wheels are 37mm deep. This rim depth makes them super-versatile – ideal for climbing and rolling terrain. They are fine for flats too.
The WH-R9100 are more popular among climbers because they are lightweight (1412g) and shallow. The front wheel is 21mm deep, and the rear wheel is 32mm deep.
Surprisingly, the price of the rim brake wheels is pretty affordable. The disc brake version is more expensive.
Shimano introduced a new Dura-Ace line in 2021 that will be available to the public in 2022. It also includes new wheels. However, this time, they come with 12-speed freehubs (instead of 11-speed), new rim profiles, and other improvements.
---
Elitewheels DRIVE
If you are looking for lightweight but affordable road bike wheels, the DRIVE series from Elitewheels should catch your attention.
I tested these wheels, and I was surprised by their quality and performance, considering their affordable price.
The 45mm version weighs only 1280g, making them super agile and responsive – ideal for all punchers, climbers, or riders who do crit races. DRIVE wheels are like a sports car.
They come with in-house designed hubs, carbon spokes, and ceramic bearings. You will also appreciate their unique, raw-carbon finish if you like to stand out from the bunch.
I am also satisfied with their stability in crosswinds. They feel almost as stable as the heavier YOELEO SAT PRO.
On the other hand, they don't maintain speed as well because of their lower inertia. So, they are not very suitable for TTs or steady efforts.
They also differentiate themselves with the wider external rim width of 28mm, making them more suitable for increasingly popular 28 and 30mm tires.
They come with included spare spokes, so if you damage them, you or your wheel builder can replace them.
Currently, they are not UCI approved. However, based on info from Elitewheels, they applied for the UCI approval and should receive it within a few months.
---
ENVE 65 Foundation Series
ENVE's Foundation series wheels are a perfect choice for riders who prefer flats, triathletes, and time trialists.
Because of their rim depth of 65mm, it takes a while to make them spin. But once you do, they will keep the momentum thanks to better inertia than shallow wheels.
If the rim depth of 65mm is too deep for you, you can also check out the 45mm version.
To maximize the aero benefits, ENVE recommends using them with 25 or 28mm tires.
Although this wheelset is premium, it is not the highest-end ENVE series. If you want to get the latest and greatest from ENVE, check out the SES series.
Keep in mind that the rim bed of the Foundation series is hookless, like on Zipp 303. This means that maximum tire pressure is limited to 90 PSI, and you must buy specific tires (learn more here).
This wheelset has an extended warranty of 5 years, tubeless valves, roll of tape, and pressure relief valve stem nuts.
Also available in 45mm rim depth
---
Prime BlackEdition 50 Carbon Wheelset
Prime is an off-mainstream manufacturer that produces high-quality wheels at a good price.
I selected their BlackEdition series because it includes many available options and performs well.
You can choose 28, 38, 50, 60, or 85mm rim depth. The 38mm and 50mm are the sweet spot for most riders. Additionally, all these rim depths come in a version for rim and disc brakes.
Except for the great price-value ratio, Prime wheels have a clean and minimalistic design and are pretty lightweight.
Unfortunately for Campagnolo fanboys (and fangirls), their freehub is available for Shimano and SRAM cassettes only.
These wheels have a 2-year warranty, QR + brake pads (rim brake), valve extenders, four spare spokes and nipples, and a 10-speed adapter.
---
YOELEO SAT C50|50 DB PRO Wheelset
YOELEO is another established Chinese manufacturer that produces quality carbon wheels, framesets, and accessories.
Their wheels are SGS-certified and UCI-approved, so you don't have to worry about any quality or safety issues.
YOELEO has three main lines of SAT wheels – STD, SL, and PRO. I explain how they differ in this article. However, the PRO line is the most advanced.
PRO wheels feature DT Swiss 350 or DT Swiss 240 EXP hubs and Sapim CX-Ray spokes. This combination brings great longevity and rigidity.
I like using these wheels on flats and rolling terrain. They perfectly maintain their speed and are very stable in crosswinds thanks to their weight and design.
All YOELEO wheels are available in multiple rim depths and types that include clincher tubeless-ready and tubular.
By the way, Hambini tested YOELEO wheels, and they outperformed some more expensive wheels from mainstream brands.
YOELEO wheelsets come with a 3-year warranty and one pair of titanium QR + ceramic brake pads (rim), two extra spokes, and valve extenders.
---
FLO 64 AS
I wish every brand would be like FLO. Their main added value is that they publish data about their wheels.
For example, the 64 AS wheels absorb 22.02 W with Continental GP 5000 tires at 22mph. For example, Mavic Open Pro Disc wheels absorb 30.94 W. Unfortunately, there are not many data samples to compare this value with.
These wheels feature in-house designed FLO Vortex 3 hubs with Japanese bearings and Sapim CX-Ray spokes. They are aero optimized for 25mm, 28mm, and 32mm tires. FLO even recommends Continental GP 5000 tires.
On the FLO website, you find recommended tire pressures depending on the tire width, weight, and type of pavement. I've never seen such a detailed guide, so make sure to take advantage of it.
Except for the performance benefits of their wheels, you will feel good about your purchase. FLO donates 1% of its sales to a Bike For A Kid program that purchases bikes and helmets for kids in need. FLO also plants one tree for every wheel sold.
FLO's AS series is also available in other rim depths (49 and 77mm), and you can choose the sticker color.
The main disadvantage of these wheels is their higher weight, so they are not suitable for climbers but rather for time trialists, triathletes, and riders who prefer flats.
---
ICAN AERO 40mm Wheelset
If you are looking for an aero and lightweight wheelset for a good price, ICAN's AERO series is the way to go.
ICAN is an established Chinese manufacturer with multiple wheelsets series. The AERO is the best they offer.
You don't have to worry about quality or safety issues because all ICAN wheels undergo internal testing and QA. The AERO series is also UCI-approved, so you can use it in official UCI events.
This wheelset is available with ICAN R01 and Novatec hubs. They perform more or less the same.
Choose from the rim or disc brakes and rip depths 35 to 55mm, depending on your preference and riding style.
The wheels come with QR and brake pads (rim brake option). Unfortunately, the disc brake option doesn't come with thru-axles.
You also get a 2-year warranty, and if you crash with these wheels, ICAN offers a 15% discount.
---
What Are the Best Aluminum Road Bike Wheels?
The best aluminum road bike wheels meet all necessary quality and safety standards, are durable, stiff, and have shallow rims of around 25mm. Additionally, high-end aluminum wheels weigh around 1500g.
Click here to learn more about aluminum wheels and how they differ from carbon wheels.
Shimano Ultegra WH-RS500
Shimano is not only a leading manufacturer of groupsets, but their wheels belong to the best ones on the market.
The Ultegra WH-RS500 released in 2019 are proven aluminum wheels ideal not only for climbers but also for riders who look for quality and durable aluminum wheels.
Thanks to their thoughtful design, they look great and will last you for years. And with minimum extra maintenance.
They are tubeless compatible, so you can keep up with the latest trends and use them with tubeless tires.
Considering their price and reviews of riders who have been using them for dozens of thousands of miles, these wheels are hard to beat.
Also available at competitivecyclist.com
---
Fulcrum Racing 3 C17
Fulcrum has been specializing in bicycle wheel manufacturing since 2004. They offer multiple road bike wheelset series. The lower the number, the higher-end wheels.
The Racing 3 is a mid-range series ideal for riders who want to upgrade their stock wheels or who are looking for spare training wheels.
According to reviews of riders online, these wheels are durable, reliable, and perform reasonably well. Additionally, they are about 100g lighter than Shimano Ultegra WH-RS500.
You can choose the freehub body either for Shimano/SRAM or Campagnolo cassettes.
They are covered with a 2-year warranty against manufacturing defects.
---
TIP: See these best budget road bike wheels.
---
Mason X HUNT 4 Season Disc
Established in the UK in 2015, HUNT is becoming increasingly popular. This is thanks to their direct-to-consumer model that allows them to sell quality products at competitive prices.
The Mason X Hunt 4 Season Disc wheelset belongs to one of their most popular models. It is affordable, versatile, and durable.
This wheelset is compatible with tubeless tires. Some people also use it on their gravel bikes because it can fit up to 45mm tires and is durable.
However, the extended warranty, 60-day ride & return policy, and crash replacement program are extras that may be a dealbreaker for many.
Another feature I want to point out is the reflective decal that improves your visibility and, therefore, your safety in low light conditions.
The major disadvantage of this wheelset is the lower weight limit of 100kg (220lb).
These wheels come with tape, valves, spare spokes, and axle adapters.
---
HED Ardennes RA PRO Disc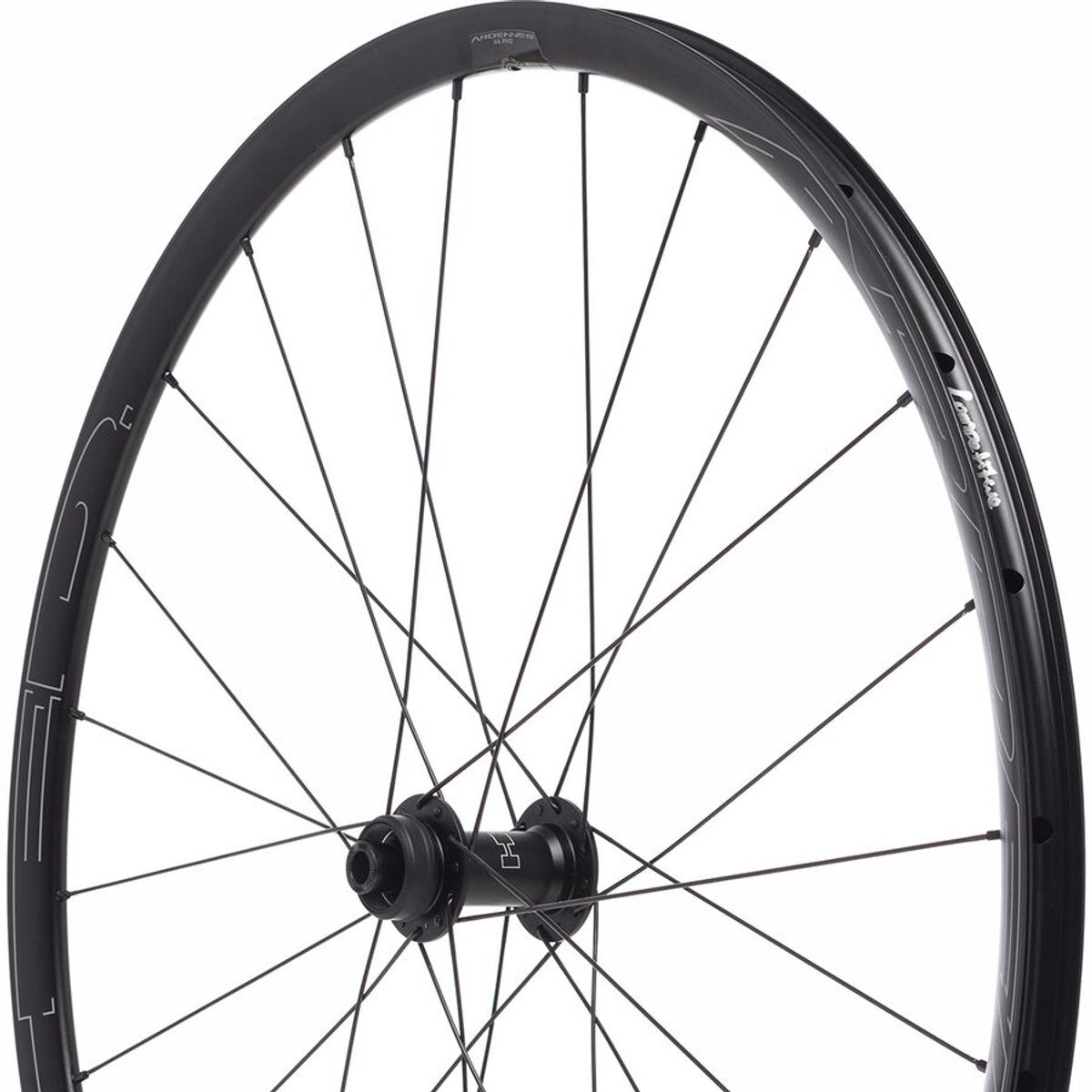 HED is a bicycle wheel company with rich experience. They have been designing and manufacturing wheels since 1984.
HED has all types of wheels on offer ranging from low-end for amateurs to high-end for pros.
Their Ardennes RA PRO series is a mid-range line of wheels ideal for riders who look for road bike wheels that can handle rougher terrain like gravel or forest roads.
The rims of this disc wheelset are tubeless-ready so you can use them with tubeless tires.
Hubs are the in-house designed HED Sonic 510. They are connected to the rims with Sapim Sprint Round spokes for efficient power transfer and durability.
The major disadvantage of this wheelset is the higher price than most alloy wheels on this list.
On the other hand, you get an extended 5-year warranty.
---
Campagnolo Shamal Ultra C17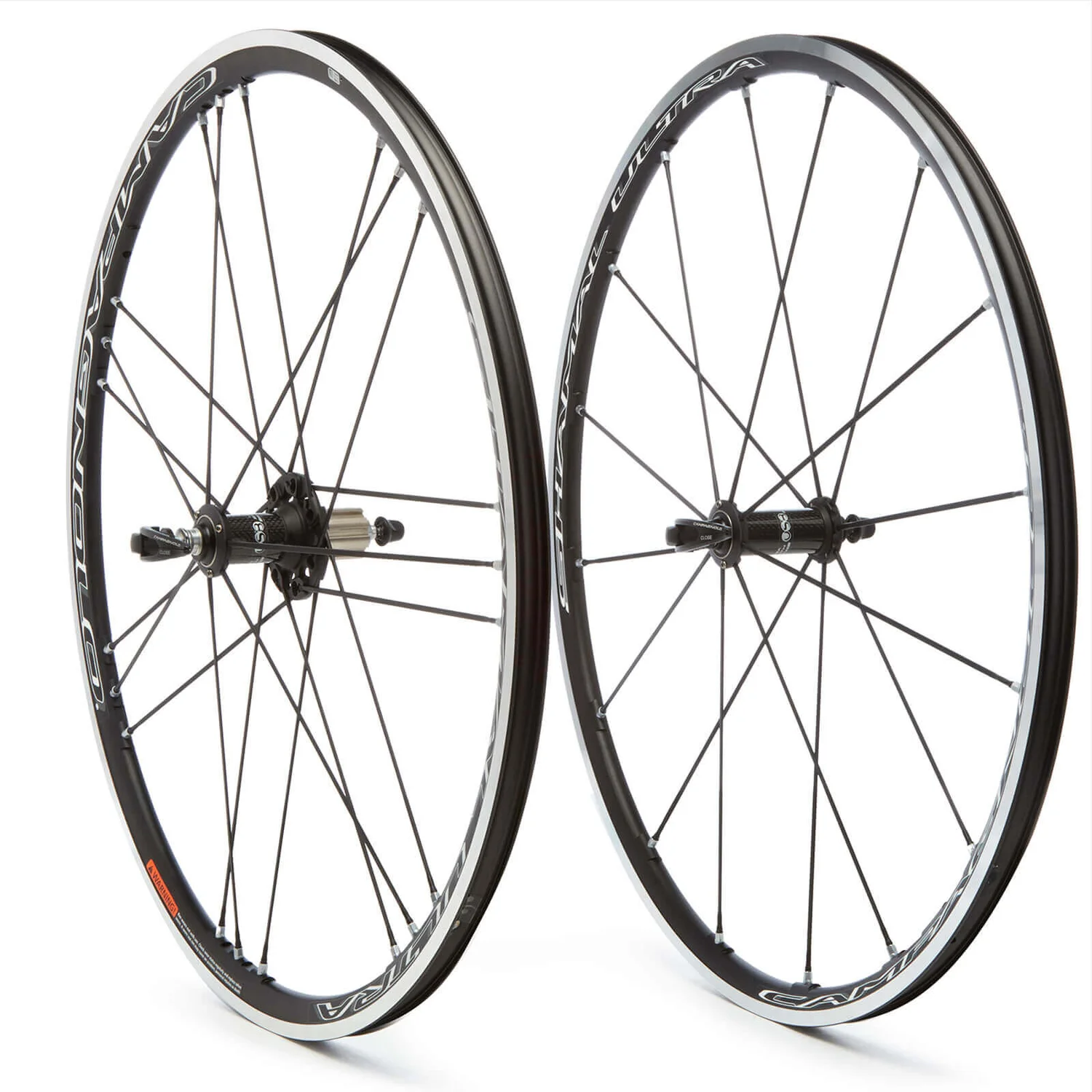 Campagnolo is not only known for its groupsets but also its wheels.
The Shamal Ultra C17 wheelset is a perfect upgrade to stock wheels. Thanks to its low weight of around 1450g, it is a wheelset ideal for climbers.
Campagnolo made these wheels so lightweight by using in-house designed carbon hubs and ceramic bearings.
Although you can choose Shimano and SRAM compatible freehub, I don't recommend mixing Campagnolo wheels with a Shimano groupset – it would look weird.
Unfortunately, unlike Mason X HUNT, HED Ardennes, or Shimano Ultegra WH-RS500, they are not tubeless compatible.
Ultra C17 wheels are also available for rim brakes only. They come with QR and a 2-year warranty.
---
---
My Verdict
When buying new road bike wheels, there are many things to consider. For example, depending on your personality, you may prefer the brand over performance and vice versa.
To get the best value for your buck, I recommend buying wheelsets from less-known, eventually Chinese brands.
Mainstream brands sell more expensive wheels because of their marketing activities and sponsorships. On the other hand, except from the product, you also get social status.
Due to the complexity of road wheels and different riders' preferences, there is no wheelset that will suit all. So, make sure to check out these lists and choose the ones you like – they are all great.
I hope this article fulfilled your expectations. If it did, feel free to share it with your friends or leave a comment below.
---
How to Choose the Best Road Bike Wheels?
New wheels cost hundreds to thousands of dollars. So it is important to choose them wisely.
Below, I will answer all your questions when buying a new road bike wheelset. The following part is the consolidated version of my How to choose road bike wheels guide.
Material: Carbon vs. Aluminum
When choosing road bike wheels, you can either buy carbon or aluminum wheels. So, how do they differ, and which ones are better for you?
Check out the following table of pros & cons of carbon vs. aluminum wheels and the tips below.
NOTE: There are also carbon rims wheels with aluminum brake tracks. They are lighter than standard aluminum wheels and have better braking performance than carbon rims.
Brake Type: Disc vs. Rim
To further narrow down the available options, look for either disc or rim brake wheels.
Disc brake wheels use a thru-axle (also called through-axle), while rim brake wheels quick-release skewer.
You can measure your thru-axle dimensions with a caliper and meter, or check out your bike's manual to determine its dimensions.
Did you know that about 85% of new road bikes in 2021 came with disc brakes? (Source)
Clincher vs. Tubular vs. Tubeless
Another imaginary filter that narrows down the available options is the type of wheels/tires.
I summarized their advantages and disadvantages in the following table.
Clincher
The clincher is the most widespread. An inner tube (made of rubber or latex) supports the tire that sits in the rim bed.
Clincher wheels are easy to maintain because when you get a puncture, it is easy to replace the inner tube. Road bike tires for clincher wheels are also cheaper than tubular or clincher (tubeless-ready) tires.
The major disadvantages of clincher wheels are that they are heavier than tubular wheels, and you cannot inflate them to as low pressures as tubular or clincher tubeless tires.
Tubular
Tubular tires have no inner tube inside. They are glued on the rims and inflated directly. They are widespread among pro riders, and very few hobby cyclists use them.
Their advantages are that they allow you to inflate lower pressures (i.e., better riding comfort and puncture resistance). Tubular wheels are also lighter than clincher wheels because they don't have a rim sidewall.
The main downside of tubular wheels is that when you want to replace the tire, it can be messy work. Its replacement is more complicated than the replacement of clincher tires or an inner tube.
Tubeless
Tubeless tires are becoming increasingly popular. As their name suggests, they don't use the inner tube as standard clinchers.
When the rims are tubeless-ready, the tubeless tire ensures the air won't leak. They are also filled with a sealant that seals any possible gaps.
This sealant also brings another benefit. It fills out small holes that may occur after a puncture. This means the tire won't lose too much pressure, and you can continue riding.
Tubeless tires (like tubular) are lower-pressure friendly, making them more comfortable and less prone to puncture.
Their major disadvantage is that they are more expensive than standard clincher tires.
Rim Depth
Rim depth is one of the most important features of wheels that influence aerodynamics and weight. The equation is simple:
THE DEEPER THE RIMS = THE MORE AERO = THE HIGHER WEIGHT
The rim depths of around 45mm are the most versatile. They are aero while reasonably lightweight. They are suitable for flats and hilly terrain, and you can climb with them pretty easily too.
However, if you are a pure-blood climber and you want as light a bike as possible, look for shallow rim wheels (around 25mm).
The following video by aerodynamics expert, Hambini, is a must-watch for all geeks who want to learn more about wheels aerodynamics.
Rim Width
In the past, riders used narrow, 19mm, or 20mm tires on their road bikes. However, studies have shown that wider rims and tires (25mm and 28mm) are faster, more comfortable, and more efficient.
That's where the rim width plays a role. The wider tires you want to use, the wider rims you should choose.
The 'Rule of 105' recommends choosing the rim width as follows:
The Rule of 105 states that the rim must be at least 105% the width of the tire if you have any chance of re-capturing airflow from the tire and controlling it or smoothing it. (Source)
This means that if the outer rim width is 29.4mm, you should use 28mm tires to maximize aerodynamic benefits. If you don't care too much about marginal gains, you probably won't notice the differences.
The following table shows the minimum rim width and tire widths based on the Rule of 105.
For those interested in learning more about the Rule of 105, I attached the following video with an in-depth explanation of this rule.
Hooked vs. Hookless
When buying road bike wheels, you may encounter so-called hooked and hookless rims.
Hookless rims are not very widespread in road cycling. They are more common on mountain bike wheels. There is a risk that hookless rims won't securely hold the tire (blow-off) because of the high pressures used in road cycling.
Furthermore, not every road bike tire is compatible with hookless rims. So, the advantages, like the better transition between the rim and the tire, and lower manufacturing costs, don't outweigh the downsides for many riders. (Source)
Weight
How much should a good road bike wheelset weigh?
While the lightest carbon road bike wheels can weigh under 1000g like the Meilestein Obermayer from Lightweight, the more realistic expectation is anywhere between 1300 to 1700g.
Cheaper, aluminum road bike wheels weigh around 2000g and the more expensive ones around 1500g.
You can check out my in-depth road bike wheels weight market research to find out more.
Remember, lighter wheels are not always better. Lighter wheels are usually less stable in crosswinds and don't maintain their speed as well as heavier wheels. So, consider the terrain you ride in the most often and your riding style.
Cassette Compatibility
When ordering the wheelset, choose a freehub body based on the groupset you use. Especially if you have Campagnolo, you need a Campagnolo-compatible freehub. Shimano and SRAM cassettes are interchangeable.
Hubs
A hub has to be quality because it is the heart of a wheel. Established and experienced companies like DT Swiss or Novatec make quality hubs, so you can't go wrong with their products.
However, a lot of wheel brands started to design their hubs in-house. If a brand takes this step, it says a lot about its expertise and experience.
Spokes
There are multiple spoke types, but to simplify things, we can differentiate their material and shape.
See the following video explaining the benefits of carbon spokes.
Nipples
Once marginal gains stack up, they make a difference. One of these marginal gains is how much the spoke nipples are exposed.
Brand
When speaking of a brand, I want you to realize the following:
"The brand is part of the price."
Established, mainstream brands are more expensive on average than less-known wheel manufacturers.
They heavily invest in marketing and sponsorships. These activities (i.e., additional costs) are then passed onto products and then to us.
The quality of wheels for $1699 from a mainstream brand can be the same as the quality of wheels for $899 from a less-known or Chinese brand.
So, if you don't prefer a well-known brand, I recommend checking out the less-known alternatives.
Did you know that the following bike/accessories brands also have wheels (sub)brands?
Specialized – Roval | SRAM – Zipp | Trek – Bontrager | Winspace – Lún
What's in the Package?
If you buy rim brake wheels, make sure the packing includes four braking pads and quick-release skewers, so you don't have to buy them separately.
If you buy disc brake wheels, they should come with thru-axles. Some more affordable wheelsets come without them.
Deep section wheels should come with tubeless valves or valve extenders so that you can inflate the tires.
Wheelsets also usually come with included rim tape and spare spokes. The spare spokes come in handy if one (or more) spoke fails. For example, when you hit a deep pothole, and you need to fix the wheel.
Extra Services (Warranty, Crash Replacement, etc.)
When you spend hundreds to thousands of dollars on new wheels, a warranty is a must.
In most countries, the warranty is regulated by law. Based on my research, most manufacturers offer at least a 2-year warranty. Some offer an extended warranty for 3 years, 5 years, or lifetime warranty.
Crash replacement programs are a nice bonus. Not every brand offers them, but when they do, you get a discount on your next wheelset if you crash with the current one.
Customer support is important when you need to get more information about the product or when an issue occurs. Choose a brand with helpful and reliable customer support.
---
Road Bike Wheels FAQ
---
This post is regularly updated to provide you with the most up-to-date product tips. If you find a product that is not up to date, please, contact me.