CyclistsHub is supported by its readers. We may receive a commission if you buy products using our links (learn more).
These are the best budget bike trainers for under $500. They are perfect for beginners and people who want a cheap trainer.
I did in-depth research, tested some of these trainers, read cycling forums, and talked with fellow cyclists to provide you with the most relevant recommendations for entry-level trainers.
You find mostly "dumb" wheel-on trainers on this list. However, I found a few quality smart interactive trainers that meet the budget and are compatible with indoor cycling apps like Zwift.
Continue reading to find out more about these trainers. Don't worry if you are new to indoor cycling. You also learn to choose an indoor trainer on a budget that will suit your needs.
What Are the Best Budget Bike Trainers?
The best budget bike trainers cost below $500. They provide magnetic, electromagnetic, or fluid resistance. You will mostly find wheel-on trainers at this price point. They are noisier than direct-drive trainers.
This price range usually offers dumb (non-smart) bike trainers but also a few smart trainers.
They are perfect for beginners or people who want to train indoors on a budget. Their resistance rarely exceeds 1000W. Budget trainers are mostly 'wheel-on' (exceptions apply).
I recommend reading the buyer's guide, where you learn what to be aware of when choosing a budget bike trainer and what are the benefits and disadvantages of individual resistance types.
Elite Novo Force (Best Overall)
I have Elite Novo Force at home. It was my first trainer; I must say it's great. It is durable, portable, and reliable. Its price-value ratio is excellent.
Thanks to the elastogel roller, it improves traction so the tire won't slip when you start pushing too hard.
It also reduces the noise by up to 50%. This is great if you don't have a dedicated training cave and don't want to disturb your loved ones (or neighbors).
Elastogel's third main benefit is that, according to Elite, it reduces tire wear by up to 20%. Wheel-on trainers can "eat" your tires pretty quickly, so this feature can save you some money. But, if you can, get a trainer tire.
You can also make Novo Force compatible with training apps by buying a Misuro B+ sensor. It can transmit your speed and cadence data to mobile devices and bike computers to make your training sessions less boring.
Elite Novo Force Elastogel is compatible with bikes that use a 5mm quick-release skewer or 130-135 x 5 mm QR axles (included).
To use it with disc brake bikes (thru-axles), you must buy an adapter (code 1020008) that ensures compatibility with 135x10mm | 135x12mm, 142X12mm, or 148x12mm​ thru-axles.
This trainer is quieter than the more affordable alternatives like Sportneer Bike Trainer or Alpcour Bike Trainer but noisier than Tacx Flow.
Also available at competitivecyclist.com and performancebike.com.
You can also read my in-depth Elite Novo Force review.
Tacx Flow (Most Affordable Smart Trainer)
Garmin's Tacx Flow is one of the most affordable smart interactive trainers that can adjust resistance based on a training app. Thanks to this feature, your training will be more engaging and fun.
Flow is also quiet, especially when used with the Tacx trainer-specific tire. It is also easy to set up and portable, so it doesn't take too much effort to set it up every time you want to train. This is handy if you are limited by space, for example.
This trainer also offers decent resistance (up to 800W). This is enough for most beginners and hobby cyclists. It can even simulate up to 6% gradients, making it ideal for 3rd party apps like Zwift, TrainerRoad, etc.
It has ±5% accuracy, which is not too good compared to direct-drive trainers, but you can overlook this shortcoming easily if you don't care about every watt.
Its biggest downside is that you may experience connectivity issues, so it is better to use it with an ANT+ receiver that improves the connectivity.
Overall, Tacx Flow provides an unmatched price-value ratio, and it is the best choice if you want to taste interactive indoor training.
Also available at jensonusa.com and wiggle.com
Sportneer Bike Trainer (Most Affordable Dumb Trainer)
This trainer is perfect for you if you have a limited budget and just need a trainer to spin your legs from time to time or lose weight.
I reviewed it, and I like its ease of setup, relatively low noisiness, and price.
NOTE: There is also the Alpcour bike trainer (and a few more) that is only rebranded but more expensive.
It has 6 levels of resistance that you can change using a remote. The first two simulate descents and flats, the third and fourth false flats, and the fifth and sixth climbs.
Sportneer bike trainer is also highly portable. You can fold it to store it when you don't use it. This makes it ideal for people with limited space – for example, in apartments. It also easily fits a car trunk to be your companion for races.
This trainer is super easy to set up. The rubber end caps are adjustable. This very nice detail is useful if you have a crooked floor.
The packing includes a front-wheel riser to improve your riding position and comfort (so your bike will not be tilted as if you were riding downhill). The included quick-release also ensures compatibility with most bikes (26-28″ or 700c wheel size).
Sportneer bike trainer has a few downsides too. Riding it also causes vibrations, so make sure to use a trainer floor mat that absorbs them to not disturb neighbors underneath you.
It's also not as sturdy as the more expensive trainers like the Elite Novo Force.
You can also read my Sportneer bike trainer review.
Zwift Hub (Best Budget Smart Trainer for Under $500)
Mid-to-high-range specs for a low-end price.
The Zwift Hub trainer became a hit almost immediately after its introduction. This is mainly thanks to its affordable price and mid-to-high-range specifications.
It's based on the Jetblack Volt trainer. However, it is completely rebranded to Zwift.
In addition to the great specs, Zwift also focused on ease of installation. The package includes simple instructions on what adapters to use.
Honestly, it's hard to find any major flaws with this trainer. But I did find two. The first is the lack of a handle for easier carrying (for people without a permanent training area).
The second is the inability to fold it like other trainers, making it less storable. So you'll have to disassemble it after the season completely.
One final thought. Currently, Zwift Hub is compatible with third-party apps. However, there is a theoretical chance that Zwift could restrict it to its own application in software. Thus, it would not be able to be used with competing apps.
Interested in Zwifting? Make sure also to check out the best bike trainers for Zwift.
Kinetic Road Machine Smart 2
If you don't like Tacx Flow, Kinetic Road Machine Smart 2 is a cheaper alternative that lacks 3rd party app interactivity (because it uses fluid resistance).
Road Machine Smart 2 is well-built, easy to set up, and stable. It differs from other trainers mainly in the resistance type. The fluid resistance is progressive, increasing exponentially as you pedal faster and harder. This better simulates road-like conditions.
Although this trainer is not interactive, it can communicate with most training apps via ANT+ and Bluetooth protocols thanks to the inRide 3 Power Sensor. This means you can move the virtual avatar in an app, but the trainer won't adjust the resistance (Tacx Flow does).
Kinetic Road Machine Smart 2 is quieter than more affordable trainers. The larger roller diameter reduces tire wear and saves you some bucks. However, a dedicated Kinetic trainer tire also improves traction and reduces noisiness, so don't hesitate to buy it.
According to users, Road Machine 2 Smart measures power accurately, but the exact accuracy is not available. It also lacks cadence accuracy, which may be slightly off sometimes.
Take your indoor cycling to the next level. Get a rocker plate to improve your comfort and add more realism.
Saris Fluid2 Trainer
As the name of this trainer suggests, Saris Fluid2 provides fluid, progressive resistance. Due to this resistance type, it cannot adjust the resistance based on a training application.
Saris' trainers (formerly CycleOps) are typical for their high quality. The Fluid2 model is one of the most affordable trainers from this American brand.
Thanks to the progressive resistance, it faithfully simulates riding outdoors. It is also relatively quiet (but not as quiet as Tacx Flow).
You can also get the same trainer with a speed sensor for a few extra bucks. It then transmits your ride data to a training app making your workout more engaging as your avatar moves through the virtual world.
The biggest downside of this trainer is Saris' customer support. It isn't very responsive and helpful.
Wahoo KICKR Snap
Wahoo KICKR Snap is a more expensive alternative to Tacx Flow. It comes with higher-spec, though.
It will provide you with up to 1500W resistance (enough even for advanced cyclists). Snap is interactive, so it can adjust the resistance based on 3rd party training apps and make your training more engaging.
Owners praise the ride experience that is very close to riding outside. The 12% grade simulation contributes to this because once you encounter a steep climb (in Zwift, for example), the trainer will increase the resistance and slow down your pedal stroke.
Snap is quiet, so you can train and watch a movie, for example, and you won't need headphones. You also won't disturb your family members or neighbors.
Wahoo KICKR Snap is one of the best smart trainers in terms of price value. However, Tacx Flow is a little more affordable and sufficient for beginners or people with a limited budget.
Also available at competitivecyclist.com
Magene T100 Direct Drive
This is one of the most affordable bike trainers of this type. The Magene T100 is the only direct-drive trainer on this list. More expensive alternatives start at double the price.
However, its lower price reflects lower specs (lower resistance and gradient simulation, lower accuracy). But if you are not a demanding rider, T100 will be enough for you.
The manufacturer claims that the T100 has a noise level of 60 dB. This is a normal conversation level (source).
This trainer will surprise you with its excellent price-performance ratio. According to riders using a power meter, the trainer's power is pretty accurate.
Remember that Magene T100 Direct Drive doesn't come with a cassette, and you must buy it separately.
At this price point, you also should not expect as good a road-like riding experience as with more expensive smart trainers. It also lacks an ERG mode, so if this feature is important to you, look elsewhere.
Feedback Sports Omnium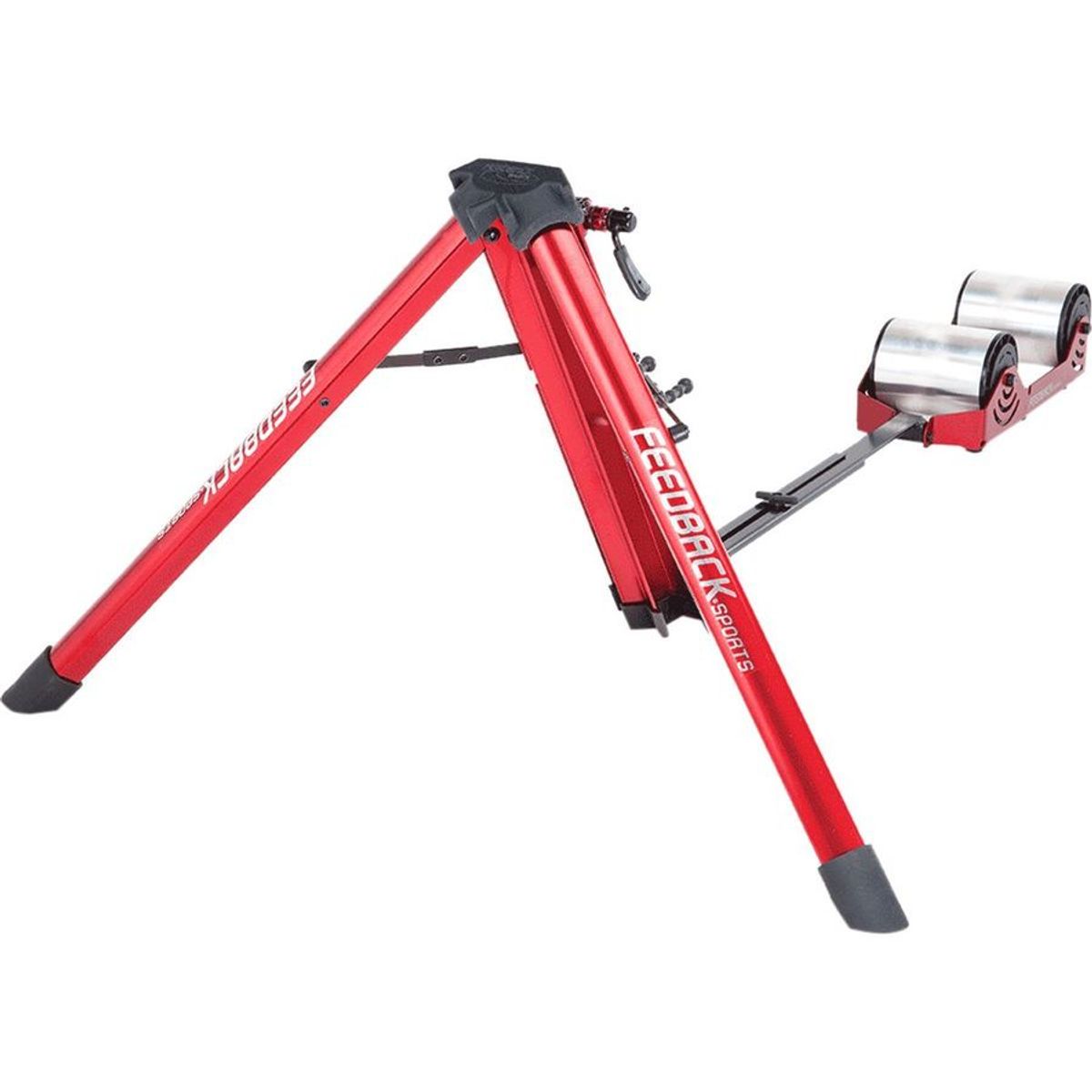 Feedback Sports Omnium rollers with a fixed front fork axle are the most portable trainer in this roundup. The packing includes a travel case for convenient transportation.
It is perfect for people with limited space or riders needing a trainer for pre-race warm-ups. It easily fits into a closet or a car trunk.
Thanks to its construction, it is also very unique. Your front fork is fixed while the rear wheel is set against the rollers. They will provide progressive resistance, so the faster you pedal, the harder it gets.
Owners are also delighted with this trainer because it is quiet. Another benefit is that the package includes adapters for quick-release and thru-axles. They make this trainer compatible with virtually any bike.
Remember that you need a power meter or speed + cadence sensors to connect it to training apps.
Also available at trekbikes.com
---
---
My Verdict
---
How to Choose the Best Budget Bike Trainer?
When I talk about budget bike trainers, I mean wheel-on entry-level trainers for up to $100, mid-range for about $250, and high-end ones for up to $500.
Low-end and mid-range bike trainers are mostly not "smart" or "interactive." Only the higher-end trainers are. They can transmit your ride data to a laptop, tablet, or smartphone. Interactive trainers can also adjust the resistance (more about them below).
Learn more about wheel-on and direct-drive trainers' differences, benefits, and disadvantages in this bike trainers guide.
Type of a Bike Trainer
Budget trainers for up to $500 are mostly wheel-on trainers. In fact, from around 30 trainers I researched, 90% were wheel-on and the rest direct-drive (not counting rollers).
Therefore, I will focus on wheel-on trainers only in this guide. Visit the best smart bike trainers article if you are interested in direct-drive trainers.
Wheel-on Trainers: Dumb vs. Smart vs. Smart Interactive
Wheel-on trainers work on a simple principle. Your rear wheel is set against the cylinder that provides resistance (learn more details on how to set a wheel-on trainer).
Which one should you choose?
Of course, the more sophisticated the trainer is, the more you have to pay.
Non-interactive trainers are good if you don't plan to ride for more than one hour, you have a power meter (so you can use apps like Zwift, ROUVY, etc.), or you want just to lose some weight.
Smart (non-interactive) trainers are suitable for people with a limited budget that don't require interactivity. This means they don't mind that the trainer won't adjust the resistance based on the training app.
Smart (interactive) trainers are perfect for more demanding riders who need more engaging training to stay motivated during longer training sessions.
Resistance & Resistance Type
Budget bike trainers mostly use wind, magnetic or fluid resistance, and sometimes even electromagnetic resistance (mostly found on smart trainers). The following table shows their pros and cons.
The progressive resistance means that the more you pedal, the higher the resistance. It better simulates real-world riding conditions because the air resistance increases exponentially.
The overall bike trainer resistance is given in watts. Unfortunately, it is common that the info about the maximum resistance is not available for budget trainers.
However, if you are a casual cyclist or want to buy a budget trainer just to spin your legs from time to time, you don't have to worry about it because the resistance will be sufficient.
TIP: How do bike trainers work?
Gradient Simulation
Gradient simulation means that the trainer can slow your pedal stroke when you start climbing a steep climb in a training app. This improves your ride experience and makes indoor training more road-like.
Gradient simulation feature is common on smart interactive bike trainers. Budget trainers often don't offer it. The higher the gradient simulation, the faster the trainer slows down your pedal stroke when you encounter a steep climb in an app.
Watch the following video by Shane Miller (GPLama) to learn more about how this feature works.
Accuracy
Accuracy is a feature that is not as important for casual cyclists as for performance-oriented riders. However, it should not be omitted.
The trainer's accuracy means the power deviation at a certain power. Let's say you ride 200W, and the trainer has a power accuracy of 5%. This means the power can vary from 190 to 210W.
The general rule of thumb is the more expensive the bike trainer, the more accurate it is. With budget trainers, expect an accuracy of around 5%.
The following table shows the power variance for different levels of accuracy and power.
Noisiness
The biggest downside of budget trainers is their noisiness. Due to the nature of wheel-on bike trainers, they are pretty noisy.
The noisiness level of budget trainers can vary a lot. While the quietest direct-drive trainers have a noisiness level of around 55 dB, budget wheel-on trainers can easily exceed 70 dB.
To reduce the noise, make sure to follow these tips to make a bike trainer quieter.
Other Features to Consider
Included accessories – budget trainers often come with the front wheel riser to improve your comfort and simulate climbing. If it is not included, don't worry, you can use a book instead. However, included wheel riser is a nice-to-have. The packing should also include a quick release for an easier attachment of your bike to the trainer.
Bike compatibility – most bike trainers are compatible with 130-135 mm quick-release (QR) axles. Bikes that use thru-axles may require special adapters. Always double-check the trainer's compatibility to avoid future issues.
Portability – bike trainers are cleverly designed so you can fold them when you don't use them. However, some trainers are more portable than others due to their construction, so keep that in mind if you are space-limited.
---
Budget Bike Trainers FAQ
More bike trainers FAQs answered.
Preview picture source: Kinetic