CyclistsHub is supported by its readers. We may receive a commission if you buy products using our links (learn more).
These are the best bike trainers on the market you can buy. I included bike trainers from all price ranges.
You will find here 'dumb,' smart, smart-interactive, wheel-on, and direct-drive trainers.
They are suitable not only for road bikes but also for mountain, gravel, or commuter bikes.
I selected them based on my experience, reviews of riders worldwide, and in-depth market research that included discussions with fellow cyclists and store owners.
Overall, I considered more than 50 trainers. However, only a fraction made it to this roundup.
The best budget bike trainer is the Sportneer bike trainer. It's ideal for beginners and casual cyclists for its affordability, ease of setup, and price-value ratio.
The best bike trainer overall is the Wahoo KICKR Snap (also available at competitivecyclist.com). It won't ruin your budget, and you can enjoy its interactivity with indoor cycling apps.
And the best high-end bike trainer is the Tacx NEO 2T (also available at amazon.com). This premium bike trainer is a go-to choice for people who take indoor cycling seriously and want the latest and greatest.
Keep reading to learn everything you need to know about bike trainers.
What Are the Best Bike Trainers?
There is no best bike trainer that will fit all riders. Some people are looking for affordable, wheel-on dumb trainers, while some people for interactive, direct-drive smart trainers.
If you are new to bike trainers and don't know where to start, please, skip to the How to Choose the Best Bike Trainer section, where you learn everything you need to know.
You learn what to look for when buying a bike trainer, what to expect in various price ranges, and much more.
TIP: I recommend buying a direct-drive trainer if you are looking for the best bike trainer for a mountain bike.
You can also use wheel-on trainers with a mountain bike. To avoid high noisiness, use them with a smooth trainer-specific MTB tire.
Sportneer Bike Trainer (Best Budget Bike Trainer)
Let's kick off with a bike trainer for the masses. Sportneer Bike Trainer is suitable for people with a limited budget and for those who want a good bike trainer for the money. It's also a best seller on Amazon.
I tested it, and I was pleasantly surprised. It's easy to set up (attaching a bike takes just a few seconds or minutes, depending on your skill).
You can adjust its rubber feet if you have uneven floors to make sure the trainer won't wobble. This is a cool feature very few bike trainers have.
It has 6 resistance levels (you have to change them manually using a remote). The first two simulate descents and flats, the third and fourth false flats, and the last two climbs.
It is also portable, making it ideal for people living in small apartments or having limited storage space.
The packing includes a front-wheel riser to improve your riding position and comfort (so your bike will not be tilted as if you were riding downhill). The quick-release is also included ensuring compatibility with most bikes using QR.
This trainer has a few downsides. Riding it causes vibrations, and it's not as sturdy as Elite Novo Force, for example.
I recommend using it on a trainer floor mat and with a trainer-specific tire to reduce tire wear and noise.
NOTE: There are a lot of trainers online that are the same, just rebranded. They may cost twice the price, so be aware you will buy the right one.
You can also read my in-depth Sportneer bike trainer stand review for more detailed info.
Wahoo KICKR Snap (Best Mid-Range)
Wahoo KICKR Snap is a perfect mid-range bike trainer because it is interactive. You can easily pair it with 3rd party training apps like ROUVY, Zwift, TrainerRoad, etc., and they will adjust the resistance.
It will provide you with up to 1500W resistance. If this isn't enough for you – congratulations, you are probably pretty fit!
Riding on Snap almost feels like pedaling outside. The up to 12% grade simulation ensures that it will slow down your pedal stroke once you start climbing to simulate road-like conditions even closer.
Snap is quieter than cheaper wheel-on trainers. You won't disturb your neighbors or family members, and you don't have to wear headphones when watching a movie.
And, if you decide to take your indoor-cycling cave to the next level, Wahoo KICKR Snap (like all Wahoo trainers) is compatible with Wahoo accessories (like Wahoo Headwind or Wahoo KICKR Climb).
Wahoo KICKR Snap is one of the best smart trainers in terms of price value. Its main disadvantages are slower resistance adjustments than high-end trainers and manual (spindown) calibration recommended before every ride.
Its cheaper alternative is the Tacx Flow which offers lower specs.
Also available at competitivecyclist.com
PRO TIP: Improve your indoor cycling comfort with a rocker plate. It will add a swing motion to your bike fixed in a trainer, so you won't experience saddle discomfort.
Tacx NEO 2T (Best High-End)
NEO 2T is Tacx's flagship direct-drive trainer. Its latest generation has improved internals resulting in better accuracy (±1% vs. ±2.5%), lower noisiness, and better reliability.
Before I dive deeper, let me tell you who this trainer is for. Tacx NEO 2T is a trainer for the most demanding riders and enthusiasts. It gives them the most realistic ride feel possible.
This is thanks to up to 276 lb (125 kg) virtual flywheel. It is the largest on the market and has one big benefit. It can simulate different riding surfaces like cobblestones.
Although Tacx NEO 2T looks and is robust, it is also highly storable. You can easily fold its legs and store it during the season when you don't need it.
Unfortunately, it doesn't have a carry handle, so it's not suitable for people who need to move it before and after every workout.
To exceed its maximum resistance level of 2200W, you have to have some serious power in your legs. That's why it is perfect not only for road cyclists but also for powerful track sprinters.
NEO 2T is very accurate (±1%) and quiet (~55.5dB at 200W). In fact, your bike's drivetrain will make more noise than the trainer itself.
Remember that this trainer doesn't come with a cassette, so you have to buy it separately. It would be nice to have the cassette included when the trainer is so expensive, but riders may use different groupsets (Shimano, SRAM, etc.), so not including it is understandable.
Feel free to read my in-depth Tacx NEO 2T review, which also includes accuracy tests and much more.
Also available at amazon.com, jensonusa.com, and wiggle.com
Elite Novo Force
Elite Novo Force is one of the best wheel-on dumb trainers on the market. I have had it for years now, and it is still going strong.
It is highly durable, relatively portable, and reliable. Unlike other wheel-on trainers, it uses an elastogel roller that improves traction and reduces noise by up to 50% and tire wear by up to 20%.
Based on my experience, the tire can slip if you won't adjust the roller well, so a trainer tire is a good investment too.
Elite produces a Misuro B+ sensor that can make Novo Force compatible with training apps. It will transmit your speed and cadence data to a mobile device or a computer to move the virtual in-app avatar.
Remember, this trainer is compatible with a 5mm quick-release skewer or 130-135 x 5 mm QR axles. In other words, with most rim brake bikes on the market. The quick release is included.
To use it with thru-axles, you have to buy an adapter (code 1020008) that ensures compatibility with 135x10mm | 135x12mm, 142X12mm, or 148x12mm​ thru-axles.
The main downside of this trainer is the price which is higher than the Sportneer bike trainer that offers similar features.
Also available at competitivecyclist.com and performancebike.com.
You can also read my in-depth Elite Novo Force review.
Kinetic Rock and Roll Smart 2
Kinetic Rock and Roll Smart 2 is a bike trainer you will enjoy a lot of fun with. This is because it has a unique construction that allows side-to-side movement.
Thanks to this, riding out of the saddle will feel like riding outside. It will allow you to engage your arms and core to put maximum power on the pedals.
R&R Smart 2 is a smart trainer that can only transmit data to training apps, so keep that in mind.
Other disadvantages include sometimes inaccurate cadence data and the lack of portability. This trainer takes more space than other trainers in this selection, making it ideal for people with enough space or a dedicated pain cave.
Saris H3
Do you remember CycleOps trainers? If so, you know Saris trainers as well because Saris are rebranded CycleOps trainers. H3 is an improved version of the CycleOps Hammer.
Saris H3 is a US-made direct-drive trainer that offers a lot for its price:
It is quiet (59dB), so it is no louder than a normal conversation (great news for your neighbors and loved ones).
It provides up to 2000W of resistance. This is enough even for powerful riders who want to train sprint intervals.
It can simulate up to 20% gradients. It will slow down your pedal stroke quickly when you start climbing in a training app.
It has a great and precise ERG mode which is ideal for TrainerRoad. You simply set a power you want to maintain, and the trainer will adjust the resistance based on your gear and cadence.
Unfortunately, Saris H3 does not come with a cassette, and according to some users, its cadence sensor is not as precise as sensors of other similar-priced trainers (e.g., Elite Suito).
You can learn more details in my Saris H3 review.
Also available at amazon.com
Tacx Flow (Best Budget Smart Trainer)
If you are looking for an affordable smart interactive bike trainer, Garmin's Tacx Flow should catch your attention.
It is a quiet bike trainer (it reaches noise levels of a normal to noisy conversation). You can further reduce it with Tacx trainer-specific tire.
Flow is also super-easy to set up and portable. It doesn't take too much effort to set it up for your workout saving your time.
Its resistance is not the highest (compare it with 1500W on Wahoo KICKR Snap) but will be enough for beginners or light, not-so-powerful riders. And, if you don't train sprint intervals, you don't worry about it at all.
Tacx Flow can simulate gradients of up to 6%. This adds another interactivity element to your training that will keep you more engaged.
Flow's accuracy is about 5%. But, this is probably one of its biggest downsides compared to more expensive direct-drive trainers.
Some owners also reported connectivity issues. I recommend using an ANT+ receiver to solve them. It will improve the connectivity between the trainer and your computer.
Overall, Tacx Flow provides excellent value for the money. It is one of the most affordable smart interactive bike trainers on the market.
Also available at jensonusa.com and wiggle.com
Wahoo KICKR
Wahoo KICKR is one of the best-rated direct-drive trainers out there. Thanks to its relatively frequent hardware updates, Wahoo made it near perfect.
KICKR v6 adds 2.4 GHz WiFi connectivity, an ERG Easy Ramp feature, and Odometer. Read my article comparing KICKR v5 and v6 or my KICKR v5 review for more details.
KICKR is normal conversation level quiet. This is good news for people without dedicated training space or living in apartments.
KICKR's legs feature rubber dampeners. They allow up to 5 degrees of side-to-side movement (this is not as much as on Kinetic R&R Smart 2). Not only do they reduce vibrations, but they also make your ride more comfortable and engaging.
Its setup is easy, and it has great overall stability. KICKR will provide you with a road-like ride feeling.
Wahoo customer support also works great, so if you encounter any issues in the future, don't hesitate to contact them.
KICKR has several main alternatives, like Tacx NEO 2T, Elite Direto XR, and Saris H3. Only NEO 2T and H3 made it to this selection.
Tacx NEO 2T has better specifications but is also more expensive and, unlike KICKR, doesn't come with a cassette. Saris H3 is not as advanced as KICKR, but it is more affordable.
Elite Suito
Elite Suito is a highly portable direct-drive trainer with great cadence and power accuracy. Its packing includes a cassette and front-wheel block, so you don't have to buy them separately.
The foldable legs of Elite Suito make it one of the most portable direct-drive trainers that doesn't take up too much space.
The specs of Elite Suito correspond to its price. The resistance, accuracy, and gradient simulation are slightly worse than Saris H3.
The road-like-feel is great, and you can be sure that your training will be fun when using third-party apps.
Suito has a few downsides too. It's not as quiet as other high-end direct-drive trainers (Wahoo KICKR, Saris H3), and some owners report that it can develop a knocking noise.
Also available at performancebike.com
Feedback Sports Omnium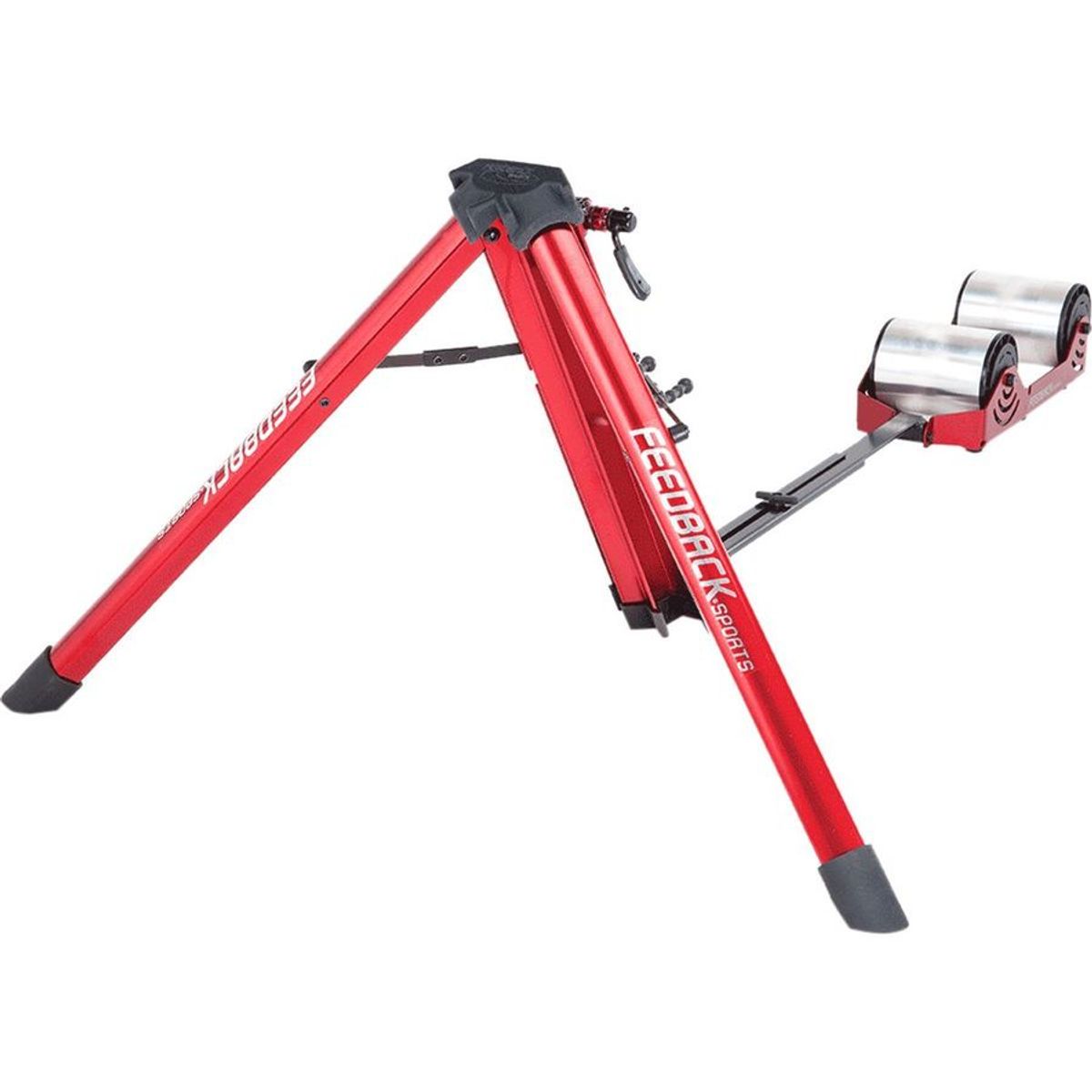 Feedback Sports Omnium rollers with a fixed front fork axle are an exception on this list. I included them because of their portability.
These rollers are perfect for people with limited space or riders who need a trainer for pre-race warm-ups. Their packing includes a travel case for convenient transportation. It easily fits in the trunk of your car.
Thanks to its construction, it is also very unique. Your bike's front fork is fixed, while the rear wheel sits on the two rollers. Their resistance is progressive, so the more you pedal, the harder it gets.
Owners also praise super-easy setup and low noisiness. Another benefit is that the package includes adapters for quick-release and thru-axles. They make this trainer compatible with virtually any bike.
Remember that you will need a power meter or speed + cadence sensors to connect it to training apps.
Also available at trekbikes.com
---
My Verdict
Based on the comparison, evaluation of reviews, and in-depth market research of more than 50 bike trainers, I selected the following three bike trainers as the best.
The best budget bike trainer is the Sportneer Bike Trainer. Offers a great price-value ratio. It is a trainer for beginners and people who want to spin their legs from time to time.
The best mid-range bike trainer is the Wahoo KICKR SNAP (also available at competitivecyclist.com). It is perfect for avid cyclists who want to build or upgrade their current indoor training setup to enjoy interactive training using third-party apps.
The best high-end bike trainer is the Tacx NEO 2T (also available at amazon.com and wiggle.com). It is a trainer for powerful riders and pros. Thanks to its high specs, it will satisfy the needs of the most demanding riders.
See the full list of considered bike trainers (on request only).
Read the How to Choose the Best Bike Trainer section to learn more about bike trainers.
How to Choose the Best Bike Trainer?
Choosing a bike trainer may seem complicated, but this guide makes it much easier. It explains the differences, benefits, and disadvantages of wheel-on and direct-drive trainers, different resistance types, and other features.
Price
Price is one of the main determining factors for most people considering a bike trainer. You can spend $100 or $1,000. But, what do you get in return? What to expect at every price range? How do the trainers differ?
The following table shows estimated price ranges for different trainers (more about the types below).
Don't worry if you don't know exactly what every feature means. I will guide you through them all below.
Type of a Bike Trainer
There are many types of indoor bike trainers. The wheel-on and direct-drive trainers are the most iconic. However, some publications include rollers and bike simulators as a type of bike trainer.
I focus mainly on wheel-on and direct-drive in this article. To learn more about rollers and bike simulators, check out my full How to choose a bike trainer article.
1. Wheel-on trainers are the simplest type of trainers. The rear wheel is set against the cylinder that provides (electro)magnetic, wind, or fluid resistance.
2. Direct-drive trainers allow you to mount your bike directly. The resistance is usually electromagnetic, and most direct-drive trainers can adjust it based on third-party apps.
To learn how to set up and use a bike trainer, read this beginner's guide.
The following table summarizes the advantages and disadvantages of these two basic types of bike trainers.
3. Rollers consist of three cylinders that rotate. They are easy to set up and very universal because they fit most bikes. They act as a "floor" for your bicycle. Rollers are perfect for pre-race warm-ups or for riders who want to improve their pedaling technique.
4. Bike simulators are the most advanced bike trainers. They completely replace your bike. They are fully adjustable and have integrated power, cadence, and speed sensors. These are the ultimate simulators for the most demanding riders.
Resistance & Resistance Type
The trainer's resistance is given in watts. It ranges from about 300W on low-end trainers to 2500W on high-end direct-on trainers.
If you are a casual cyclist or want to buy a budget trainer just to spin your legs from time to time, you don't have to worry about it. The trainer will provide you with enough resistance.
The maximum resistance is important for training sprints. An untrained person probably won't exceed 1000W. However, according to uci.com, elite track sprinters peak at above 2000W, putting out around 25 w/kg.
André Greipel, one of the most powerful sprinters, peaked at 1903W during his sprint at Tour Down Under in 2018. (Source)
These riders can take advantage of a high resistance level. But for most people, 1500W will be enough.
TIP: Check out this article by Cycling Analytics to compare your power output.
What are the advantages and disadvantages of individual resistance types? Check out the following summary.
When buying a bike trainer, you may encounter so-called progressive resistance. It is common on bike trainers with fluid resistance. It means that the more you pedal, the higher the resistance.
The main advantage is that the riding experience is closer to real-world riding conditions because the air resistance increases exponentially.
Remember, fluid trainers can't adjust resistance based on a third-party app. The only way to increase or decrease the resistance is by pedaling or changing gears on your bike.
Learn more about the differences between magnetic and fluid bike trainers.
Connectivity
Third-party apps added another engagement element to indoor biking in recent years. But, you have to keep in mind that not every bike trainer is compatible with them.
NOTE: If you have an ANT+ compatible power meter or cadence with a speed sensor, you can use 3rd-party apps like Zwift, ROUVY, etc., with a dumb trainer.
The connectivity is mostly ensured by ANT+, ANT+ FE-C, or Bluetooth protocols (read more).
Gradient Simulation
Gradient simulation feature is common among smart interactive trainers. It ensures that the trainer will slow your pedal stroke when you start climbing in a training app. It adds an interactivity element to your training, making it more engaging and fun.
The higher the gradient simulation, the faster the trainer slows down your pedal stroke. Low-end interactive trainers have a gradient simulation of around 5%, mid-range around 15%, and high-end up to 25%.
Shane Miller (GPLama) explains how this feature works and how the trainer needs to calculate the resistance based on your weight in the video below.
Accuracy
Trainer's accuracy is common among mid-range and high-end (smart) bike trainers. It is the power deviation at a certain power output.
The table below shows power variances for different accuracy and power levels.
More expensive trainers have better accuracy than cheaper ones. Expect accuracy of ±1 to 2% on the high-end trainers and up to ±5% on the mid-range ones.
Noisiness
Bike trainers also have different levels of noisiness. The general rule of thumb is that wheel-on trainers are noisier than direct-drive trainers. If you live in an apartment with neighbors or your family members are often at home, you will appreciate a quiet trainer.
The quietest direct-drive trainers have a noisiness level of around 55dB. This is a level of a normal conversation (source), and usually, the most noise is created by your bike's drivetrain, not by the trainer itself.
You might also be interested in proven tips to make your bike trainer less noisy.
Budget, wheel-on trainers can easily exceed 70dB. This is a level of city traffic (source). To reduce the noise of wheel-on trainers, I recommend using a trainer-specific tire. It will also improve traction so it won't slip during hard efforts and reduce tire wear.
Other Features to Consider
Bike compatibility – most bike trainers are compatible with 130-135 mm quick-release (QR) axles. Bikes that use thru-axles may require special adapters. Always double-check the trainer's compatibility to avoid future issues.
Flywheel – the bigger the flywheel doesn't always mean the better road-like feel. Inexperienced riders can easily get influenced by this spec, but in the end, there are more important specs and features to look for.
Included accessories – trainers come with different accessories like a front-wheel riser to improve your comfort and simulate climbing. The packing should also include a quick release for an easier attachment of your bike to the trainer. Direct-drive trainers may with a cassette.
Portability – bike trainers are cleverly designed so you can fold them when you don't use them. However, some trainers are more portable than others due to their construction, so keep that in mind if you are space-limited.
RECOMMENDED READING: How do bike trainers work?
Bike Trainers FAQ
More bike trainers FAQs answered.
Preview picture source: ROUVY