CyclistsHub is supported by its readers. We may receive a commission if you buy products using our links (learn more).
This is my comparison of Hammerhead Karoo 2 vs. Garmin Edge 1040 (Solar).
I used both bike computers for a few months, so I summarized their pros, cons, and differences in this article.
The main difference between Karoo 2 and Garmin Edge 1040 is the better display on Karoo 2 and the system running on Android. It provides an almost smartphone-like experience. On the other hand, it doesn't work well when wet. The Edge 1040 (Solar) also has a much longer battery life and better accuracy thanks to the multi-band GNSS.
So, is the Edge 1040 worth paying more?
Let's find out.
Summary
Here is the summary of the main differences between Hammerhead Karoo 2 vs. Edge 1040 (Solar).
This table compares the main features of Hammerhead Karoo 2 vs. Garmin Edge 1040 (Solar).
¹Based on my unscientific testing - multiple rides with multiple connected sensors (HR, power meter, radar), and navigation turned on during about 30% of rides. Auto brightness on.
²Almost 1-year-old device.
³In ideal conditions.
Let me now explain them in depth.
Features Comparison
Below, I compare these two bike computers' most important features and differences.
Physical Dimensions & Weight
Hammerhead Karoo 2 is shorter than Edge 1040 (Solar) but has similar weight (131g vs. 126g). Both belong among the larger head units, 1040 being the largest.
Here are pictures of the Garmin Edge 1040 (bottom) and Garmin Edge 1030 Plus (top). You can read my other article, 'Edge 1040 vs. 1030 Plus', where I compare them in-depth.
Display
The display is where both these bike computers differ the most.
Karoo 2 has a 3.2-inch touch-screen display. However, it's 0.3 inches smaller than Edge 1040 3.5-inch display.
However, Karoo 2 has almost double the resolution (480×800px vs. 282×470px). As a result, everything looks much sharper on it.
Both bike computers can show up to 10 data fields, which are easy to read and have multiple data field layouts you can choose from.
I didn't have both bike computers at the same time, but Karoo's display feels brighter and easier to read in direct sunlight.
Of course, you can adjust their brightness and set light and dark modes on both bike computers, depending on which one you prefer.
Edge 1040 has an ambient sensor so that it can adjust the brightness automatically. Karoo 2 can't do that.
The Edge 1040 Solar has an in-built solar panel allowing the device to recharge itself (more about this feature later). Its display is slightly dimmer than the Edge 1040 because of the solar panel.
Considering the higher resolution and brightness of Karoo 2, I picked it as a winner in this category.
Winner: Hammerhead Karoo 2
Control & User Friendliness
You can control Karoo 2 using the buttons or the touchscreen, but Hammerhead has no mobile app.
With Edge 1040, things are more complicated. You can adjust the data fields (and other settings) via the Garmin Connect app or by using the touchscreen.
Although Edge 1040 has a few buttons, those are for specific functionalities and can't be used for browsing menus, for example.
The overall user experience between these bike computers differs a lot. Karoo 2 runs on Android, making it almost smartphone-like.
Its display is more responsive, and browsing menus or maps is faster. I also find the user interface more intuitive.
Edge 1040 also has an excellent display, but the user interface is not as user-friendly. This is mainly because Edge 1040 offers more features.
I tried both displays when wet and with full-finger gloves. Karoo 2 freaks out when wet. The Edge 1040 is more reliable in wet conditions. Watch the following videos.
Depending on your gloves, it's sometimes difficult to tap the field you want to tap. This is when the Karoo 2 buttons come in handy.
However, both bike computers reacted fine* with gloves (unfortunately, I didn't take a video of using 1040 with gloves).
*Sometimes, you will have to perform your command (finger movement) repeatedly.
I don't mind that the Karoo 2 is not customizable via a smartphone because setting data fields is quick on the unit itself.
You can customize Edge 1040's data fields (and other settings) via the Garmin Connect smartphone app. I tried both methods, and paradoxically, it's faster on-device. The app is not as good as Wahoo's ELEMNT app, for example.
Overall, I enjoy using and interacting with Karoo 2 more. But 1040 (Solar) is not far behind.
Winner: Hammerhead Karoo 2
Battery Life
The battery life is one of the areas where Edge 1040 (Solar) crushes Karoo 2.
The Edge 1040 has a claimed battery life of up to 35 and Edge 1040 Solar up to 45 hours in ideal conditions.
The battery life in the battery saver mode of Edge 1040 is up to 70 hours, and Edge 1040 Solar is up to 100 hours. Crazy.
Karoo 2, on the other hand, has one of the shortest claimed battery live of modern bike computers – 12 hours.
The Edge 1040 lasted about 31 and a half hours with a connected Varia radar, HR sensor, power meter, and phone. I had navigation turned on during about 30% of the rides.
The Karoo 2 lasted 8.5 hours. However, the conditions were entirely different. I tested Edge 1040 in the summer and Karoo 2 in the winter. Furthermore, it was already about a year old device.
The Edge 1040 Solar can recharge itself while riding. Garmin claims Solar extends battery life up to 42 minutes per hour in battery saver mode (in ideal conditions, of course).
It has a fully dedicated screen that informs you about this data. It's pretty cool.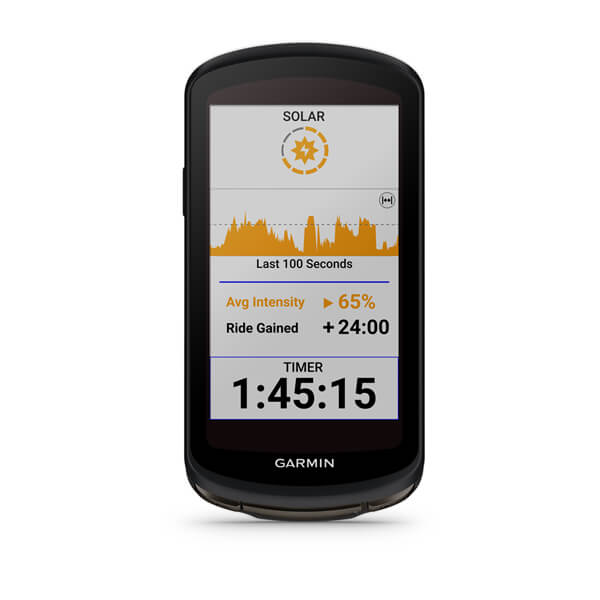 Unfortunately, I have not tested Edge 1040 Solar yet.
Is the Edge 1040 Solar version worth the $150 price difference?
Well, it depends on your use case. If you do multi-day (weeks) bike-packing trips without electricity access, then yes. Otherwise, it's more of a gimmick than a must-have feature.
In the end, it doesn't matter if you recharge the head unit every two or three weeks. The battery life is long enough for most riders. But those who absolve ultra-distance cycling events may argue.
You can further extend the battery life with Garmin Charge Power Pack.
Winner: Garmin Edge 1040 (Solar)
Maps & Navigation
Hammerhead Karoo 2 and 1040 offer every navigation feature you can think of. However, they differ mainly in used maps, calculating speed, and accuracy.
The Edge 1040 uses Garmin Routable Cycle Maps and has multi-band GNSS ensuring half-meter precision. It's super fast and accurate.
For example, loading a 130 km (about 80 miles) route took just a few seconds on the Edge 1040, but Karoo 2 was ready in seconds too.
The Edge 1040 is also more accurate, thanks to the multi-band GNSS. See the following pictures from my ride. It even nailed what side of the road I was riding on.
However, Karoo 2 with Open Street Maps is not so far behind. Unfortunately, I don't do much bike packing, so I didn't do more extensive testing in remote areas. Villages and cities are close to each other in Czechia compared to the US.
The Edge 1040 comes with maps preloaded based on the region you buy it in, while the Edge 1040 Solar has all regions preloaded (thanks to the 64GB storage).
Unfortunately, you can't download the maps wirelessly using the smartphone app and have to use the Garmin Express desktop app. Come on, Garmin, it's 2022!
Karoo 2 has 32GB storage, so it can also fit multiple regions. I like its map user interface, which you can adjust from 2D to 3D view.
Another change worth noting is the overall speed of the device and up ahead waypoints.
The Edge 1040 is faster not only when calculating routes but also when browsing POIs. So if you were annoyed by the speed of Karoo 2, I recommend upgrading to 1040.
And the last feature I want to mention is the up ahead waypoints. So, when planning a route, you can add waypoints, and the navigation will show you the distance and estimated time to them.
Remember, the estimated time is based on your average speed. If you go uphill, it will take longer to reach the summit than the estimated time. We will see if Garmin will adjust this feature to provide estimates based on the current speed and other data.
Winner: It's a draw
Climber vs. ClimbPro
Hammerhead has a Climber feature, which is similar to Garmin's ClimbPro.
They show you info about the upcoming climbs on the route. While Climber works even for unplanned routes, ClimbPro is available only for pre-planned routes.
I couldn't test these features side-by-side. However, Garmin's ClimbPro was relatively accurate. Sometimes, it took a few seconds until the gradient corresponded with reality.
Karoo's Climber has to estimate your route, so it sometimes gives you a preview of a climb you won't ride. But, of course, the climb data are accurate when you pre-plan your route.
I like that it works without the need to plan a route because I find it annoying to plan each route. Often I decide on the route on the way. But it's not as reliable and precise in areas with many route possibilities.
Winner: It's a draw
Connectivity
No surprise, both bike computers have Bluetooth, WiFi, and ANT+ connectivity.
But there are differences between them. For example, Karoo 2 doesn't officially support Di2 because SRAM acquired Hammerhead, and Shimano reacted by asking Hammerhead to remove it.
We lost as consumers, but clever people found ways to bring the integration back. With Garmin, you don't have to worry about this integration. It works flawlessly.
Another difference is that if you want to download/update maps on Garmin. You must connect it using a USB cable to a computer. On Karoo 2, you can do this wirelessly over WiFi.
On the other hand, Karoo 2 requires an internet connection for syncing activities, routes, workouts, etc. It can't use Bluetooth for it.
Winner: Garmin Edge 1040
Other Features
Garmin Edge bike computers offer many features. Here is a list of a few most important ones not available on Karoo 2:
Real-Time Stamina shows you how long you can ride at the current pace and how much you have left in the tank.
Power Guide allows you to adjust the effort level you want to ride at based on your FTP.
MTB Dynamics

measures your jumps, grit, and flow. It's useful mainly for mountain bikers.

Incident/crash detection detects if you crash and notifies your emergency contacts.
Virtual Partner that you can use for pacing yourself.
Suggested workouts (and rest days) based on your activities.
Both head units can display Strava live segments and are compatible with cycling radars.
Winner: Garmin Edge 1040
Total score: Hammerhead Karoo 2 (2) | Garmin Edge 1040 (3) | It's a draw (2)
Hammerhead Karoo 2 vs. Garmin Edge 1040 FAQ
My Verdict
Both bike computers belong among the best that market offers.
I like the progressive approach of Hammerhead. The display of Karoo 2 is next-level. It's responsive, sharp, and bright. Without a doubt, it's the best display among bike computers.
Unfortunately, the battery life of Karoo 2 is about a third of Edge 1040 and a quarter of Edge 1040 Solar.
Edge 1040 also has more features, like crash detection, Real-Time stamina, Power guide, etc. It has more accurate and faster route calculation and is compatible with Shimano Di2.
But, it is more expensive. Despite the price, Edge 1040 (Solar) is better. But, in the end, it boils down to your riding style and needs.
Do you have experience with any of these bike computers? Eventually, which one do you like more you choose? Let me know in the comments.
Please, consider clicking one of my links to support my website if you plan to buy one of these bike computers. It helps a lot. Thank you.