CyclistsHub is supported by its readers. We may receive a commission if you buy products using our links (learn more).
Here are the best beginner mountain bikes for men and women at a price range between $500 to $1000.
Save your time and take advantage of the know-how that I summarized over the years I've been riding bikes and monitoring the bike industry.
I also chatted with my MTB friends and bike shop owners about choosing your first mountain bike and getting started to give you helpful tips.
The best mountain bike for beginners is the Co-op Cycles DRT 1.1 with 27.5″ wheels. It's affordable, suitable for men and women, and offers the best price-value ratio of all bikes in this selection. Additionally, it features disc brakes for effective stopping power and a Shimano Tourney groupset with 21 gears that always allows you to find the right gear.
Continue reading to find out more.
---
IMPORTANT NOTE: Due to the shortage of bike components and high demand for bikes, many bikes are out of stock online. Unfortunately, it is necessary to wait even several months for some bikes.
As pinkbike.com predicts, the prices of bicycles will probably keep increasing in 2022 due to multiple factors like increased labor, shipping, and material costs.
Therefore, if you like a bike and its size is suitable for you, I recommend buying it.
What Are the Best Mountain Bikes for Beginners?
The best MTB for beginners are affordable, come with a suspended front fork, components from Shimano, and enough gears to conquer any terrain.
---
Co-op Cycles DRT 1.1 Bike
Main Features
Suitable for men and women
Rapidfire Plus shifters for smooth shifting
Hydraulic disc brakes for effective stopping
100 mm fork travel for increased riding comfort
Platform pedals included
Technical Specifications
Frame material: Aluminum
Weight: 14.35 kg
Drivetrain: 21 speed Shimano Tourney with 7-speed cassette and 3X chainring
Wheels: 27.5″
Tires: 2.1″ Kenda Kandre
The Co-op Cycles DRT 1.1 Bike has a unique top tube profile. Thanks to it it is suitable for men and women.
You get efficient stopping power with the disc brakes in all types of weather. So, you can rely on it on almost any type of terrain.
It will also be easy for you to find the right gear because the 3×7 Shimano drivetrain offers a wide range of them. Conquer steep sections and ride fast downhill!
The bike will perform great even in mud thanks to 27.5″ wheels with 2.1″ tires that provide enough traction.
It is a very good competitor of Trek 820. DRT 1.1 is a little bit more expensive. But, it offers hydraulic disc brakes, which is an advantage compared to the mechanical ones because you don't have to squeeze the brake levers so hard.
To wrap this up, if you want a good mountain bike with disc brakes for an affordable price, this one is the right for you.
---
Cannondale Trail 8
Main Features
Available for men and women
microSHIFT Thumb-Tap shifters effortless shifting
Mechanical disc brakes
75 mm fork travel for increased riding comfort
Platform pedals included
Technical Specifications
Frame material: Aluminum
Weight: 14.9 kg
Drivetrain: Shimano Tourney 2×7spd
Wheels: 27.5″ or 29″, depending on the bike size
Tires: WTB Ranger Comp, 27.5 or 29 x 2.25 in
Cannondale Trail line includes multiple bikes. The Trail 8 is the most affordable one. It comes with lower-end but decent components considering its price range.
Depending on the bike size, you get 27.5-inch or 29-inch wheels and tires. So, keep this in mind when choosing the bike size.
Trail 8, as the name suggests, is suitable mainly for trails, dirt, gravel, forest, and other types of roads. Considering its 75mm fork travel, I don't recommend it for too difficult terrain. But, of course, you can use it for commuting too.
Thanks to its 2X drivetrain, there is less chance of cross chaining than with 3X drivetrains, making shifting a little easier.
You also don't have to buy pedals separately because they are already included.
If you want to get a lighter bike with better components, check out the Trail 6. It's more expensive but more advanced.
---
Polygon Xtrada 6
Main Features
Highly durable double-wall alloy rims
1X Shimano Deore drivetrain for quick and easy shifting
Hydraulic disc brakes
120 mm fork travel for increased riding comfort
Technical Specifications
Frame material: Aluminum
Drivetrain: Shimano's Deore (1x11spd)
Wheels: Entity XL2 Disc
Tires: Entity Spyderbait SA-290, 2.25″
Fork: Suntour XCR 32 LO-R with 120mm travel
The Polygon Xtrada 6 offers surprisingly great value for the money.
It follows the trend of 1X drivetrains, where you don't have to think about cross-chaining. Instead, you simply choose one of the 11 gears that will suit you best.
The 11-51T cassette will provide you with gears for steep climbs but also for fast flat sections.
This bike is perfect for climbing thanks to its slack head tube and steep seat tube that allows you to push into pedals effectively.
And once you go downhill, you can stop, thanks to the Shimano hydraulic disc brakes effectively.
The Xtrada 6 is the mid-range model from the Xtrada range. You can also check out Xtrada 5 with a 2X drivetrain and entry-level components.
---
Marin Bobcat Trail 3
Main Features
Hydraulic disc brakes
120 mm fork travel for increased riding comfort
Technical Specifications
Frame material: Aluminum
Drivetrain: Shimano Altus (2x8spd)
Wheels: Marin Aluminum Double Wall, 25mm Inner, Pinned Joint, Disc Specific
Tires: MTB, 27.5/29×2.25″
Fork: SR Suntour XCM HLO 120mm with 120mm travel
Are you looking for a mountain bike suitable for trails? Look no further because that's what Marin designed the Bobcat Trail 3 for.
It's the entry-level MTB from the Bobcat Trail family, suitable for beginners and people on a tight budget.
Bobcat Trail 3 geometry features a slack head tube, low standover, relatively long reach, and steep seat tube angles, making its handling predictable on trails.
It comes with a 2×8spd Shimano Altus drivetrain, so you will have 16 gears to choose from.
You will also get powerful stopping power in all conditions with the Tektro M275 hydraulic disc brakes.
Keep in mind the wheel size differs depending on the bike size. Smaller sizes come with 27.5-inch wheels, while larger sizes with 29-inch wheels.
---
Trek 820
Main Features
Available for men and women
Durable steel frame
Mounts for accessories
75 mm fork travel
Platform pedals included
Technical Specifications
Frame material: Steel
Weight: 15.28 kg / 33.68 lb [M]
Drivetrain: 21-speed Shimano Tourney with 7-speed cassette and 3X chainring
Wheels: 26″
Tires: 26×2.00″ semi-slick
Trek 820 is the right mountain bike for you if you want to try mountain biking. It is perfect for various surfaces ranging from city streets to forest roads, trails, and singletracks.
Thanks to its steel frame, the bike is durable, so you can rely on it. The bike's weight is also pretty low (33.68 lb / 15.28 kg).
The 21-speed Shimano drivetrain offers enough gears for various gradients. This means that you will always find the right gear.
The knobby tires will give you enough grip on dirt roads, gravel, and other terrains. But you can ride this bike on paved roads as well. Just remember, it will require a little bit more energy.
Front suspension with 75mm travel absorbs bumps and vibrations, so your ride will be comfortable, and you can relax your hands.
There are also mounts for a rear rack that you can use for attaching bike bags or panniers. This additional cargo space allows you to store spare clothes, food, and other things needed for a long trip.
This bike is available for men and women (step-through). So you can both buy a bike and go on a trip together.
Learn more details in this review of Trek 820.
---
Batch The Mountain 29″
Main Features
Comes with 29" wheels
Well built
Rim brakes
Available in multiple colors and sizes
Compatible with a rear rack
Technical Specifications
Frame material: Aluminum
Drivetrain: Shimano 3×7spd
Wheels: Stars Alloy 32H Double Wall Rims, Steel QR Hubs
Tires: CST All-Terrains
Fork: Suntour XCE28, 100mm Travel
Batch The Mountain 29" is better at maintaining speed and will provide you with better comfort and traction thanks to the larger wheel diameter. I recommend reading the section about the wheel size if you want to learn more.
The 100mm travel Suntour suspension will absorb bumps, and your ride in terrain will be more comfortable.
With the 3×7 gearing, you will always find a gear to tackle any terrain. Yes, 2X shifting would be better (it's easier to get used to and much simpler to use), but at this price range, it is rare.
Keep in mind that pedals are not included, and you need to buy them separately. Choose from flat pedals or MTB clipless pedals depending on your riding style.
This bike is also compatible with a rear rack so that you can transform it into a commuter with cargo space for a grocery, etc.
One small disadvantage of this bike is the rim brakes. Rim brakes are known for their lower effectiveness in wet conditions than disc brakes. On the other hand, they are lighter than disc brakes.
---
Trek Marlin 5
Main Features
Powerful hydraulic disc brakes
Partial internal cable routing
Rack and kickstand mounts
720 mm handlebar
Platform pedals included
If you have a slightly larger budget, the Marlin 5 by Trek should grab your attention. This MTB is available in multiple colors.
It is a great mountain bike for beginners that offers a great price-value ratio. In addition, it is versatile, well equipped, and reliable.
You can use it for trail riding, cross country, or even bike packing and long overnight trips because it is compatible with the rear rack. So you can equip it with panniers to increase its cargo capacity.
This bike has a mid-range drivetrain by Shimano that lasts longer than the low-end drivetrains. Its shifting is quick and precise.
Marlin 5 features partial internal cable routing that creates a premium look. And with the 720 mm wide handlebars, you will feel like a proper mountain biker.
Another benefit is that VP-536 nylon platform pedals are included, so you don't have to buy them separately.
So, if you are just about to begin mountain biking, Marlin 5 could be your first mountain bike.
---
Diamondback Hatch 2
Main Features
Highly durable double-wall alloy rims
Shimano Tourney drivetrain with gearing that is perfect for hills, trails, or flats
Mechanical disc brakes
100 mm fork travel for increased riding comfort
Technical Specifications
Frame material: Aluminum
Drivetrain: SunRace, 11-34T & Shimano Tourney Combination (3x7spd)
Wheels: Aluminum MTB DDM-2 double wall
Tires: MTB 29 x 2.25
Fork: SR Suntour XCE suspension with 100mm travel
The Diamondback Hatch 2 is designed for recreational mountain bikers who like to explore local singletracks, bridleways, etc.
It is made from lightweight yet durable aluminum, paired with a 100mm travel suspension fork and a reliable Shimano drivetrain. This bike is at home on the trails, helping you push your boundaries with every twist and turn.
With its 29" wheels and 2.25" MTB tires, it gives you the right balance of comfort, traction, and control through any terrain. Ensuring you are confident hitting the trails and cornering at speed without thinking twice.
It is specced with a Shimano Tourney drivetrain, and with the gearing – you'll be set for the steep hills and long fire roads without leaving you feeling shattered after and needing to call it a day early. The mechanical disc brakes provide excellent stopping power that works well in various conditions and speeds.
With the double-wall alloy rims, you'll be able to point and shoot over rocks and bumps with confidence. You'll be at home with the great entry-level bike.
Also available at rei.com
---
Giant Talon 2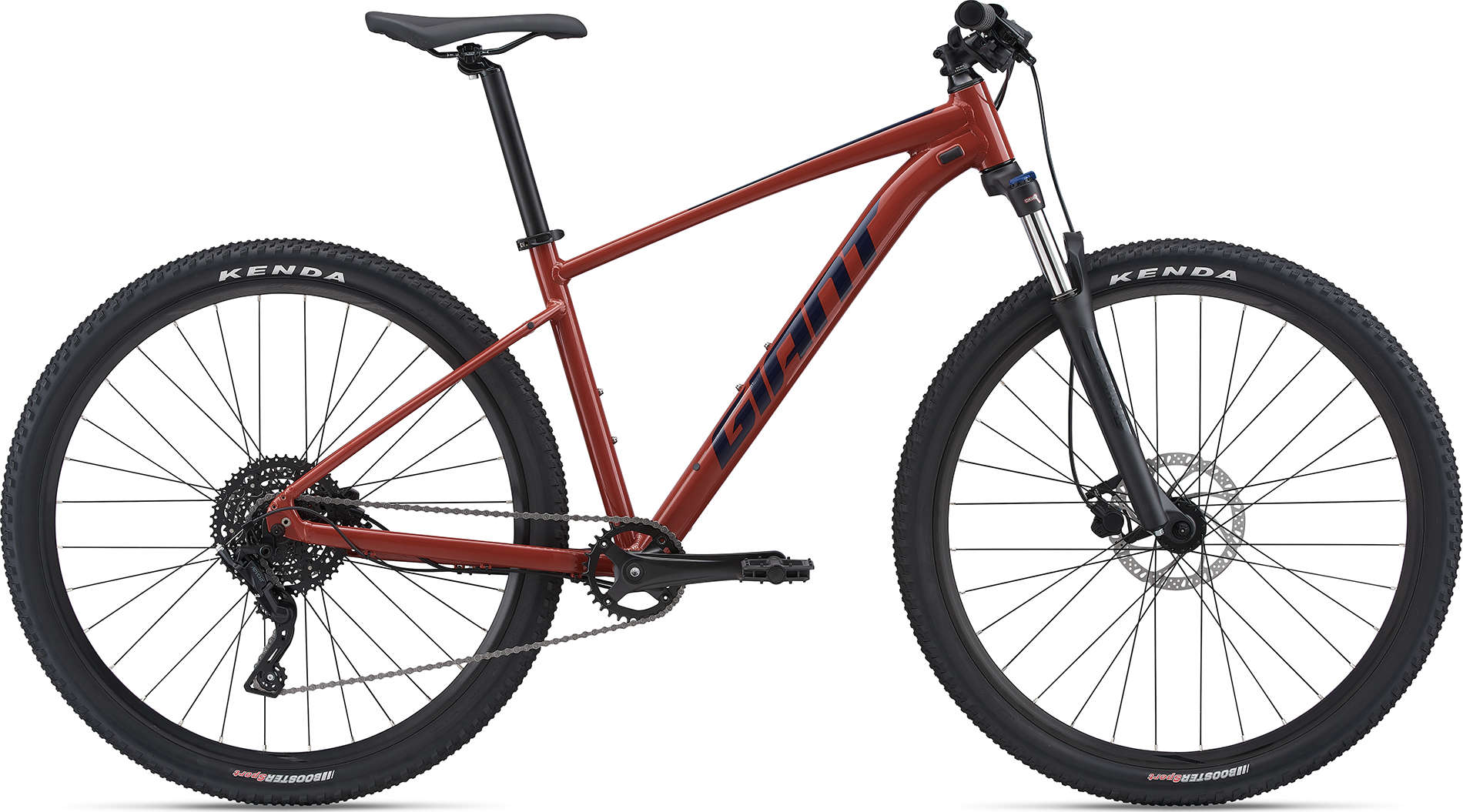 Main Features
Available in 2 colors
80 or 100 mm fork travel (depending on the bike size)
Platform pedals included
Hydraulic disc brakes
Giant Talon 2 offers great value for the money – it is equipped with light 27.5″ or 29″ (depending on which you choose).
It is suitable not only for beginners but also for experienced riders that need a spare mountain bike.
Of course, it was not designed for the toughest types of terrains, but it will handle dirt roads, trails, gravel, etc.
You will enjoy your ride's comfort because the up to 100 mm travel fork will absorb major bumps and vibrations.
Thanks to the Hydraulic disc brakes, you get enough stopping power in any weather conditions so that you can rely on them at any time.
Talon 2 is equipped with 1X shifting, so you get a pretty limited gear range (9spd). But, on the other hand, the bike is easier to maintain, less complex, and simpler.
Feel free to choose from two colors and 5 sizes.
---
Schwinn High Timber
Main Features
Front suspension
GripShift for easy shifting
Platform pedals included
Durable steel frame
Schwinn is one of the most iconic US bicycle brands. Their High Timber mountain bike is a popular choice for many.
It is equipped with 21-speed GripShift shifters that enable easy shifting with just a twist of your hand.
All-terrain knobby tires with light and durable alloy wheels will provide good traction even on rougher and more difficult terrain.
What is also great is the quick-release seat post. You can quickly adjust the saddle height.
Although this bike may require a few tweaks and adjustments once you get it, it is a good entry-level bike.
---
Mongoose Status 2.2 (Men & Women Specific Versions)
Main Features
Full-suspension bike ready for simple trails
GripShift for easy shifting
Knobby tires for on-trail control and performance
Platform pedals included
Mongoose Status 2.2 is the only full-suspension beginner mountain bike on this list. Therefore, I can't continue without a little disclaimer.
Don't expect miracles from a full-suspension bike at this price tag.
Yes, this bike is more comfortable and better absorbs bumps and vibrations than front suspension-only mountain bikes in this price range.
I mean, it can handle a lot, but I don't recommend pushing it too far. The quality of the frame and components cannot be compared with full suspension bikes for around $2000.
However, Status 2.2 offers a 21-speed drivetrain so that you can choose the right gear for steep uphills, flat sections, or descents.
It is equipped with classic rim brakes so that the stopping power may be affected in the rain. But if you don't plan to ride in the rain, you will be fine.
The major disadvantage of this bike is its weight. It weighs over 44.3 lb (20 kg), so it requires a lot of energy to make it to the top of the hill. But once you get there, the descent will be quick.
---
Upgrade the stock pedals with one of these best mountain bike flat pedals to improve your riding experience.
---
My Verdict
Go for Co-op Cycles DRT 1.1 if you have a limited budget. This is the best beginner mountain bike because it offers a lot for its price.
You can rely on it, thanks to quality Shimano components. Use it to ride on various terrains, including dirt roads, gravel, forest roads, singletracks, or trails. Its 100mm Suntour fork will absorb the bumps easily.
It comes with disc brakes that stop you when needed, even in wet conditions. Its only minor disadvantage is the 27.5″ wheels (some riders may prefer the 29″ wheels for their better inertia and more comfy ride).
But overall, this MTB has everything beginners need.
---
How to Choose a Beginner Mountain Bike?
If you are new to cycling and you don't feel comfortable in the presence of cars, a mountain bike should be the right choice for you.
In the following part, I will explain what to expect from a cheap mountain bike and how to spend your money wisely.
Feel free to watch the following video to get a sneak peek of what to expect from cheap mountain bikes.
Suspension
When choosing a beginner mountain bike, you have to decide if you want a front-suspension or a full-suspension bike. Beginner mountain bikes are equipped with basic coil or air suspension.
Front-suspension bikes are more affordable and you will get better components for a given budget. Front suspension will provide you with good riding comfort and your arms won't get tired as quickly due to the road bumps and rough terrain.
Full-suspension bikes are better if you know that you will be riding in technical terrain and want the comfort and help from the rear suspension. However, you have to prepare a larger budget to get the same components as a front-suspension bike.
Pros
Cons
Hardtail
• Lower weight of the bike
• Lack of rear suspension maintenance
• Lower price
• Lower energy loss when pedaling
• Better for climbing
• Right riding technique for rough terrain needed
• Not as comfortable as full suspension bikes
• Doesn't handle rough terrain as well as full suspension bikes
Full suspension
• Better comfort in rough terrain
• More versatile (jumps, drops, rock gardens, roots...)
• Easier to ride in more difficult terrain
• Better for downhills
• Higher price
• Higher overall weight of the bike
• More parts that can break
• Rear triangle maintenance
The pros and cons of hardtail vs. full-suspension mountain bikes
If you decide to buy a full-suspension mountain bike, you can choose between coil or air suspension.
Coil suspension is used on the cheapest bikes. The coil is great for its quick response to minor bumps, unlike cheap air suspension. You can adjust only the stiffness of the coil exactly for your weight. This means it is not very precise, and you have to guess the right setting by your sag. The right sag will improve bikes' handling and comfort.
Air suspension is used on mid-range to high-end mountain bikes. Thanks to the shock pump with a gauge, you can set your suspension sensitivity with great precision. Usually, you can set the rebound and other advanced features.
Learn more about the sag and rebound in this guide by Evo.com.
Frame Material
Thanks to low manufacturing costs and easy processing, most cheap mountain bikes are made of aluminum. However, if you have a larger budget, you can look for carbon, steel, or even titanium bikes.
Aluminum frames offer a great weight to stiffness ratio and durability for a given price. This means that the manufacturer can spend the money saved on the frame on other important components such as drivetrain, wheels, or brakes.
Carbon mountain bikes are lighter, stiffer, and more flexible than aluminum ones. They are great for pro or more demanding riders. Their downside is that they are expensive, so the manufacturer has to cut corners and equip the bike with cheaper components (if we talk about bikes for the same or similar price). The downside of the stiffness and flexibility is that carbon frames are more fragile when crashing. They can break when you fall on a rock or another hard surface.
Usually is better to buy an aluminum frame with better components when you are on a tight budget than a carbon one with worse components. Your bike will last longer, and the overall experience will be much better.
The steel and titanium frames are found on more premium bikes. Yes, you can buy a cheap steel bike, but it will probably feature very bad components compared to a bike with an aluminum frame at the same price range.
To learn more, read my bike frame materials pros & cons explained article.
Drivetrain
The drivetrain is one of the most important things I look for when choosing a bike. It is put to hard work every time I ride my bike.
Beginner mountain bikes are always equipped with the cheapest drivetrains (groupsets). That does not mean that they won't last. They are just as precise and quick as high-end groupsets and will also wear out faster. Sometimes you have to help the derailer shift by pushing the lever, but after you learn how to use them, they can serve you for many years. Yet, I recommend frequent maintenance.
There are 3 types of chainrings – 1X, 2X, and 3X. 2X and 3X chainrings are great for beginners. It is easier to shift from faster gear to slower using the front shifter. So if you are new to the sport, you won't put the rear derailer to hard work every time the terrain changes. Just make sure you avoid cross-chaining.
2X and 3X chainrings come with higher weight and are harder to set correctly. 3X chainrings are available only in the cheapest groupsets. So if you want precise shifting, you are "stuck" with 2X or 1X chainrings.
If you decide to go for a 1X, consider a chainring size. A chainring with 30 teeth will allow you to ride faster on downhills, but you may have a problem in steep uphill sections. On the other hand, thanks to the 34 teeth chainring, you will climb very steep hills.
Most 1X chainring bikes I have ridden were equipped with 32 teeth chainring; I did not struggle anywhere, even with a 10 or 11-speed cassette.
Wheels
Most modern mountain bikes use 27.5″ or 29″ wheels. The older ones used 26″ wheels. 26″ wheels are not very common anymore because the larger diameter wheels are more stable and more comfortable.
26″ were pretty popular; however, they are outdated these days. It is because of all the advantages that the bigger wheels have. They are available on the most affordable mountain bikes thanks to their low price (they are made from affordable materials like aluminum).
29″ wheels are better for speed and stability. Thanks to their size, the inertia is better, and you can maintain your speed more easily. But, on the other hand, the acceleration is slower.
If you ride off-road, they will handle bumps better, and your ride will feel smoother. The bike will also be more stable on downhills. You will also have better traction and brake power thanks to the larger contact area with the surface.
27.5″ wheels are more suitable for shorter people. Because of the smaller size, the bike is more agile and is easier to handle in tight spaces. Since they are bigger than the 26″ wheels, the speed, traction, and stability will still be noticeable.
Brakes
Beginner mountain bikes are mainly equipped with rim or disc brakes.
Rim brakes are great for their price to performance ratio. They are cheap, easy to maintain, and work well on most occasions. Because the brake pads are in direct contact with the wheel, road conditions can affect their performance, mainly if you ride through water or mud. Rim brakes are also much cheaper than disc brakes.
Disc brakes give you the best stopping power in almost any condition and are easier to control. Thanks to the different technology and the disc placement, the braking power is usually unaffected, and the breaks are more powerful. But they can get pretty hot on long and steep descents. This can result in a lack of stopping power. Don't worry. If you don't plan to descend a 10-mile route, you will be fine.
There are 2 types of disc brakes – mechanical and hydraulic. Mechanical are cheaper and easier to maintain, but hydraulic brakes are more popular and have a better brake control because of the different technology.
Bike Size
Once you choose the mountain bike model you want to buy, it is time to pick its correct size. This is a crucial step because you won't enjoy your ride with the wrong bike size.
It can be difficult to choose the right size when you can't try the bike in person and try it out. But, thanks to bike size charts and bike size calculators, it will be a matter of a few minutes.
So, make sure you read my other article where I explain How to Choose a Bike Size. It also contains a bike size calculator to calculate the correct mountain bike size for you.
---
Additional Tips for Beginner Mountain Bikers
In the following section, you learn a few beginner mountain bike tips. I gathered them from my experience and from my friends who have been riding mountain bikes since they were children.
1. Get a Bike Helmet & Bike Accessories
There are many different types of accessories for mountain bikes.
The first, most obvious thing is that you need a helmet. Even a cheap one can save you from severe injuries. Don't underestimate your safety.
Trust me; I know what I am talking about. My good friend crashed badly on his mountain bike, and the helmet saved him from a concussion and other injuries.
But it is not just about the helmet. If you plan to ride longer trips, you can take advantage of bike accessories.
Make sure you get at least the following ones:
A speedometer is great for those of you who like to measure the speed and distance of your trip. Yes, you can use your phone, but why drain your battery when a little helper knows the same.
2. Download Useful Cycling Apps
Mobile apps can help you find the right trails/paths, track your progress, or even help you with first aid.
These are my favorite apps for mountain biking:
Trailforks for planning rides
Strava for ride tracking
Red Cross for first aid
Another useful app is Windy for a weather forecast. It is great if you plan longer trips and want to be sure about the weather. To find more useful apps, check the selection of the best cycling apps.
3. Enjoy It
There is one thing that I repeatedly hear from most of the riders.
It is not about the equipment you have. It is about you and about the moment you are in. And if you are enjoying it, that is all that matters.
---
Beginner Mountain Bikes FAQ
---
This post is regularly updated to provide you with the most up-to-date product tips. If you find a product that is not up to date, please, contact me.