CyclistsHub is supported by its readers. We may receive a commission if you buy products using our links (learn more).
This is my selection of the best road bikes for beginners. It includes road bikes from $700 to $1500 for men and women.
I've been road cycling for over five years and regularly monitor the cycling industry. So you learn a thing or two about road bikes and how to choose your first one.
I wouldn't be ashamed to ride any road bike listed in this article. I read reviews and did in-depth market research on what is currently available.
The best road bike for beginners overall is the Polygon Strattos S2. It won't ruin your budget, has a comfortable geometry and carbon fork, it's reasonably lightweight, and comes with 28mm tires for increased riding comfort.
To help you get started with road cycling, I also added tips from more experienced or pro cyclists.
Are you ready?
Let's get started!
What Are the Best Road Bikes for Beginners?
The best beginner road bikes are affordable (around $1000). They mostly come with rim brakes, but a few models have disc brakes. Entry-level road bikes usually have low-end groupsets like Shimano Claris, Sora, or Tiagra and more relaxed (endurance) geometry.
The following roundup includes bikes from the top road bike brands as well as from those less known.
Read the How to Choose a Road Bike section first to learn more about your first road bike.
---
Polygon Strattos S2 (Best Beginner Road Bike Overall)
Polygon Strattos S2 doesn't try to be a bike that it's not. Instead, it's a simple rim brake road bike for a good price.
Surprisingly, it has a carbon fork to absorb vibrations better than steel or aluminum forks.
Thanks to the included mounts, you can equip it with panniers, racks, and additional accessories, making it a bike touring machine.
The 2022 model of Strattos S2 differs from the 2021 model in the frame color and components, but they are comparable.
The 2023 model remained largely the same. However, the 28mm tires have been replaced with 25mm. This is a step backward. Replace them with 28mm for better comfort.
I recommend checking out other models from the Strattos line if you are willing to expand your budget. It ranges from (S2 to S8). The higher-end models have better components and are lighter.
Tommaso Imola
Tommaso Imola is a great entry-level road bike equipped with good components. Based on the owner's reviews, it is a responsive, smooth bike that climbs well.
It is equipped with 25mm comfortable tires (learn more). Its fork is made of steel, which means it is durable but does not absorb vibration like carbon forks.
The geometry of Imola is perfect for beginners because it allows a more upright position. This comes in handy for long-distance rides. And this is a great bike for long distances.
It is compatible with a rear rack, so you can use panniers to increase your storage capacity for long trips and bike touring.
The biggest downside of this bike is the 3x groupset. Yes, it offers a wider gear selection, but it takes some time to get used to it and needs some practice to avoid cross-chaining.
On the other hand, the Shimano groupset works smoothly and is precise. So make sure you take advantage of all gears.
Feel free to choose from 3 colors (black, white, and orange) and order the ready-to-ride build that you can assemble in 10 minutes.
Liv Avail AR 4 (Best Road Bike for Beginner Women)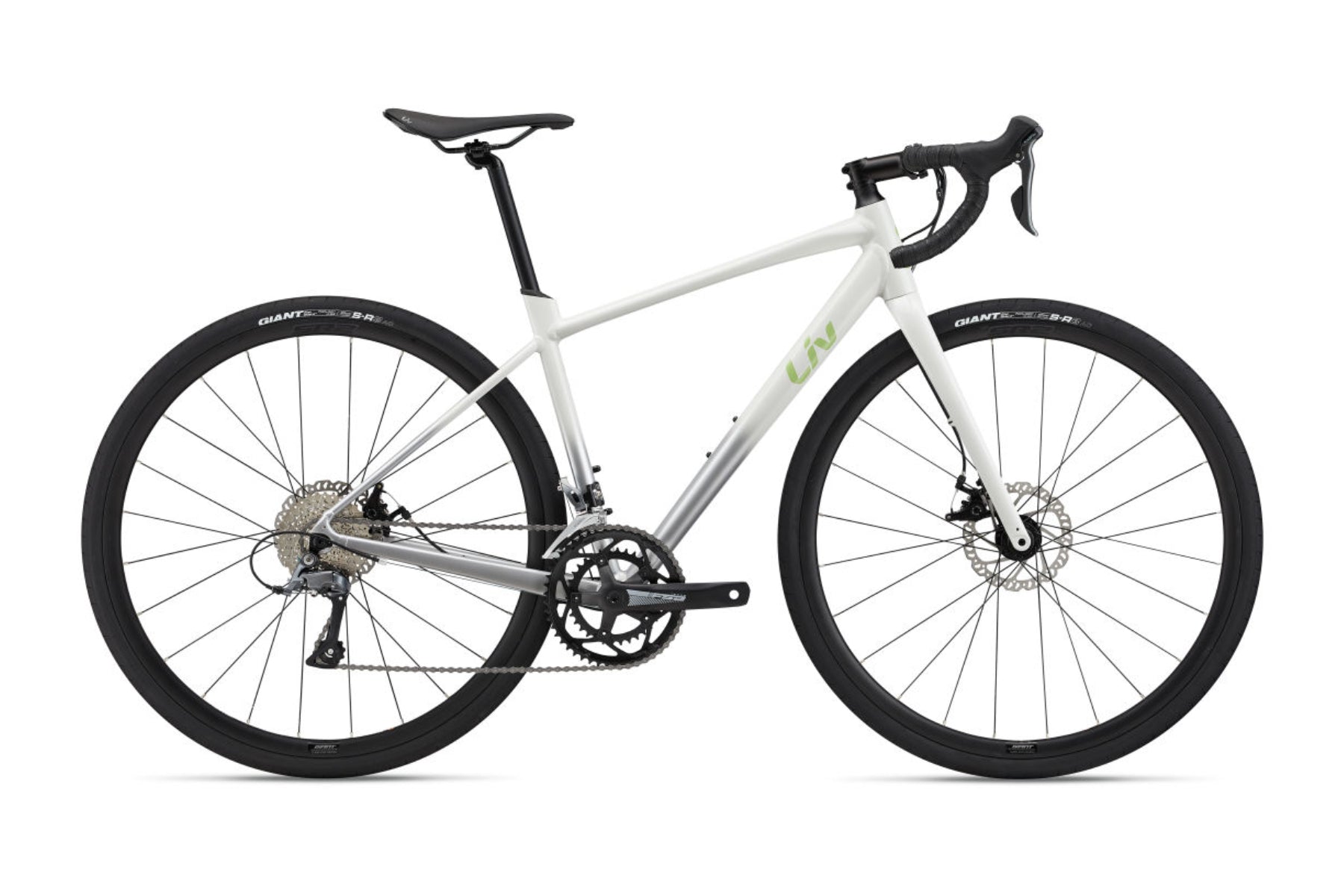 Liv Avail AR 4 is a hidden gem. It offers an excellent price-value ratio that makes it one of the best road bikes for women in this price range.
Its endurance geometry was designed specifically for women. It is perfect for beginners or women with limited flexibility because it allows them to sit in a more comfortable, upright position.
Avail AR 4 has mechanical disc brakes that will stop you in wet conditions or long descents within a blink of an eye. Well, not as fast, of course, but you know what I mean – they are effective.
The carbon fork provides stiffness yet a good amount of comfort because it will absorb road vibrations.
Probably the only downside is the Shimano Claris groupset that offers 2x8spd. It would be great if AR 4 came with Shimano Sora or Tiagra. But these groupsets are rare in this price range. So if you want a better groupset with a wider gear selection and lower weight, you have to pay more for Liv Avail AR 3.
For under $1000, Liv Avail AR 4 is a good bargain. Do you agree?
Trek Domane AL 2
Domane AL 2 and AL 2 Disc are based on the Trek Domane family – a series of endurance road bikes. They are ideal for beginners because their geometry is focused on comfort, which allows a more relaxed upright riding position.
Their carbon fork is nice to have because it absorbs some vibrations that are not transferred to your hands, wrists, and shoulders. This means that the ride is more comfortable.
With the Domane AL 2, you can take trips, train, or even race. Of course, the bike has limits, but its owners appreciate this versatility. The 28mm puncture-resistant tires can also manage light gravel sections that can surprise you during a trip.
The components on this bike are made primarily by Shimano and Bontrager, so the price-value ratio is excellent. Unfortunately, the gear range is 2x8spd, which is limiting for some riders.
On the other hand, Domane AL 2 is compatible with the DuoTrap S speed sensor (not included), transmitting your speed, cadence, average speed, distance traveled, and other useful data to your smartphone or head unit.
If you decide to do some backpacking, you can because the frame is compatible with a rear rack and fenders that are very useful for bikepacking and touring.
By the way, Trek Domane AL 2 is also available with mechanical disc brakes. The Trek Domane AL 2 Disc offers a similar specification but is slightly heavier (23.68 lb / 10.74 kg).
Are you interested in gravel bikes? Then, check the selections of the best gravel bikes from various price ranges.
Giant Contend 3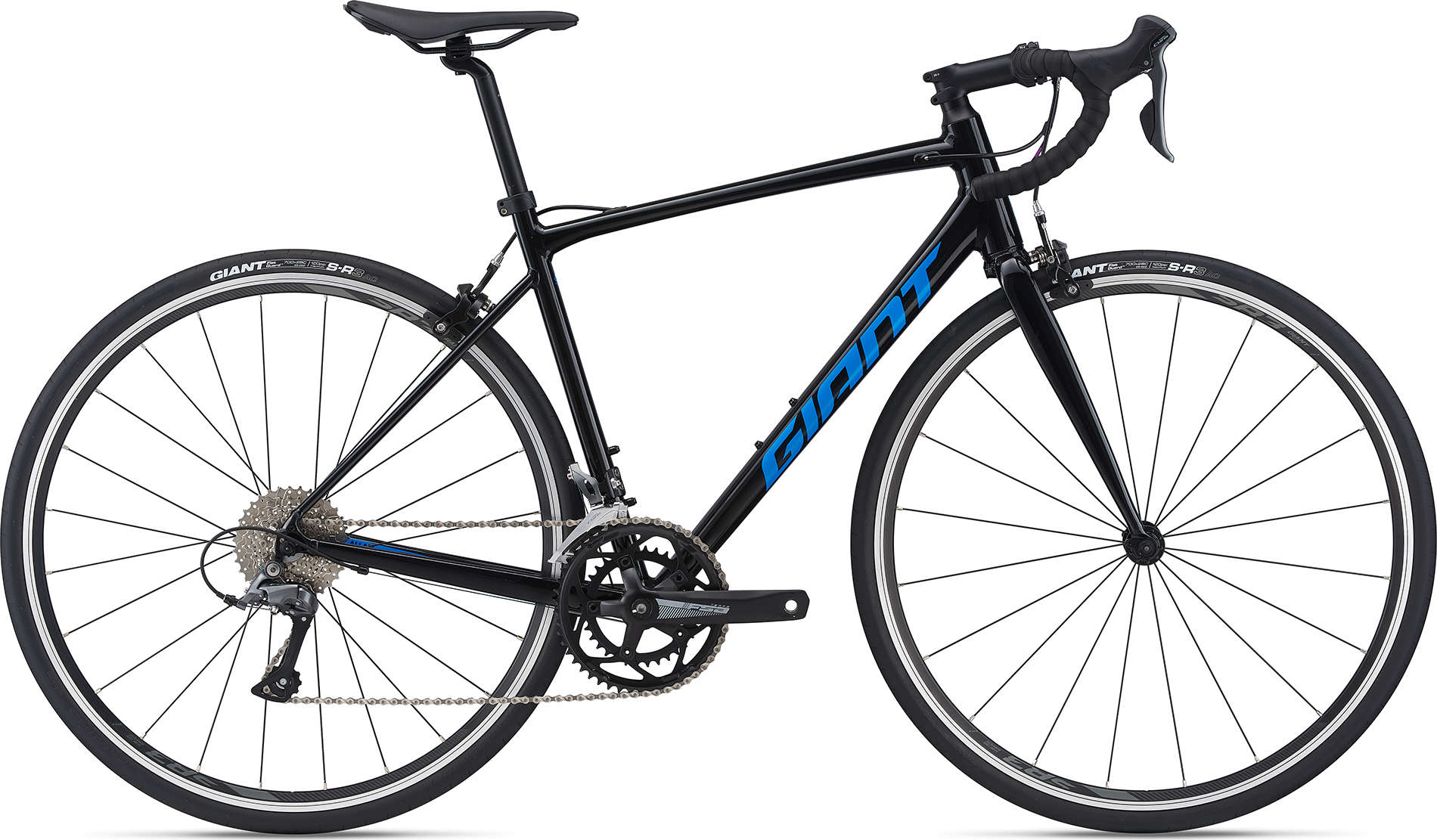 The Giant is known for its affordable but high-quality bikes. Contend 3 is the ideal road bike for beginners. It is comfortable thanks to more upright geometry and versatile at the same time.
You can use it for indoor training, bike trips, or maintaining your fitness level outside. In addition, the tire clearance allows you to equip it with up to 32 mm wide tires, good for rough tarmac or roads with potholes.
Based on the reviews, the bike rides smoothly and is relatively stiff. So you will feel a good acceleration every time you push into the pedals. This makes it perfect for more performance-oriented riders just starting with road cycling.
The main downside of this bike is the limiting 2x8spd gearing; if you visit steep mountains, you may have trouble finding the right gear for your preferred cadence.
What I like about Contend 3 is its clean design, thanks to partial internal cable routing.
And I also have good news for fans of disc brakes. Giant Contend 3 is available with disc brakes and a slightly different configuration (Giant Contend 3 AR). Just remember, it is more expensive than Contend 3.
Upgrade the stock wheels to make the bike faster. Browse the best budget road bike wheels on the market.
Cannondale CAAD Optimo 4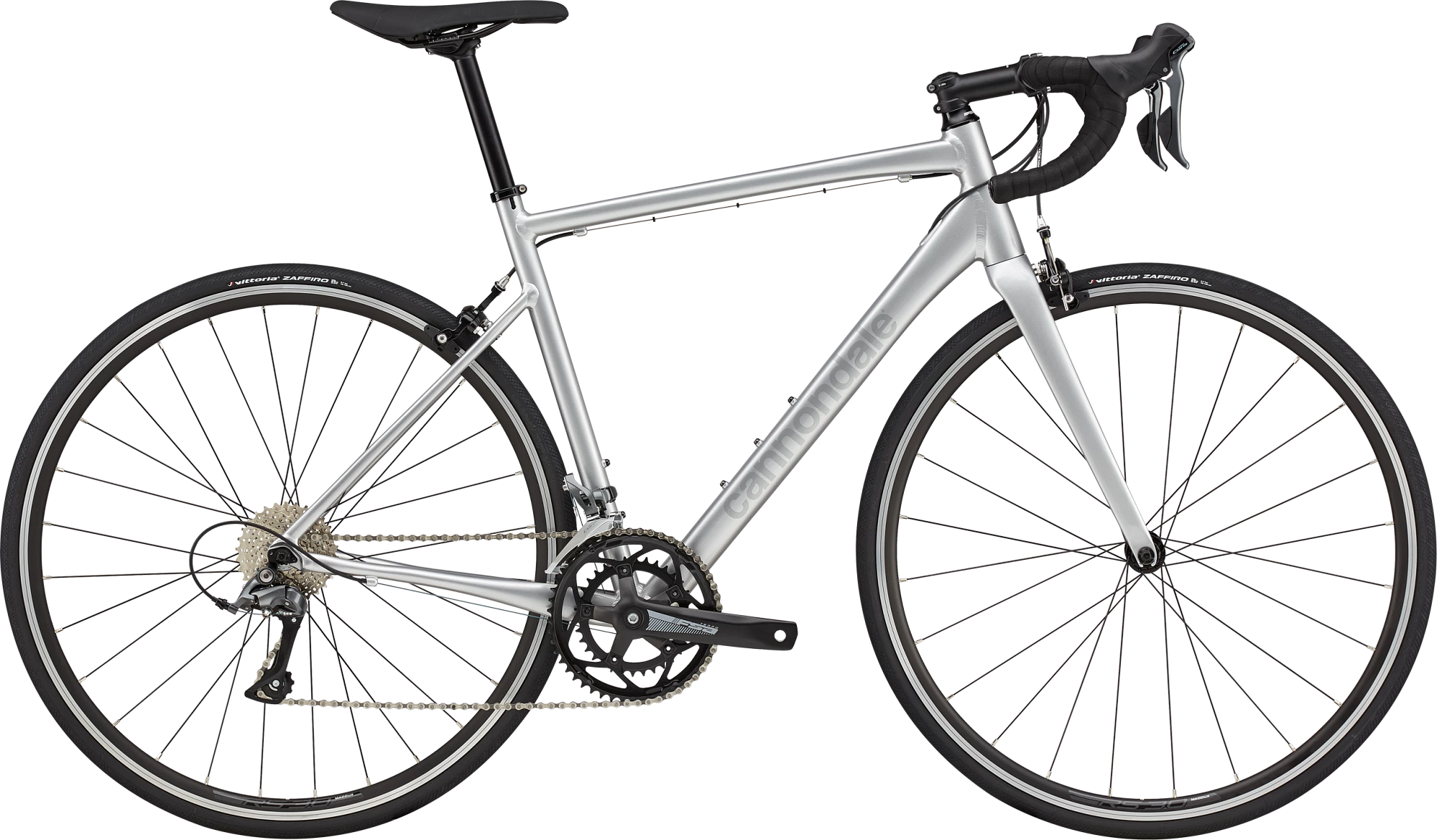 If you want an affordable road bike capable of winning races, CAAD Optimo 4 should grab your attention.
Its geometry is similar to the geometries of performance bikes. It is slightly more aggressive, pushing the rider into a more aerodynamic, faster position.
CAAD Optimo 4 offers an excellent price-value ratio – it features a carbon fork that absorbs vibrations and makes your ride more comfortable. And the Shimano Claris groupset combined with FSA Tempo cranks will ensure fast and precise gear changes.
Yes, the gear range is limited to 2×8 speeds, but you should be ok if you don't need to climb gradients steeper than 10%.
Thanks to the discreet logo, the bike looks clean and minimalistic, almost matching the frame color. So how do you like it?
You may also be interested in clipless pedals. Check this selection of the best road bike pedals for your new road bike.
Canyon Endurance AL Disc 6
Canyon Endurance line belongs to the best road bikes in terms of price-value ratio. I had Canyon AL 6 from 2016 for several years. It was a perfect entry-level road bike.
This is mainly thanks to the direct sales business model so that Canyon can offer good bikes for an affordable price. However, their price-value ratio has worsened over the past few years.
The AL 6 for 2023 is heavier by about 1 lb (0.45 kg) than the previous generation and more expensive. But still lighter than some of the bikes in this roundup.
I also noticed that the aesthetics of welds greatly improved – their aluminum frames look like carbon ones.
AL 6 has Shimano Tiagra R4720 hydraulic disc brakes for effective stopping power in all conditions.
AL 6 is reasonably stiff and responsive but mainly comfortable thanks to its endurance geometry and 32mm tires. Those can even handle light gravel.
Canyon AL 6 is also slightly more expensive than the other road bikes in this article.
Don't forget to wear a helmet on your bike. Feel free to check the selection of the best budget road bike helmets.
Specialized Allez
Specialized Allez is the most affordable road bike from Specialized. It is ideal for beginners or people who want to commute to and from their work.
Thanks to its compatibility with rear racks and fenders, you can also use it for long-distance trips. You will be able to equip it with panniers to store everything you may need.
Its geometry is relaxed and, therefore, comfortable for less flexible riders. It's also one of the few road bikes with rim brakes.
The carbon fork makes the ride smoother by absorbing vibrations otherwise transferred to your hands and wrists.
The only main problem may be the limited gear choice (2x8spd), so Allez is unsuitable for too hilly areas or steep climbs.
Feel free to choose from multiple colors and sizes.
Felt VR | 60
Felt VR | 60 is a modern-looking, well-equipped bike with an excellent price-value ratio. It is perfect for solo trips and group rides to explore the countryside or maintain fitness.
It features a carbon fork that absorbs and reduces the vibrations transferred to your hands. This makes the ride more comfortable.
VR | 60 offers a 2×8 Shimano Claris groupset that is precise, but its gear range may be limiting for some riders living in a mountainous area.
The bonus is that it has mechanical disc brakes with enough stopping power, even in wet conditions.
Owners of this bike also praise its comfort thanks to relatively wide 30mm high-volume tires. These allow you to ride on paved surfaces and on light gravel.
I am a huge fan of its modern design. What about you?
Did you not choose any bike from this selection? Check the Best Gravel Bikes Under $1500.
My Verdict
Polygon Strattos S2 is the best road bike for beginners. It is a bike with quality Shimano components that are precise and quick compared to groupsets from other manufacturers.
Strattos S2 is comfortable, thanks to the more relaxed geometry that allows an upright sitting position.
And, if you decide to go for an all-day-long adventure, feel free to attach a rack with panniers to the bike to store food, spare clothes, tools, and other things needed for your trip.
Is this going to be your first road bike?
---
How Much Should You Spend on a Beginner Road Bike?
The short answer is: Spend around $1000 on a new road bike.
Isn't it too much? Well, let me explain it more in detail in the long answer:
When I bought my first road bike, I started with market research. I found out that branded quality bikes start at around $800. It was a lot of money for me, so I needed more reasons to justify this price tag. So I read a few bike forums and talked with people who sell bikes.
Cheap road bikes priced under $500 are fitted with cheap heavy components and wear out more quickly. And, to be honest, I would be afraid of riding on a very cheap bike in descents and races.
I didn't want to buy a bike that would ruin my road cycling experience because of its poor quality.
Ultimately, I bought a Canyon Endurance AL 6.0 2016 for about $1300. I own it to this day, and I can say that I am delighted with it. It offered an excellent price-value ratio (thanks to Canyon's direct sales business model).
Of course, you don't have to buy a bike for the same price. It also depends on what riding style you prefer.
If you want a road bike for casual trips through the countryside, $500 may be good enough. But remember, it has limits, and I don't recommend pushing them too far. It may not end well.
Therefore, I recommend buying a beginner road bike for around $1000. A road bike for $300 will take you from point A to point B, but would you trust this bike in descents where you reach speeds above 40 mph (65 km/h)? I would not.
TIP: Check out this research based on hundreds of bikes to learn more about road bike prices.
New or Used?
If you are sure you will enjoy road cycling, I recommend buying a brand-new bike.
When buying a second-hand bike, you never know how well the previous owner cared for it. If you go for a second-hand bike, check it with a mechanic or buy from places like The Pros Closet.
On the other hand, some of my friends have found top deals on bikes for a fraction of the retail price. But you have to be lucky.
So, as always, it depends. New bikes are hassle-free, but second-hand bikes may provide a more interesting price-value ratio.
Read the following section to learn more about the bike's features and what to expect at this price range.
---
How to Choose a Road Bike?
The following part explains what road bike features you should focus on as a beginner. You learn more about road bikes, groupsets, frames, brakes, etc. I simplified it for this article. Feel free to read the full How to choose a road bike guide.
Road Bike Type
Did you know that there are 8 basic road bike types?
I will explain the first 4 categories because they are the most relevant for beginners.
1. Endurance road bikes are probably the best choice for beginners. Their geometry allows a more upright position compared to other types of road bikes. It is a very similar geometry that you can find on fitness hybrid bikes. It is more comfortable and suitable for less flexible riders or riders not used to the more aggressive riding position.
I started with an endurance road bike when I got into road cycling. The transition from my old mountain bike was much smoother, and it was easier to get used to the different riding position.
The downside of an endurance road bike is that you are less aerodynamic due to a more upright position. This means that endurance road bikes tend to be slower than performance or aero road bikes.
2. Performance road bikes are also sometimes called lightweight or race road bikes. They are very like endurance road bikes. The main difference is their more aggressive geometry. It pushes the rider into a more aerodynamic position with a lower drag coefficient. They also tend to be very lightweight and stiff.
This type of road bike is perfect for performance-oriented riders. Pro riders use performance road bikes for mountain stages with a large elevation.
3. Aero road bikes are optimized to be as aerodynamic as possible. They allow riding in an aerodynamic position that is more aggressive than performance road bikes. Aero road bikes are popular among sprinters and racers, especially for criteriums, flats, and hilly races.
Aero road bikes' downsides are the least comfortable riding position, slightly higher weight than performance road bikes, and high price (aero road bikes start at around $2500).
4. Touring road bikes form a very specific category of road bikes. They are designed for bike packing and touring. This means that a touring road bike has a geometry that allows a more relaxed riding position. Touring bikes are also compatible with various bike accessories like racks, fenders, etc., and have a longer wheelbase (source). An alternative to a touring bike may be a gravel bike.
Frame Material & Bike Weight
Entry-level road bikes priced between $300 to $1500 are mostly made of aluminum. Carbon or steel road bikes are rare in this price range.
Aluminum road bike frames are the most affordable, thanks to lower manufacturing costs. Aluminum frames are not as stiff as steel or carbon frames but are lighter than steel frames. The biggest downside of aluminum frames is that they fatigue and corrode over time. Aluminum road bikes are the perfect entry-level point for beginners and advanced riders with a limited budget.
Carbon road bike frames are very stiff and light (they offer the highest stiff-to-weight ratio). They are perfect for performance-oriented riders

or people who want the latest and greatest. The biggest downside of the carbon frames is their price and the fact that they need to be inspected for cracks after a heavy crash to prevent failure under stress (but you should do that for aluminum frames as well).

Steel road bikes are not as widespread anymore. Yet, they are stiff and durable but relatively heavy compared to aluminum or carbon frames. They provide good power transfer, won't crack after a first crash, and have a unique look thanks to thin tubes.
Sources: CyclingWeekly, SheldonBrown, ScienceDirect
TIP: Read my article explaining bike frame materials to learn more about the pros & cons of materials used for bike frames.
Groupset
Entry-level road bikes use mostly 2X groupsets. But there are also road bikes with 1X or even 3X groupsets. So, which one is the best and which one should you choose?
Go for a road bike with a 2X or 1X groupset. 2X shifting (2 chainrings) offers a wider gear range than 1X.
2X groupset is the most widespread among road cyclists. If you look at the bikes used by professional riders or do your research, you will find that most road bikes are fitted with 2X groupsets.
For example, in our 20 men's cycling team, we all use a 2X groupset. I don't know any road cyclists with 1X groupsets.
1X groupsets are much lighter and simpler. Unfortunately, they are also pretty expensive, so you won't find them on beginner road bikes.
I don't recommend a 3X groupset due to its weight, aerodynamics, and complexity.
TIP: Avoid cross-chaining if you ride a bike with a 2X (eventually 3X) groupset. It is a situation when you ride with the chain on the small chainring and the smallest sprocket on the cassette (and vice versa).
There are 3 main manufacturers of groupsets – Shimano*, Campagnolo, and SRAM. You can see groupsets comparisons from these manufacturers in the following table.
*According to Credit Suisse, Shimano had about 80% of the global share in bike components in 2016.
Level
Shimano
SRAM
Campagnolo
Type
Entry
Claris
Mechanical
Entry
Sora
Mechanical
Entry
Tiagra
Apex
Mechanical
Mid-range
105 11spd
105 12 spd
105 12 spd Di2¹
Rival
Rival eTap AXS¹
Centaur
Mechanical
Mid-range
Force
Chorus
Mechanical
Pro
Ultegra Di2
Force eTap AXS
Chorus EPS
Electronic
Pro
RED
Record
Super Record
Mechanical
Pro
Dura-Ace Di2
RED eTap AXS
Super Record EPS
Electronic
A comparison of road bike groupsets (from entry-level to pro) of the major manufacturers (Shimano, SRAM, and Campagnolo) and their type.
¹Shimano 105 Di2 and Rival eTap AXS are electronic groupsets.
Budget road bikes almost always come with cheaper mechanical groupsets like Shimano Claris, Shimano Sora, Microshift, etc. Some road bikes feature components made in-house or from less-known brands.
These groupsets wear out more quickly and need to be maintained more often. They are also heavier, not as precise, and efficient as high-end groupsets.
I recommend the following article by BikeExchange if you want to learn more about individual groupsets.
Wheels & Tires
The standard wheel size of road bike tires is 700c (622 mm). You won't have any other choice with a road bike. Anyway, what you can choose is the tire width. And here, things get interesting.
The general rule of thumb is the wider and higher volume of the tire, the more comfort you get. According to road.cc, the common standard was 23mm tires, but it slowly changed to 25mm tires. Nowadays, road bikes are designed to fit 28mm and sometimes even wider tires.
I used 25mm tires, but I currently use 28mm tires and can't say enough good words about them. I recommend you do a few experiments and test rides with various tire widths inflated to different pressures to find which one best suits you.
Brakes
Road bikes come with rim or disc brakes.
Rim brakes exist in many variants, including 'V brakes,' 'U brakes,' etc. Their principle is simple – braking pads apply friction to the wheel's rim and slow the bike.
Rim brakes have been pretty popular for decades, but they have had a strong competitor in the last few years (read more about disc brakes below). The advantage of rim brakes is their lower weight, easier maintenance, and lower price than disc brakes, but they are not as effective in the rain and long descents.
Disc brakes

Mechanical disc brakes work similarly to rim brakes – a steel cable moves the pistons, creating friction that slows the bike. The advantage is that they are compatible with standard rim shifters and are easier to maintain at home. Their disadvantage is that the steel cable can wear out more quickly and break when you don't expect it.
Hydraulic disc brakes use fluid filled in the system. As CyclingAbout explains, when you pull the brake lever, the fluid rushes down to the caliper, closing the brake pads. This type of disc brake provides braking consistency in any riding condition. On the other hand, they are more difficult to maintain at home due to their complexity.
The cheap road bikes (around $500) are usually equipped with rim brakes. I believe rim brakes are better for beginners based on the info above.
If you want a road bike with disc brakes, you will have to pay more, especially for hydraulic disc brakes, which are more expensive than mechanical disc brakes.
On the other hand, they allow you to equip your bike with wider tires (28mm or more).
Road Bike Size
The correct road bike size is essential. But how to choose it when you can't try the bike in person?
There are bike sizing methods, or you can take advantage of bike size charts on the retailer's website.
Road bike size is usually given in centimeters or descriptive sizes (S, M, L, etc.). Women's road bikes have some specifics (like lower standover height). However, most road bikes are unisex. So with slight adjustments (stem length, handlebar width, saddle height), they can be suitable for women.
To learn more about choosing the right bike size, read my article on How to Choose a Bike Size.
This tool by Bikeinsights will help you when comparing different road bike geometries.
---
Tips for Beginner Road Cyclists (to Make Your Riding More Enjoyable)
You get the idea… So, here are a few tips you can take advantage of.
1. Get Cycling Clothing & Other Accessories
I know. Getting a new bike and other accessories is not cheap. I struggled to buy cycling clothes and other accessories because I had a tight budget.
The good news is that you don't have to buy everything at once; you can slowly build up your equipment. But some things like a cycling helmet are a must-have!
2. Download Useful Cycling Apps
You don't need to download all the apps I recommend, but I believe some will improve your riding experience. Check out my selection of the Best Cycling Apps for more apps.
3. Tweak Your Riding Position
Setting the correct bike fit is alchemy. If you succeed, you will increase your riding comfort, prevent injuries, and enjoy your rides more.
Cam Nicholls and Neill Stanbury made one of the best road bike fitting series. Neill is a pro bike fitter that can explain bike fitting in an easy-to-understand way to set your bike fit at home.
4. Eat and Drink Properly During Your Ride
Estimating how much food and water you will need for your trip as a beginner can be difficult.
The longer the ride = the more food and water you need.
I always take more food with me than I need to prevent hunger-strike.
Trainright.com recommends eating about 100-150 calories of carbohydrates (25-37 g) per hour during rides longer than 90 minutes. But it is more complicated than that.
The number of burned calories depends on your weight, ride intensity, and many other factors.
TIP: Take some cash with you so you can buy water or food during your ride.
Every person has different needs, so it may take a while to figure out how much food you will need for your ride. I usually take a few bananas, bread with Nutella, rice cake, or oatmeal balls for rides longer than 2 hours.
What about the water? The British Cycling Organization recommends taking 500-750 ml of fluids per hour. If you underestimate fluid intake during longer rides, you may have problems (cramps, dehydration, etc.).
If you don't have a water bottle, get one. Check the selection of the best insulated and non-insulated cycling water bottles. If you want to find out more details about individual groupsets,
To learn more about fueling your body during a bike ride, check this article by Trainright.com.
5. Join a Club or Find Other Roadies in Your Area
During my first season, I rode my bike alone. But I enjoyed it less and less because it was too stereotypical. So that's why I found other cyclists to ride and train together.
I managed to find a local club. The beauty of road cycling is, among other things, that you can visit places you didn't know about, push your limits, meet new people, compete, and have fun.
Often, others motivate you to ride regularly or help you squeeze the most out of yourself. Believe me. You will ride further and probably even faster in the group.
And if everything goes well and you build new friendships, you can go on holiday together to places you would hardly get by yourself.
---
This post is regularly updated to provide the most up-to-date product tips. If you find a product that is not up to date, please, contact me.