CyclistsHub is supported by its readers. We may receive a commission if you buy products using our links (learn more).
Finding the best full suspension bike under $2000 is honestly not easy because this price range is pretty low. However, I managed to find a few bikes suitable for men and women.
The best full suspension mountain bike under $2000 is the Polygon Siskiu D7. It has a 120mm RockShox front and rear suspension, dropper post, and 27.5" wheels for an agile ride.
If you are new to full suspension mountain bikes, read my in-depth buyers' guide to learn how to choose one that will suit your needs and budget.
Let's not waste any more time. It's time to get you lined up with the perfect match today.
What Are the Best Full Suspension Mountain Bikes Under $2000?
The best full suspension MTBs under $2000 are those with a quality frame (mostly aluminum), suspension (RockShox, Suntour, etc.), and hydraulic disc brakes. You should also prefer Shimano or SRAM groupset and 1X drivetrain. Some bikes in this price range come with a dropper post.
If you are new to full suspension bikes, don't hesitate to check the buyers' guide first.
Polygon Siskiu D7
Main Features
Well built
Dropper post
RockShox suspension
Hydraulic, Shimano disc brakes
Unmatched price-value ratio
Technical Specification
Wheel size: 27.5″ or 29″ (depending on the bike size)
Wheels: Polygon Entity X15 wheelset with Shimano hubs
Front suspension: RockShox Recon Silver RL 120mm travel
Rear suspension: RockShox Deluxe Select Plus Rear Air Shock 120mm
Groupset: Shimano Deore 1×11spd
Weight: 34.61 lbs (15.7kg)
Polygon Siskiu D7 offers an excellent price-value ratio. You get a well-built aluminum frame with quality suspension from RockShox and 27.5-inch or 29-inch wheels (depending on the bike size).
The geometry makes D7 suitable mainly for aggressive cross-country riding, but you can also use it for trails, singletracks, etc.
Thanks to the dropper post with a remote, you can conveniently change the saddle height depending on the terrain you ride in.
Siskiu D7 has a Shimano Deore 1×11spd groupset and hydraulic disc brakes for effective stopping power.
Overall, this bike is perfect for beginners and people who want the best bang for their buck.
You can also check out Polygon Siskiu D6, which is more affordable but has a lower-end suspension.
Marin Rift Zone 27.5 1
Main Features
Well built
Available in multiple colors
Compatible with dropper posts
Hydraulic, Shimano disc brakes
Technical Specification
Wheel size: 27.5″
Wheels: Marin Aluminum Double Wall, 29mm Inner, Pinned Joint, Disc Specific
Front suspension: RockShox Recon Silver RL 130mm travel
Rear suspension: X-Fusion O2 Pro R 120mm travel
Groupset: Shimano Deore 1×11spd
Weight: n/a
The Marin Rift Zone bike line is available in three options that differ from each other in components.
Rift Zone 1 is an entry-level bike suitable for beginners and people on a tight budget. If you want better components, you will have to pay much more.
Marin Rift Zone 1 comes with 27.5-inch wheels providing you with better maneuverability, acceleration, and responsivity, so you will experience a lot of fun with it.
You can rely on its Shimano disc brakes in any weather conditions and Shimano Deore groupset for quick and precise shifting.
And, of course, you get the suspension necessary for rougher terrain thanks to the RockShox Recon Silver RL 130mm travel front fork and X-Fusion O2 Pro R air shock.
Giant Stance 29" 2
Main Features
Well built
Giant's worldwide presence ensures access to distributors
Excellent price-value ratio
Technical Specification
Wheel size: 27.5″ or 29″ (depending on the bike size)
Wheels: Giant AM 29 wheelset
Front suspension: Giant Crest 34 RCL 130mm travel
Rear suspension: Suntour Raidon R
Groupset: Shimano Deore 1×10spd
Weight: n/a
Combined with the Giant Crest 34 RCL suspension, 29in wheels, and high-volume 2.35in Maxxis tires – it's sure kitted out for long days out on the hill and got enough ability to keep you safe for when you run out.
It also has a stunning frame finish that wouldn't look out of place on a high-end Trek or Specialized. The Stance 2 is sure to tick all the boxes and is an absolute steal for under $2000.
The Stance offers an amazingly generous 450mm reach (based on the size L). It boasts a low-slung top tube and elegant seat mast, ensuring that standover clearance is equally impressive – perfect for leaving you feeling stable and in control on those descents where it's most important.
With the 29-inch wheels, you'll find stability on rocky/rooty sections and the descents with its easy rolling ability—no excuse to get those KOMs/QOMs now.
The sleek alloy frame has size-scaled tubing profiles to maintain the desired stiffness characteristics and handling across all four frame sizes – no compromises here.
---
Rockrider 29" All Mountain Bike AM 100 S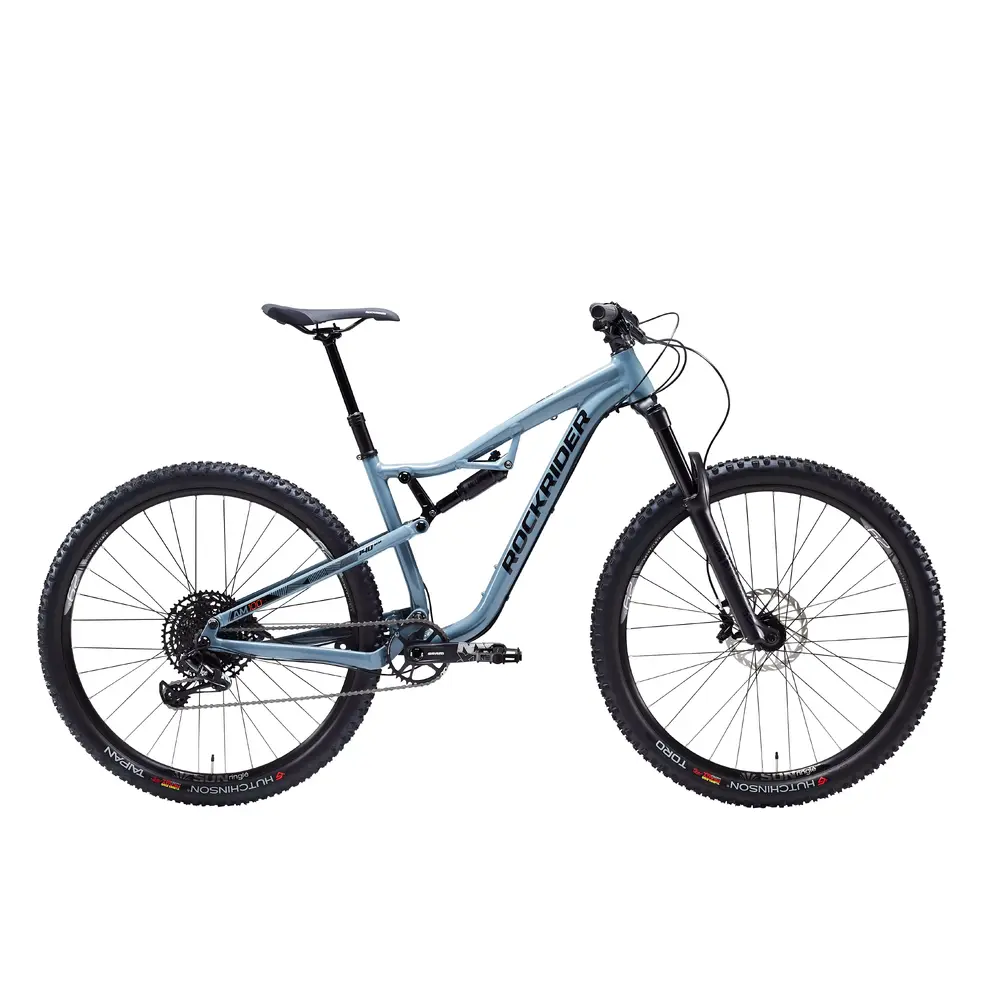 Main Features
Dropper post
Giant's worldwide presence ensures access to global customer support
Technical Specification
Wheel size: 29″
Wheels: Sun Ringle Duroc 30
Front suspension: RockShox 35 Gold 150mm travel
Rear suspension: Manitou Mcleod Air shock 140mm travel
Groupset: SRAM NX 1×12spd
Weight: 31.75 lbs (14.4kg)
Decathlons' very own Rockrider in aluminum is a great full suspension bike for beginners. It is the perfect all-mountain machine, ready to pull you up the hills at your local trail center or a day out with the family exploring on two wheels.
With 29" wheels, you will be rolling over obstacles and climbing the hills rapidly without much effort.
It comes with a 66° head angle, short stem, 1×12 SRAM NX drivetrain, and dropper seat post – perfect for getting you straight on the trails.
The dropped seat is a great bonus, too, so you can drop your seat down ready for those descents without the need to get off your bike and whip out your tools.
This bike boasts a handsome Rockshox 150mm fork on the front and a Manitou McLeod 140mm rear shock when it comes to suspension.
The perfect amount of travel for most trails and enough suspension to get you out of trouble when you need it.
It features a Hutchinson Tubeless Ready Taipan 29″ x 2.35 tire up front and a Toro 29″ x 2.25 tire outback, so you'll have bags of grip while shredding it up on the trails. However, be aware that the 29" may be a bit of a handful if you're short.
Regarding the braking power, you'll be in good hands with SRAM. It's kitted out front and rear with SRAM Level T brakes – 180mm front disc brake (2 pistons) and 160mm rear disc brake.
Our take on the Rockrider – a great all-rounder with some seriously good spec for the price. This bike will want to keep going even when you've run out of energy. Also, with Decathlon being a worldwide brand, it makes the sport more accessible to the masses.
---
Are you buying a mountain bike without pedals? Then don't forget to choose from these selections of the best flat mountain bike pedals OR the best clipless mountain bike pedals, depending on which style you prefer.
---
Liv Embolden 2 (Women Specific)
Main Features
Women's specific bike geometry
High-built quality (Liv is Giant's brand)
Technical Specification
Wheel size: 27.5″ or 29″
Wheels: Giant AM 27.5 (29), tubeless-ready
Front suspension: SR Suntour Raidon 34 LOR DS 130mm travel
Rear suspension: Suntour Raidon R 120mm travel
Groupset: Shimano Deore 1×10spd
If you're looking for a women's specific full suspension mountain bike, look no further than the Aluminum Liv Embolden 2.
Unleash your wild side on the trails and discover endless amounts of unknown territory comfortably with the trail-ready Embolden 2, the perfect bike to get you onto the trails and singletracks – away from the hustle and bustle and into a world of your own.
This Embolden is designed with women's-specific geometry with 130 mm front/120 mm rear suspension and runs on a single-pivot Flexpoint platform, making the bike feel stable, fast, and energetic – perfect for the terrain when it toughens up and gets technical.
It is a 27.5" model but doesn't compromise on stability nor being nimble and allows you to execute even the most daring of descents without batting an eyelid.
When it comes to its components, it doesn't scrimp on quality. With a full SRAM 11-speed cassette, Suntour 130mm front and 120mm rear travel, and Shimano BR-MT200 hydraulic disc brakes front and rear – you're in safe hands with not only capability but stopping power alike.
The only downside to this build is that they stop at a Medium, at which point you would usually be recommended to go to one of the models in the Giant range (as they're part of the same company). Also, there isn't a dropper post included in the build, but this is a luxury extra item you can add later down the line.
---
My Verdict
Polygon Siskiu D7 wowed me with the price and componentry. It is the best full suspension mountain bike under $2000 that I found.
It has a great setup with the components and a dropper post included, which many other brands didn't offer.
Polygon offers a great build, and I feel it is the best bang for your buck-all-rounder option that will grow with you as your riding develops.
With them not warranting a higher price bracket as many other brands do for this type of build, this is an absolute steal. So you'll be able to grab an amazing bike and still have cash left over for extras.
---
How to Choose a Full Suspension Mountain Bike?
Choosing a full suspension mountain bike for under $2000 is not easy. In the following part, you find out what to expect from full suspension bikes at this price and how to spend your money wisely.
Suspension
The $2000 budget does not allow manufacturers to equip the bike with the latest and greatest. Full suspension MTBs in this price range feature lower-quality components than more expensive bikes.
When choosing a full suspension mountain bike, you also have to think about the types of terrain you want to ride in.
The more difficult terrain, the longer travel of suspension you should get. Longer suspension travel can absorb large impacts, bumps, rocks, etc., so your ride will be more convenient.
Depending on the type of MTB, the suspension travel will vary. The following table shows the suspension travel for different types of mountain bikes.
| Type of Mountain Bike | Suspension Travel |
| --- | --- |
| Cross-country | 90-120mm |
| Trail | 120-150mm |
| All-Mountain/Enduro | 150-180mm |
| Downhill | 180-200mm |
Front Suspension
Cheaper full suspension mountain bikes (for under $2000) feature lower-end front forks. These differ from the high-end models by reliability, efficiency, performance, and weight.
Lower-end front forks don't provide as good a riding experience as high-end forks. They also may not feature as good adjustability of compression and rebound dampening (learn more).
But this does not mean that bikes with low-end forks are bad. They can still absorb bumps pretty well.
Rear Suspension
There are 2 types of rear suspension – coil and air suspension. Bikes below $2000 are usually equipped with air suspension. Coil suspension is used on high-end full suspension mountain bikes.
Every bike manufacturer uses a slightly different type of rear suspension. It is a pretty complex topic, but Bikeradar explains it extensively in their guide on rear suspension systems. Feel free to read it to find out more.
TIP: To adjust the air suspension, you will need a mountain bike shock pump. If you don't have it yet, make sure to get one.
Frame Material
Full suspension bikes under $2000 are mostly made of aluminum (carbon full MTBs start at around $3000). Aluminum offers a great weight to stiffness ratio and durability for a given price.
This means that the manufacturer can spend the money saved on the frame on other important components such as groupset, wheels, or brakes.
A good full suspension bike under $2000 should weigh around 32 lb (15 kg) in an M size (without pedals).
Groupset
The groupset is one of the most important things to look for when choosing a bike. It is under pressure every time you pedal, so getting a bike with a better groupset pays off.
There are 3 types of chainrings – 1X, 2X, and 3X. Full suspension bikes mostly feature a 1X chainring.
Yes, the gear selection is limited with a 1X chainring. But there is no need to have 22 gears on a full suspension bike as there are on road bikes.
The 1X chainrings differ in the number of teeth (usually 30, 32, or 34). With 34 teeth in the front, you can ride faster on downhills, but you may have a problem in steep uphill sections. On the other hand, thanks to the 34 teeth chainring, you will climb very steep hills.*
*This also depends on the cassette and the gear ratio (learn more).
Most 1X chainring bikes I have ridden were equipped with 32 teeth chainring; I did not struggle anywhere, even with a 10 or 11-speed cassette.
Wheels
Most modern full suspension mountain bikes use 27.5″ or 29″ wheels. Some MTBs still use 26″ wheels, but they are not very common anymore. So, should you get a bike with 27.5″ or 29″ wheels?
29″ wheels are better for speed and stability. Thanks to their size, you can maintain your speed more easily. On the other hand, you will accelerate slower.
If you ride off-road, they will handle bumps better, and your ride will feel smoother. The bike will be more stable on downhills, and you get better traction and brake power thanks to the larger contact area with the surface.
27.5″ wheels are more suitable for shorter people. Because of the smaller size, the bike is more agile and is easier to handle in tight spaces. Since they are bigger than the 26″ wheels, the speed, traction, and stability will be still noticeable.
Brakes
Bikes use rim or disc brakes. I did not find many full suspension bikes with rim brakes around the $2000 mark during my research. Disc brakes provide efficient braking power in all weather conditions. There are 2 types of disc brakes:
The vast majority of good full suspension bikes use hydraulic disc brakes. So, I recommend passing bikes with mechanical disc brakes.
Read my article explaining the benefits of rim vs. disc brakes to learn more.
Dropper Seatpost
A dropper seatpost is a nice-to-have feature. It allows you to drop your saddle anytime you need it. This is useful in downhills or technical sections where you need a lower center of gravity and more space to control your bike.
Not all full suspension bikes under $2000 offer dropper seatpost because they are not cheap. The pros and cons of the dropper seatpost are the following:
Pros
Quickly drop/raise seat
Better riding convenience
Better riding experience
Cons
Higher price
Added weight
Added complexity
---
---
This post is regularly updated to provide the most up-to-date product tips. If you find a product that is not up to date, please, contact me.