CyclistsHub is supported by its readers. If you buy products using our links, we may receive a commission (learn more).
This is a selection of the best mountain bikes under $1000. I included 27.5″ and 29″ MTBs for men and women.
I read dozens of reviews, discussed mountain bikes with my friends who run bike stores, and I also asked them for tips on how to choose a mountain bike. Then, I summarized all info in this article to save your time.
The best mountain bike under $1000 overall is the Marin Palisades Trail 27.5″. It offers the best price-value ratio from all bikes in this selection.
Continue reading to learn what to expect from mountain bikes in the below $1000 range, what wheel size to choose, and much more.
IMPORTANT NOTE: Due to the shortage of bike components and high demand for bikes, many bikes are out of stock online. Unfortunately, it is necessary to wait even several months for some bikes.
---
What Are the Best Mountain Bikes Under $1000?
The best mountain bikes under $1000 are mostly cross-country or hardtail mountain bikes (bikes with only the front fork suspension). Unfortunately, this price range doesn't allow manufacturers to offer full-suspension MTBs. You can expect bikes mostly with 27.5″, but there are also models with 29″ wheels. Aim for bikes with disc brakes that provide you with better stopping power at all conditions than rim brakes.
If you are new to mountain bikes, feel free to read the buyers' guide first to find out more info that will help you decide what bike to choose.
---
Marin Palisades Trail 2 27.5″
Main Features
Well kitted out all-rounder hardtail 
Reputable WTB tires with bags of grip
Front fork with 100mm of travel for all of your trail center and bridleway adventures
18 gears to help you up the hills
Technical Specifications
Frame material: Aluminum
Weight: n/a
Drivetrain: Shimano Altus/Acera 2x9spd, 18 gears & 36-22 crankset 
Wheels: 27.5"
Tires: WTB Trailboss Comp, 27.5 x 2.25″, TR
Fork: RockShox Judy Silver TK, 100mm Travel
With the Palisades Trail 2, Marin has produced not just a serious contender in the bike world but also an affordable option too, with high-quality parts and a professional finish to boot. You'll be a winner with this cracking build. 
Starting with the most important feature – the Shimano Altus/Acera drivetrain, which is a great upgrade from Shimano's Tourney groupset seen on other builds. The smooth and powerful gearing will give you hours of effortless riding. The Shimano Acera gear set is supported by an Altus front derailleur. With a 36-22t crank on the front matched with a 9-speed rear cassette, you get 18 gears in total to tackle any terrain.
Unfortunately, the rims are not tubeless-ready, but with the WTB Trail Comp tires – you'll be rolling all day long without having to worry or think twice about those pointy rocks or sending that drop.
The wheel size is 27.5″ on all bike sizes, so you get enough back wheel clearance with them. After all, there's nothing worse than getting hit up the bum by your back wheel on a descent.
When it comes to suspension, the RockShox Judy Silver TK fork has you covered, taking the vibration out of those rocky trails and stopping your arms from feeling like jelly.
Are you ready to push your boundaries with Palisades Trail 2? At under $1,000, nothing is stopping you.
---
Co-op Cycles DRT 1.2 Bike
Main Features
Well kitted out all-rounder hardtail 
Reputable WTB tires with bags of grip
Front fork with 120mm of travel for all of your trail center and bridleway adventures
18 gears to help you up the hills
Flat pedals included
Technical Specifications
Frame material: Aluminum
Weight: 32.47lb (14.73kg)
Drivetrain: Shimano Altus 2x9spd, 18 gears (11-36t cassette)
Wheels: 27.5" (XS-M) or 29" (L, XL)
Tires: WTB Trail Boss; 27.5 (29) x 2.4 in
Fork: SR Suntour XCR dual piston suspension, 120mm travel
Co-op's one of the most popular bikes, DRT 1.2 is a great entry-level bike. It comes with a Shimano Altus drivetrain and 18 gears to help you conquer various terrains.
Depending on the size you choose, it is equipped with 27.5" or 29" wheels. This differentiates it from Marin Palisades Trail 2 in a good way because 29" wheels are faster, and the bike is more stable.
To keep you on track at all times, the wheels use WTB Trail Boss tires that are known for their good grip and won't puncture easily.
DRT 1.2 is pretty comfy also thanks to the 120mm travel fork that absorbs bumps in terrain. You can lock it on smooth terrain to save some energy.
This bike has included platform pedals so you don't have to buy them separately. If you decide to do so, check out this selection of flat pedals for MTBs.
The main disadvantage compared to the Palisades Trail 2 is the higher price.
Overall, Co-op Cycles DRT 1.2 is suitable for beginners and slightly advanced riders who want to ride on forest roads, trails, or more demanding terrain.
---
Trek Marlin 6 + Trek Marlin 6 WMN
Main Features
Men's & Women's specific models
Lock out front suspension 
Eye-catching colorways 
Rack & kickstand mounts making it multi-use
Hydraulic brakes front and rear to stop you on time, every time
S & XS specifics – curved top tube, smaller wheel size & short-reach brakes
Technical Spec
Frame material: Aluminum
Weight: n/a
Drivetrain: Shimano Altus 11-34 8 Speed
Wheels: Bontrager Connection 27.5" on XS/S & 29" on M upwards
Tires: Bontrager XR Comp from and rear. 27.5" on XS/S & 29" on M upwards
Fork: SR Suntour 100mm 
Whether you're testing the waters of off-road riding or looking for an all-rounded bike to get to and from the office as well as play on the weekend, Marlin 6 is a great option and at a great value.
With the Marlins wide-range gears, you'll be covering endless kilometers of road and trail. 
It offers both rack mounts and a rear kickstand, so you can use this bike as a commuter as well as put in some serious time on forest drive to let your hair down.
With the front suspension lockout, you'll find it easy to put your foot down and go the distance easily. The internal routing will stop any noisy chatter whilst you're going over uneven ground on the trails. 
The Marlin has one of the smaller forks out of the lineup I have listed, but don't let that steer you. It's more capable than it may first seem.
It's packed with features usually found only on more expensive bikes, like a stylish frame with internal shift cable and brake hose routing, which can help your cables last longer by protecting them from the elements – looking after you for the long haul. Also, you'll be in good hands knowing that Trek's lifetime warranty backs it. 
---
Giant Talon 1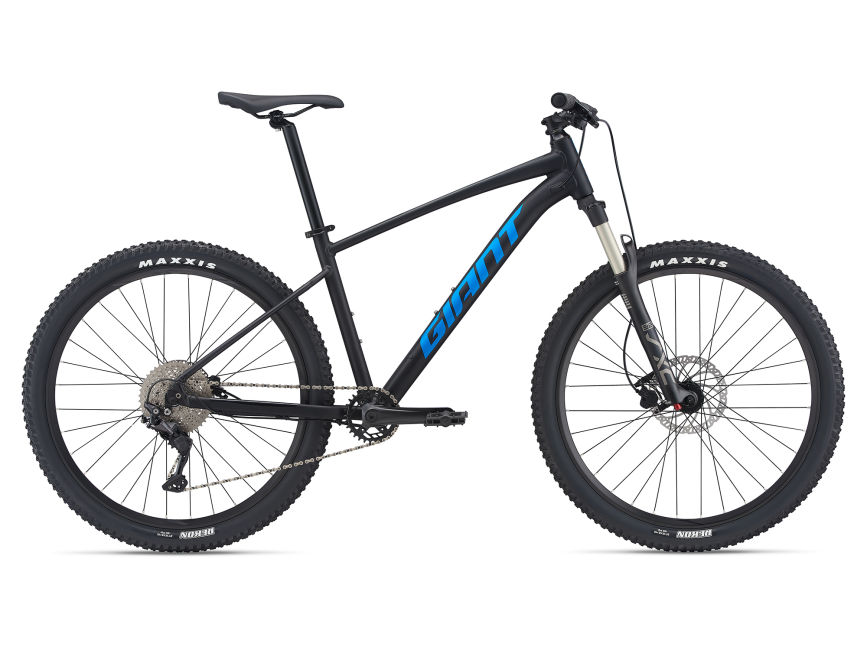 Main Features
Reliable well-known drivetrain 
Double-wall rims for extra stability and rigidity 
Rebound adjust forks for ride adjustability 
Modern geometry 
2 wheel sizes 
Technical Spec
Frame material: Aluminum
Weight: n/a
Drivetrain: Shimano Deore 10 speed 11×42
Wheels: Giant Spot Tracker
Tires: Maxxis Rekon 27.5 or 29×2.4, wire bead
Fork: Rock Shox Judy 80mm
If you're looking for a bike with modern geometry, the Talon is one to consider. It is based around an all-new trail frame designed in the UK, which comes loaded with all of the latest tech, making sure you're well kitted out for any day out on the trails.
This frame is also perfect as a long-term upgrade platform. Its chassis and handling characteristics make it a great option. 
It boasts other practical touches, such as the twin bottle cage mounts, internal cabling, and rack mounts on the rear, meaning it is a quiet and multi-purpose machine.
Also, the seat tube bottle position is super-low to allow maximum seat drop for those all-important descents. 
The 2 areas that let it down are the Talons brakes and the fork. The brakes are not as powerful as what other bikes offer in the same field, and the fork does not compliment the frame's advanced geometry (and not being much travel), which is a shame as it has a great offering apart from these 2 points. 
---
You may also be interested in the selection of the Best Mountain Bike Shoes.
---
Vitus Nucleus 27″ + Vitus Nucleus 29″
Main Features
Tubeless-ready for fewer punctures 
Winner of several global 'Hardtail of the Year' awards
Threaded bottom bracket for increased durability
Tektro M275 brakes will give you ample stopping power
A mixture of Vitus and Nukeproof components – 2 great brands come together to make something amazing
Technical Spec
Frame material: Aluminum
Weight: n/a
Drivetrain: Shimano Deore 8 speed 11-42t
Wheels: WTB ST I30 front and rear – tubeless ready
Tires: WTB Vigilante Comp on front & WTB Trail Boss Comp on the rear
Fork: SR Suntour 120mm
Warning: Don't be fooled by the price point. The Nucleus isn't your run-of-the-mill entry-level mountain bike, from its aggressive to its geometry. It's a dark horse in the market and a good one at that. 
Vitus has thrown its hat into the ring with the Nucleus, and for a good reason. It offers two different wheel sizes, so you'll be spoilt for choice. Both sizes are evenly matched with components and aggressive geometry, so you'll be hooked straight away and shredding the trails endlessly. 
It is complemented with meaty WTB tires, a well-equipped cockpit, powerful hydraulic brakes, and a slick-shifting 2x drivetrain. All hanging from its finely sculpted and eye-catching alloy frame. It sure wouldn't look out of place on a bike costing double the money than what it's asking. 
With it being light and agile, you can effortlessly maneuver around the trail without having to think twice or muscling the bike around.
It certainly is understated, with it be just as comfortable blasting down rocky bridleways at high speed as it gobbling up those trail kilometers without having to think twice. This bike really has no major shortcomings and is one to consider.
---
Does the bike come without pedals? Feel free to check this selection of the best clipless mountain bike pedals.
---
Cannondale Trail 6 + Cannondale Trail Women's 6
Main Features
Men's & Women's specific models
Light and durable SmartForm C3 Alloy frame
Remote lockout of front suspension for ease of climbing 
Threaded bottom bracket for durability
Comfortable saddle – say less.
Technical Spec
Frame material: Aluminum
Weight: n/a
Drivetrain: Shimano 11-34 8 speed
Wheels: Shimano rims with WTB hubs
Tires: WTB Ranger Comp, 29×2.25″ (27.5×2.25″ – XS, SM), DNA Compound
Fork: SR Suntour XCT, 100mm
Cannondale's offering in the market is second to none. From the gravel paths to the mountain climbs – it simply does it all. 
The bike's 29-inch wheels (included with medium to extra-large frames) and 100mm front suspension complement each other well, ideal for smooth singletrack or bridleway with maybe the occasional root or rocky section to keep you switched on. 
The 2.25-inch WTB Ranger tires offer bags of grip in the hard-packed dirt. However, it's worth mentioning that you may come unstuck with muddy or greasy conditions as there is less grip. But with less rolling resistance, you will soon find yourself speeding down the trail center trails along the bridleways without much effort. 
As always, I am honest here. I feel that the fork is lacking on this bike and will be an area that you will come unstuck on. With the limited travel, it will struggle on the rougher terrain and will no doubt bring a few spicy moments. 
However, this doesn't exclude this bike from being open to upgrades down the line. Alternatively, this bike is perfect for the tamer riding out there and not to be discounted as a viable and great option.
There is also a slightly more expensive alternative – Cannondale Trail 5 that comes with a 1x10spd drivetrain.
---
My Verdict
The best mountain bike under $1000 is the Marin Palisades Trail 27.5″, here is why:
It is a well-equipped hardtail bike that offers 100mm RockShox suspension, Shimano Altus/Acera 18-speed drivetrain to conquer any terrain.
Palisades Trail comes with 27.5" wheels, so keep that in mind when ordering it. The bike will be more agile than with 29" wheels but a little bit less stable.
Overall, it is a versatile mountain bike suitable for dirt & forest roads, trails, gravel, and all types of mountain bike adventures for a good price. You will still have some money for other bike accessories.
---
How to Choose a Mountain Bike Under $1000?
The following part explains what features you should expect from a mountain bike at this price range and how to choose a mountain bike that will fit your needs.
Suspension
The first thing that you should consider is the suspension that is also closely related to the mountain bike type. There are 2 types of suspension – front and rear:
Front-suspension bikes are more affordable than full suspension bikes. The suspended fork absorbs vibrations so your hands won't get numb from absorbing them.
Full-suspension bikes are have suspended fork and rear suspension (shock). They tend to be more comfortable because both wheels are suspended, and they handle more difficult terrain. On the other hand, they are much more expensive.
 
Pros
Cons
Hardtail
• Lower overall weight of the bike
• Lack of rear suspension maintenance
• Lower price
• Lower energy loss when pedaling
• Better for uphills
• Right riding technique for rough terrain needed
• Not as comfortable as full suspension
• Doesn't handle rough terrain as well as full suspension
Full suspension
• Better comfort in rough terrain
• More versatile (jumps, drops, rock gardens, roots...)
• Easier to ride in more difficult terrain
• Better for downhills
• Higher price
• Higher overall weight of the bike
• More parts that can break
• Rear triangle maintenance
At the below $1000 price range, I don't recommend buying a full suspension bike because you would sacrifice the quality of other components like the drivetrain, brakes, etc. Go for a hardtail bike.
Another important thing to consider when buying a mountain bike is also suspension travel. The longer the suspension travel, the larger impacts the suspension can absorb.
Check the following table to see standard suspension travel ranges for different types of mountain bikes.
| Type of MTB | Suspension Travel |
| --- | --- |
| Cross-country bikes | 90-120mm |
| Trail bikes | 120-150mm |
| Enduro bikes | 150-180mm |
| Downhill bikes | 180-200mm |
Mountain Bike Type
There are 5 basic types of mountain bikes (see the picture below). However, if you look for a good and quality mountain bike (yes, I don't mean cheap bikes from supermarkets), the below $1000 range will be enough for cross-country mountain bikes only. Trail, enduro, fat, or downhill bikes tend to be more expensive.
Cross-country bikes (also called XC bikes) have 'pedal-focused' geometry. This means they are easier to pedal on compared to downhill bikes, for example. They have a shorter wheelbase that allows easy handling.
According to BikeExchange, XC bikes are fitted with 90-100mm of travel at the frame and form, with some models offering up to 120mm.
This type of mountain bike is pretty versatile. You can use it for racing, trail riding, casual trips to the forest, countryside, or anywhere else.
What is a Hardtail Mountain Bike?
When shopping for a mountain bike, you will certainly come across the term hardtail mountain bike.
A Hardtail mountain bike is a bike without a rear suspension. It can be a cross-country mountain bike, hardtail enduro, hardtail trail, or hardtail fat bike. These types of mountain bikes differ from each other in geometry, front suspension travel, wheelbase, etc.
Frame Material
Another feature to consider is the frame material. There are 2* main materials used for mountain bikes under the $1000 price range:
Aluminum mountain bikes are popular because they are affordable, relatively stiff, and durable. They are slightly heavier than carbon mountain bikes.
Carbon mountain bikes are stiffer, lighter, and more expensive than aluminum bikes with the same components.
*The steel and titanium mountain bikes are pretty rare in this price range. Therefore, I won't explain them further. You can read my article on bike frame materials to learn more.
When I discussed with my friends whether to buy a carbon or aluminum mountain bike for the same price, they all agreed that it is better to buy an aluminum mountain bike with better components than a carbon bike with worse components.
A good mountain bike for under $1000 should weigh below 33lb (15 kg).
Groupset
The groupset is one of the most important things to look for when choosing a bike. It significantly contributes to your riding experience. Poor quality groupsets need to be maintained more often, and they also wear out faster.
Mountain bikes use one of the 3 types of chainrings – 1X, 2X, or 3X.
1X and 2X are the most popular on mountain bikes under $1000. 3X chainrings are used usually on beginner mountain bikes only.
1X chainrings are lighter and easier to operate. They are also easier to maintain. Their downside is that the jumps between individual gears are larger than on 2X or 3X chainrings. On the other hand, there is a lower risk of a dropped chain thanks to tall, unramped teeth and alternating tooth widths, as Bikeradar explains. A thing to consider with 1X chainring is its size. The larger – the heavier the gears.
2X and 3X chainrings offer large gear selection and smaller jumps between individual gears. Their main downside is the weight, complexity, and more things that can go wrong. There is also a higher chance of a dropped chain.
Wheels
Most modern mountain bikes use 27.5″ or 29″ wheels. There are mountain bikes with 26″ wheels as well, but I don't recommend them. Below, you find why.
26″ are outdated these days. They don't offer the benefits of 27.5″ and 29″ wheels. Their only advantage is that they accelerate quickly, but they are not as comfortable.
27.5″ wheels are ideal for shorter people or those riders who want to have an "agile" bike that is easier to handle in tight spaces. They offer better traction and stability than 26″ wheels.
29″ wheels are better for taller riders, but shorter people can use them too. These wheels have bigger inertia, so they maintain speed easily. They are also more comfortable on rougher terrain, more stable, and have better traction. Their only downside is that they accelerate slower than the two bike wheel sizes described above.
So, should you go for 27.5″ or 29″ wheels?
If you can, feel free to take a test ride. If you can't, the general rule of thumb is that shorter riders prefer 27.5″ wheels and taller riders 29″.
NOTE: Some retailers use different wheel sizes for different bike sizes. For example, sizes XS-M come with 27.5 wheels and L & XL with 29 wheels.
Brakes
Mountain bikes under $1000 are mostly equipped with rim or disc brakes.
Rim brakes are cheaper, lighter, and easier to maintain than disc brakes. Their stopping power is easily affected by elements like water or dirt. So, mountain bikes with rim brakes are better for casual riders who don't push their bikes to their limits.
Disc brakes provide you with better stopping power at any conditions and effectivity, but they are heavier and more expensive than rim brakes. There are 2 types of disc brakes:

Mechanical disc brakes are cheaper and easier to maintain but are not as convenient and easy-going as hydraulic disc brakes.
Hydraulic disc brakes use a different technology that allows you easier brake control. But their maintenance is more complicated.
You can find plenty of mountain bikes with hydraulic or disc brakes in the $1000 range. I would personally choose the hydraulic disc brakes because of their convenience.
Mountain Bike Size
The last thing to consider when buying a bike is its correct size. If you plan to buy a bike online, make sure to read the How to Choose a Mountain Bike Size article. It includes an interactive calculator and bike size charts to determine the right size for you.
---
Mountain Bikes Under $1000 FAQ
---
This post is regularly updated to provide you with the most up-to-date tips on products. If you find a product that is not up to date, please, contact me.