CyclistsHub is supported by its readers. If you buy products using our links, we may receive a commission (learn more).
This is a selection of the best mountain bikes under $500 for men & women. It includes mountain bikes ideal for beginners or people with a limited budget.
I asked my friends who do mountain biking or sell bikes for tips and did in-depth market research to save your time looking for the information. You find them all here.
The best mountain bike under $500 for men is Batch The Mountain 29" (also available in 27.5" wheel size option). Excellent-price value ratio – 29" (27.5") wheels, 100mm travel Suntour fork, and 3×7spd gearing.
The best mountain bike under $500 for women is Trek 820 (Step-Through). Women-specific step-through version with rim brakes, comfortable saddle, platform pedals, and gears to tackle any terrain.
Below, you will also learn how to choose a mountain bike under $500, what wheel size is the right for you, and much more.
---
IMPORTANT NOTE: Due to the shortage of bike components and high demand for bikes, many bikes are out of stock online. Unfortunately, it is necessary to wait even several months for some bikes.
What Are the Best Mountain Bikes Under $500?
The best mountain bikes under $500 have aluminum frames and a front suspension fork with travel roughly between 75 to 100mm. MTBs at this price range usually don't have rear suspension. Expect low-end components and mostly a 2X or 3X drivetrain. You can choose from bikes with 27.5″ or 29″ wheels and disc or rim brakes.
Feel free to read the buyer's guide first to find out how to choose a mountain bike under $500.
Batch The Mountain 29″ & 27.5″
Main Features
The same model is available with 29" or 27.5" wheels
Well built
Rim brakes
Available in multiple colors and sizes
Compatible with a rear rack
Technical Specifications
Frame material: Aluminum
Drivetrain: Shimano 3×7spd
Wheels: Stars Alloy 32H Double Wall Rims, Steel QR Hubs
Tires: WTB Ranger Comp, 29×2.25″, DNA CST All Terrain 29 x 2.1″
Fork: Suntour XCE28, 100mm Travel
Batch The Mountain 29" and Batch The Mountain 27.5" are two bikes with the same specs but with different wheel sizes.
The Mountain 29" is better at maintaining speed and will provide you with better comfort and traction. The Mountain 27.5" accelerates better and is more agile thanks to the smaller wheels. I recommend the section about the wheel size to learn more.
Both bikes come with the same components and cost the same. They are well-built and will be fun to ride.
The 100mm travel Suntour suspension will absorb bumps and your ride in terrain comfortable.
With the 3×7 gearing, you will always find a gear to tackle any terrain. Yes, 2X shifting would be better, but at this price range, it is rare.
Keep in mind that pedals are not included, and you need to buy them separately. Choose from flat pedals or MTB clipless pedals depending on your riding style.
These bikes are also compatible with a rear rack, so you can transform them into a commuter with cargo space for a grocery, etc.
One small disadvantage of this bike is the rim brakes. Rim brakes are known for their lower effectiveness in wet conditions than disc brakes. On the other hand, they are lighter than disc brakes.
---
GT Aggressor Expert 29″
Main Features
Hydraulic brakes to help you stop in the nick of time
WTB tires for heaps of grip
29" wheels meaning you're more stable and suitable to taller riders
Technical Specifications
Frame material: Aluminum
Drivetrain: microSHIFT 12-32T 8 speed
Wheels: WTB SX19, 32H
Tires: WTB Ranger Comp, 29×2.25″, DNA Compound
Fork: SR Suntour XCM-DS, 80mm, Hydraulic Lockout and Preload, Coil
If you're looking to venture into the world of off-road mountain biking, then consider the GT Aggressor to be your partner in crime.
No matter whether you're into peak riding, pedaling around the scenic countryside, dashing down fast singletrack, or spending long days in the saddle for all-mountain adventures, the Aggressor Expert has got your back. 
It features GT's signature Triple Triangle aluminum frame design, with forged dropouts and ⅛" head tube.
Upfront, it has the SR Suntour 80mm suspension, enough to tackle the bumpy terrain and keep you planted and stable whilst rolling along without flinching. 
It is accompanied by a microSHIFT 3×8-Speed drivetrain and Tektro hydraulic disc brakes, meaning that you can stop where you want and when you want – putting you in power.
The WTB Transition tires are excellent and match up well with the decent disc brakes letting you put enough torque in to stop with just one finger braking.
There are also GT Aggressor Sport and GT Aggressor Comp options. These bikes have the same frame in different colors and slightly cheaper components, so they are ideal for people with a limited budget.
---
Upgrade your new mountain bike with a pair of clipless mountain bike pedals.
---
Trek 820 and Trek 820 for Women
Main Features
Available in an option for men & women
Multi-purpose – city and trail weapon 
Worry less with Trek'sLifetime Warranty
The Trek 820 hardtail comes outfitted with many premium features, making it a capable and powerful option for anyone looking for a reliable entry-level bike. It is deemed as the do it all bike, with it being rugged enough to take off-road whilst being perfect as the city commuter with its racks option on the rear.
For starters, the frame is made from custom stainless that is very durable and stable. This means you will be able to take on hard rides without worrying about the bike's integrity, giving you endless years of worry-free fun.
You'll also enjoy other premium features such as the front and rear Shimano Tourney TY500 & TY300 derailleurs that effortlessly deliver smooth power throughout the ride.
The Trek 820 is packed with endless features that are very impressive and make this a great bike and a perfect entry-level option. 
The 820 is both responsive and functional, with both a men's and women's model – you'll struggle to find a reason not to have this on your shortlist when choosing your next bike.
---
Are you just starting with mountain biking? Make sure to get a pair of mountain bike shoes.
---
Marin Bolinas Ridge 1 29″ (2022)
Main Features
Double-wall alloy rims are highly durable
Shimano Tourney drivetrain with gearing that is perfect for hills and hours on the trails
Gearing perfect for fire road climbs 
Mechanical disc brakes
Technical Specifications
Frame material: Aluminum 
Drivetrain: SunRace, 11-34T & Shimano Tourney Combination (3x7spd)
Wheels: Double-Wall Alloy Rims, Forged Alloy Hubs
Tires: MTB 29 x 2.25
Fork: SR Suntour XCE suspension with 100mm travel
The Marin Bolinas Ridge doesn't fall far from the tree, with it complimenting the Marin family and being yet another great offering for the budding cyclist – designed for the recreational mountain biker looking to explore the local singletrack, bridleways, and wherever the heart takes you. 
It is made from lightweight yet durable aluminum, paired with 100mm travel suspension forks and a reliable Shimano drivetrain. This bike is at home on the trails, helping you push your boundaries with every twist and turn. 
With its 29" wheels and 2.25" MTB tires, it gives you the right balance of comfort, traction, and control through any terrain. Ensuring you are confident hitting the trails and cornering at speed without having to think twice.
It is specced with a Shimano Tourney drivetrain, and with the gearing – you'll be set for the steep hills and long fire roads without leaving you feeling shattered after and needing to call it a day early. The brakes are brought to you by the CX7 mechanical discs, providing excellent stopping power that works well in various conditions and at speed. 
With the Marin double-wall alloy rims, you'll be able to point and shoot over rocks and bumps with confidence or thinking secondly. You'll be at home with the great entry-level bike.
---
Giant ATX 3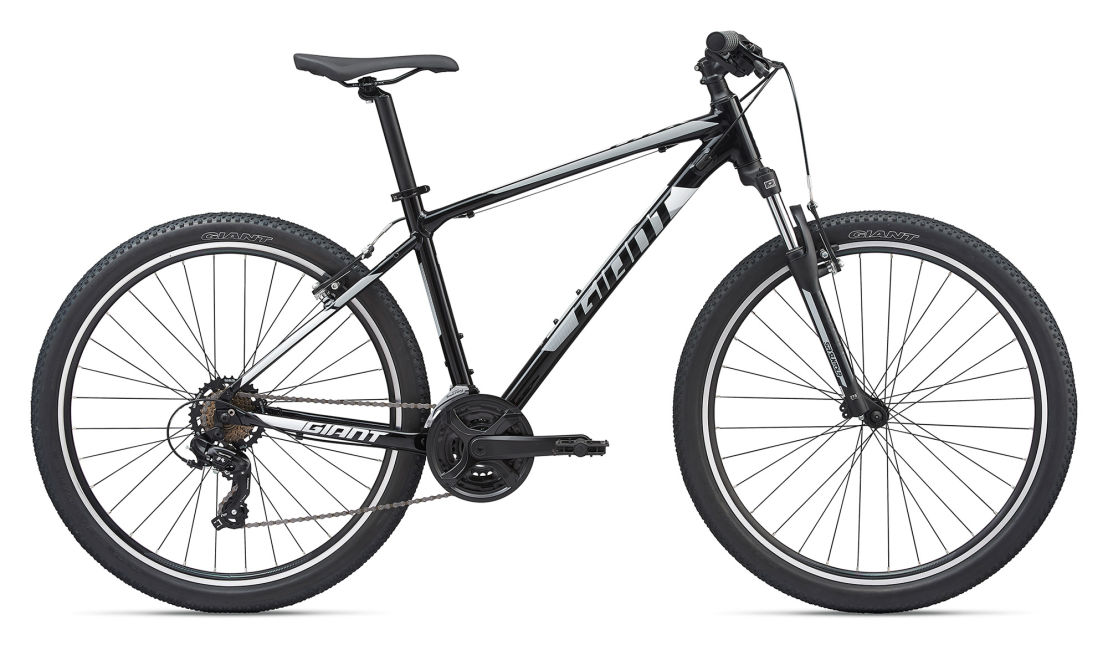 Main Features
Modern geometry putting the rider in the action
Capable on-road or off-road
internal cable routing
Technical Specifications
Frame material: Aluminum
Drivetrain: Shimano MF-TZ500, 14×34 & Shimano Tourney
Wheels: Giant GX06 26/27.5
Tires: Giant QuickCross 27.5×2.1/26×2.1
Fork: SR Suntour M3030A 26/27.5″, 75mm, preload adjustable
The Giant ATX is the perfect entry into the world of mountain biking, providing a fantastic build that'll allow you to dip your toe to off-road riding and fall in love with the sport.
It is made from alloy, making it both sturdy and leaving you feeling well planted on the trails, giving you that confidence to attack with conviction on 2 wheels. Giant has made sure that it balances weight and strength for both longevity and ease of handling.
It comes in two different wheel sizes, with the 26" model catering for smaller riders and the 27.5" (650b) models suiting all other rider heights – ensuring all riders are covered.
Also, something unique at this price point is the internal cable routing. This keeps the cables nestled within the frame, keeping them safe from being snagged, free from grit, and no cable rub on your frame. All of this whilst not compromising on the performance of the braking and shifting.
The ATX features disc brakes for all-weather and high-speed stopping power on a diam, along with a quality Shimano drivetrain and an SR Suntour suspension fork to soften those small bumps off-road.
The 75mm travel on the front is one of the lower travel bikes we have in our lineup, but it is certainly not to be over sighted. This bike will fit right in on forest paths, light trails, and even your daily commute to and from the office or shops. 
So if you're looking for a great do it all bike, then the Giant ATX is a great bike to consider.
---
Interested in more mountain bikes? Check this selection of the best beginner mountain bikes.
---
Rockrider 27.5″ ST 520
Main Features
Affordable entry-level bike 
Hydraulic disc brakes for ease of stopping in all weather
Wide range of sizing options
The Rockrider is a hardtail that delivers, and for its value – there is no reason to complain.
Upfront, it has an 80mm travel fork and hydraulic brakes, meaning that you're in control when you need to be.
This model has steep and short geometry, making climbing easy but descending a little trickier, so this is something to keep in mind if you're looking for a good all-rounder.
The all-terrain tires are great for getting out there and getting on the trails right away, no need to think about switching tires for different weather types. 
This is the bike for you if you're looking for something to introduce you to off-road cycling or are into gentle off-road adventures.
---
Mongoose Status 2.2 (Men & Women Specific Versions)
Main Features
Full-suspension bike ready for simple trails
GripShift for easy shifting
Knobby tires for on-trail control and performance
Platform pedals included
Mongoose Status 2.2 is the only full-suspension beginner mountain bike on this list. It is the only exception, and I can't continue without a little disclaimer. Don't expect miracles from a full-suspension bike at this price tag.
Yes, this bike is more comfortable and better absorbs bumps and vibrations than front suspension-only mountain bikes in this price range.
I mean, it can handle a lot, but I don't recommend pushing it too far. The quality of the frame and components cannot be compared with full suspension bikes for around $2000.
However, Status 2.2 offers a 21-speed drivetrain so that you can choose the right gear for steep uphills, flat sections, or descents.
It is equipped with classic rim brakes so that the stopping power may be affected in the rain. But if you don't plan to ride in the rain, you will be fine.
The major disadvantage of this bike is its weight. It weighs over 44.3 lb (20 kg), so it requires a lot of energy to make it to the top of the hill. But once you get there, the descent will be quick.
---
You may also be interested in the selection of the Best Mountain Bikes Under $1000.
---
My Verdict
Batch The Mountain 29″ is a perfect mountain bike for under $500 for men. It comes with rim brakes that are lighter than disc brakes and effective in dry conditions.
With 29″ wheels and 100mm travel Suntour that roll easily over demanding terrain, you get great comfort, speed, and stability.
And, as a bonus, it is compatible with a rear rack, so you can transform it into a commuter bike with cargo space.
Trek 820 (Step-Through) is an ideal choice for women. Thanks to the step-through frame, it will be easy for you to hop on your bike even if you are tired after a long trip.
It comes with a 3x7spd Shimano Tourney drivetrain, so you will always find the right gear to tackle any terrain.
And, if you decide to go for a longer trip or just to a grocery store, you can add a rear rack to extend your storage capacity. Is this going to be your next "best friend"?
---
How to Choose a Mountain Bike Under $500?
The following buyer's guide is written in a way to fit the $500 price range. If you want to find out more about mountain bikes in general, feel free to read my fully dedicated guide on How to Choose a Mountain Bike.
Mountain Bike Type
Mountain bikes can be divided into 2 basic categories:
Hardtail mountain bikes have suspended fork and a rigid rear triangle.
Full-suspension mountain bikes have suspended fork and rear shock.
In the below $500 price range, there are both types of bikes. But full-suspension bikes under $500 can't match the features of full-suspended mountain bikes for above $2000. They are heavy, and the suspension is not very effective. Don't expect too much from them, and consider getting a hardtail MTB in this price range.
Check the pros and cons of these types of suspension valid for more expensive bikes (above $2000) in the table below.
 
Pros
Cons
Hardtail
• Lower overall weight of the bike
• Lack of rear suspension maintenance
• Lower price
• Lower energy loss when pedaling
• Better for uphills
• Right riding technique for rough terrain needed
• Not as comfortable as full suspension
• Doesn't handle rough terrain as well as full suspension
Full suspension
• Better comfort in rough terrain
• More versatile (jumps, drops, rock gardens, roots...)
• Easier to ride in more difficult terrain
• Better for downhills
• Higher price
• Higher overall weight of the bike
• More parts that can break
• Rear triangle maintenance
Suspension Travel
Front suspensions differ in suspension travel. It is the distance the suspensions can move before it is fully compressed. The longer the suspension travel, the larger impacts it can absorb.
Cheap mountain bikes usually come with 80-100mm suspension travel. It is not much, but it is enough for bumpy, dirt, or gravel roads.
You can see suspension travel of individual types of mountain bikes that belong to the higher price range in the table below.
| Type of MTB | Suspension Travel |
| --- | --- |
| Cross-country bikes | 90-120mm |
| Trail bikes | 120-150mm |
| Enduro bikes | 150-180mm |
| Downhill bikes | 180-200mm |
Mountain Bike Type
There are 5 basic types of mountain bikes. But the $500 budget is relatively low so that you won't have soo many options. The vast majority of mountain bikes below $500 are hardtail, cross-country bikes.
Cross-country bikes (also called XC bikes) have 'pedal-focused' geometry. This means they are easier to pedal on compared to downhill bikes, for example. They have a shorter wheelbase that allows easy handling.
According to BikeExchange, XC bikes are fitted with 90-100mm of travel at the frame and form, with some models offering up to 120mm.
This type of mountain bike is pretty versatile. You can use it for racing, trail riding, casual trips to the forest, countryside, or anywhere else.
Frame Material
The $500 price range made it relatively easy in terms of frame material. You can get steel or an aluminum mountain bike.
Steel mountain bikes are stiff, durable, and cheap. Their downside is their higher weight.
Aluminum mountain bikes more popular because they are stiff and lighter than steel frames. The downside is their higher price than steel MTBs.
You can learn more about bike frame materials in my fully dedicated article.
Wheel Size
Mountain bikes come with 26″, 27.5″, or 29″ wheels. A mountain bike for up to $500 can be equipped with any of these sizes. So which one should you get?
26″ wheels are outdated. Their only advantage is that they accelerate quicker than 27.5″ and 29″ wheels. They are suitable for kids' mountain bikes or small mountain bike sizes for short people or women. But if you can, go for 27.5″ wheels.
27.5″ wheels are ideal for shorter people or those riders who want to have an "agile" bike that is easier to handle in tight spaces. They offer better traction thanks to a large surface area and stability than 26″ wheels.
29″ wheels are better for taller riders, but shorter people can use them too. These wheels have bigger inertia, so they maintain speed easily. They are also more comfortable on rougher terrain, more stable, and have better traction. Their only downside is that they accelerate slower than the two bike wheel sizes described above.
If you can, take a test ride to see what wheel size suits you best. If you can't, the general rule of thumb is that shorter riders prefer 27.5″ wheels and taller riders 29″.
NOTE: Some retailers use different wheel sizes for different bike sizes. For example, sizes XS-M come with 27.5 wheels and L & XL with 29 wheels.
Drivetrain
The drivetrain is put under pressure every time you pedal. Bikes use 1X, 2X, or 3X chainrings but mountain bikes under $500 come almost exclusively with 2X or 3X. 1X chainrings are used on more expensive mountain bikes.
2X chainrings have fewer gears and larger jumps between them. On the other hand, they are simpler and easier to operate for beginners. This means you don't have to think about cross-chaining as much.
3X chainrings offer a large gear selection and smaller jumps between individual gears. Their main downside is the weight, complexity, and more things that can go wrong. There is also a higher chance of a dropped chain.
What is cross-chaining? It is a situation when you ride on the biggest (lightest) gear in the rear and the biggest (heaviest) chainring in the front or vice versa. It puts the chain, cassette, chainrings, and other parts under bigger pressure. They wear out more easily. This style of shifting is also not effective.
Brakes
Mountain bikes under $500 come with rim or disc brakes.
Rim brakes are cheaper, lighter, and easier to maintain than disc brakes. But their stopping power is easily affected by elements like water or dirt. So, mountain bikes with rim brakes are better for casual riders who don't push their bikes to their limits.
Disc brakes provide you with better stopping power at any conditions and effectivity, but they are heavier and more expensive than rim brakes.
My opinion is, and I discussed this topic with a few of my friends who ride mountain bikes, that it is better to buy a mountain bike with good rim brakes than with bad disc brakes. If the 2 bikes have the same price and similar components, but the one has disc brakes and the other rim brakes, go for the one with rim brakes.
Mountain Bike Size
The last thing you should consider is the correct bike size to prevent injuries and increase your riding comfort.
If you can't try it in person because you order it online, don't worry. Feel free to take advantage of this mountain bike size chart or use my bike size calculator. It will calculate the mountain bike size based on your inseam height.
---
Mountain Bikes Under $500 FAQ
---
This post is regularly updated to provide you with the most up-to-date tips on products. If you find a product that is not up to date, please, contact me.