CyclistsHub is supported by its readers. We may receive a commission if you buy products using our links (learn more).
Titanium is known for its longevity and corrosion resistance. For some, it is not just material. It is a status symbol and exclusivity.
This article includes the best titanium road bikes from all price ranges. You will find low-end, mid-range, and high-end bikes on this list.
Below, I will also guide you through titanium road bike selection and provide you with a few tips for choosing a titanium brand that is worth it.
Let's dive in.
---
What Are the Best Titanium Road Bikes?
When choosing the best titanium road bike, I evaluated the price-value ratio and other areas like the warranty length, finish customization, components customization, and more.
---
Planet X Hurricane (Best Budget Titanium Road Bike)
Main Features
Frame warranty: 2 years
Customizable finish: No
Customizable components: Yes
Money back guarantee: No
Carbon fork
External cable routing
A titanium road bike for around $2,500? Yes, please! Planet X Hurricane surprises you with its excellent price-value ratio. It is ideal for people with a limited budget but desiring a titanium bike.
Its geometry is pretty aggressive, so it is perfect for performance-oriented riders. However, it is not as aggressive to be uncomfortable.
The Hurricane comes with decent Fulcrum Racing 800 Disc wheels and an SRAM Rival groupset. However, you can upgrade the wheels when ordering the bike or later once you save some money (check out these wheels for inspiration).
SRAM Rival features disc brakes for perfect stopping power in all conditions. It is great news to see hydraulic disc brakes on a titanium bike at this price range.
You can also customize components like the stem, handlebar, saddle, etc. This is a significant advantage if you are picky.
The fork is made of carbon. It can absorb minor road vibrations, making your ride more comfortable.
Naturally, Hurricane has a few downsides. The weld quality is not as good as on expensive titanium road bikes (but it's not too bad either), and it has external cable routing.
You also can't customize the finish. But honestly, the stock finish looks nice, so why change it?
---
Sage Skyline (Best Premium Titanium Road Bike)
Main Features
Frame warranty: Lifetime
Customizable finish: Yes
Customizable components: Yes
Customizable fit: Yes (upon request)
Money back guarantee: No
Carbon fork
Compatible with fender mounts
Sage is a titanium bike manufacturer from the US. You can customize its Skyline road bike almost as you want. Naturally, it depends on your budget and preferences. Let me guide you through some of the options.
You can first choose whether you want just a frame, frameset, or a complete bike. Complete bikes are available with Shimano groupsets.
Then, you can pick other components like the saddle, wheels, stem length, crank length, cassette & chainring gearing, etc. You can also opt for a Stages power meter.
Skyline's frame has relatively aggressive geometry with tire clearance for up to 32mm tires. It is perfect for fast-paced rides or races. You can also use it as a gravel bike for light terrain.
Thanks to its compatibility with fender mounts, you will be protected against water and mud if you decide to go off-road.
Hydraulic disc brakes, carbon fork, and high-quality build are pretty much a standard at this price range.
I am sure you will also appreciate the possibility of customizing the decals and the color of components like the stem, spacers, or handlebar tape.
Overall, Sage Skyline offers excellent value for its price.
---
Mason Aspect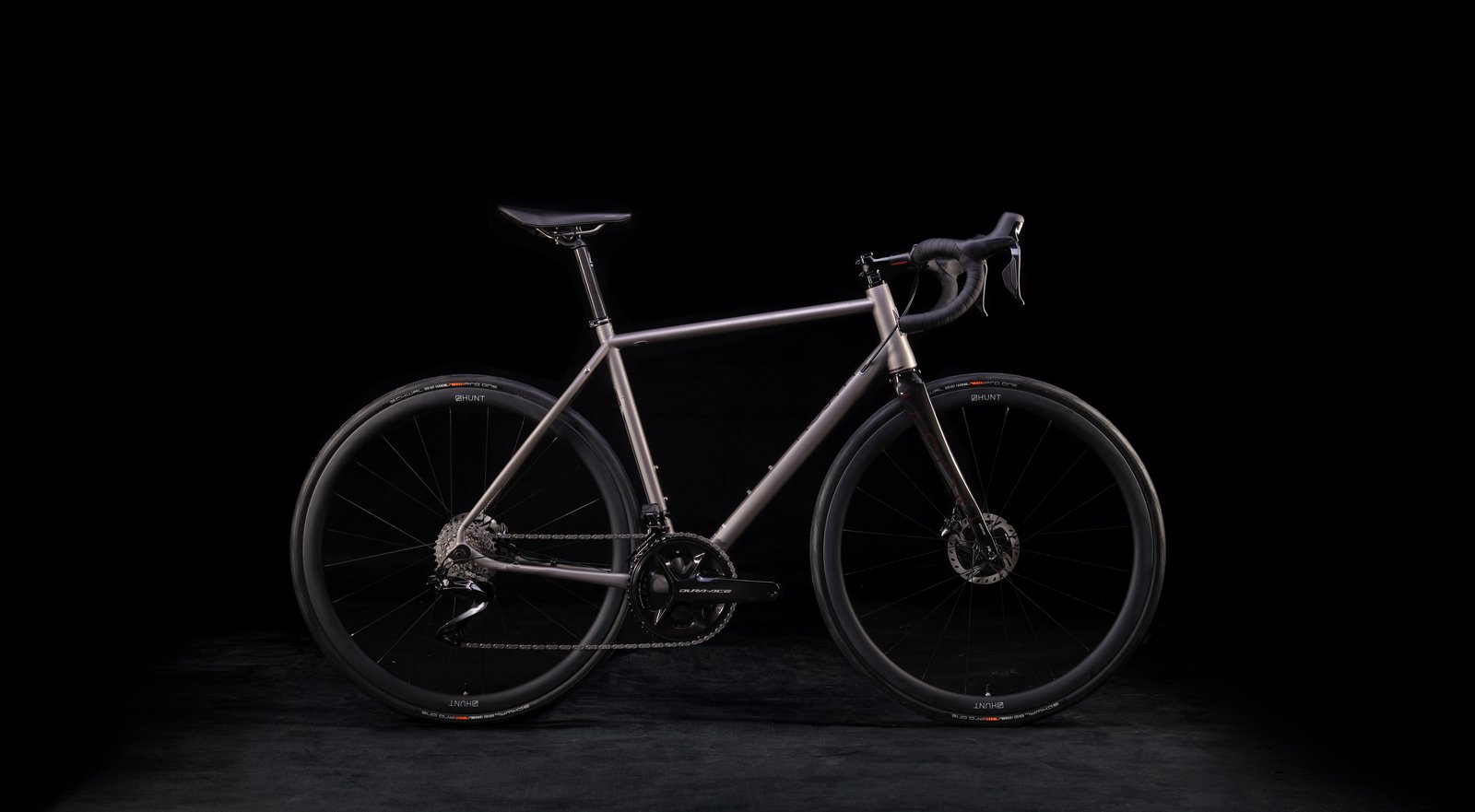 Main Features
Frame warranty: Lifetime
Customizable finish: Yes
Customizable components: Yes
Customizable fit: No
Money back guarantee: Yes (30 days)
Partially internal cable routing
Carbon fork
If you are looking for a high-end titanium road bike, Mason Aspect Dura-Ace Di2 Hydro should catch your attention.
Its geometry should fit most riders because it sits somewhere between aggressive and relaxed geometry.
You can expect the best and latest components, including the Shimano Dura-Ace Di2 (R9200 series). The built quality is also on another level.
Mason allows you to choose from Hunt wheels, tires, handlebar, stem, crankset, gearing, and brake level setup.
Thanks to its partially internal cable routing and simple design, Aspect looks clean and minimalistic.
If this high-end version is too expensive for you, you can choose the more affordable version with mechanical Shimano Ultegra.
Frankly, except for the price, it is hard to find any downsides to this bike. If you can appreciate the craftsmanship in a modern package, Mason Aspect is the right choice.
---
You might also be interested in these titanium gravel bikes.
---
Litespeed T1SL
Main Features
Frame warranty: Lifetime
Customizable finish: Yes
Customizable components: Yes
Customizable fit: Yes
Money back guarantee: No
Available with rim or disc brakes
Partially internal cable routing (disc brake option)
Carbon fork
Litespeed still proudly offers a rim brake version of its T1SL titanium road bike. But don't worry, the disc brake option is available too.
Considering the rich history of Litespeed, which dates back to 1986, their bikes are still relatively affordable.
The T1SL is an endurance road bike. Its relaxed geometry makes it perfect for people with limited flexibility and those who prefer comfort over speed.
Before you order this bike, you can opt for components from Shimano or SRAM, wheels, and frame finish (including decals, anodize, etc.).
As on most titanium bikes, even T1SL features a carbon fork for better bump absorption and increased riding comfort.
The main downside of the rim brake version is narrow tire clearance (just for 25mm tires). The disc brake version has tire clearance for up to 30mm tires.
Both versions have no compatibility with fenders. They are ideal for smooth, dry roads. Not for rainy days or the terrain.
---
Ribble CGR Ti Sport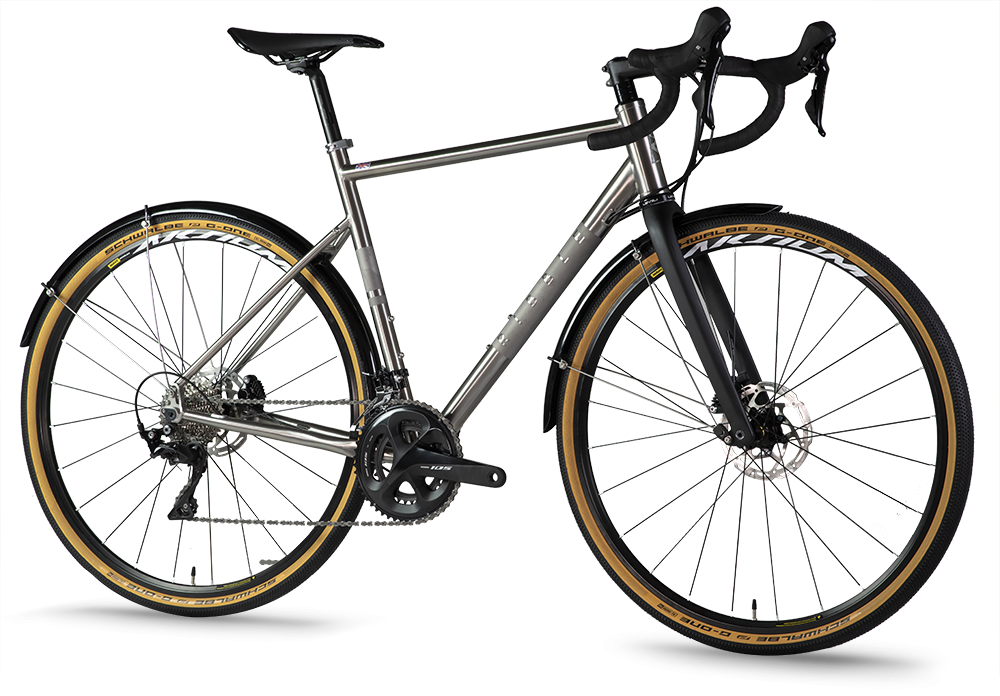 Main Features
Frame warranty: 3 Years
Customizable finish: Yes
Customizable components: Yes
Customizable fit: No
Money back guarantee: Yes (30 days)
Partially internal cable routing
Fenders included
Carbon fork
If you buy a bike from Ribble, you don't buy just a product but also a part of history. Ribble was established already in 1897!
Ribble CGR Ti Sport is a titanium all-rounder bike made for adventures. It is a versatile bike that is fast on paved roads and easily handles terrain.
Its relaxed geometry will allow you to sit more upright and experience better riding comfort.
The CGR Ti line includes multiple bikes at different price points. They all come with the same titanium frame but differ in the wheels and groupset. This wide offer allows you to choose a bike depending on your preference and intended use.
The CGR Ti Sport comes with 40c tires. These are ideal for forest, dirt, and gravel roads. If you live in an area with more paved roads, you can replace them with narrower tires to improve your speed.
At Ribble, you can customize components. This is a huge benefit for people who know what they want.
The biggest disadvantage of Ribble titanium bikes is the short frame warranty (3 years). The CGR Ti Sport is also relatively heavy, exceeding the 10kg (22lb) mark.
---
Lynskey R500
Main Features
Frame warranty: Lifetime
Customizable finish: Yes
Customizable components: Yes
Customizable fit: Yes
Money back guarantee: Yes (30 days)
Partially internal cable routing
Carbon fork
R500 is one of the most popular road bikes from Lynskey – a US titanium bike manufacturer. Lynskey is well established because they have been on the market since 1986.
The geometry of the R500 is relatively relaxed, so you don't have to worry about riding discomfort caused by too aggressive riding position.
This bike comes with 30mm tires, but its frame has tire clearance for up to 32mm tires. These are suitable for dirt roads or light gravel.
The 30mm tires are perfect for rough tarmac. Thanks to the lower tire pressure, they better absorb road vibrations and bumps, making your ride more comfortable.
Speaking of comfort, the carbon fork contributes to it as well. It better absorbs vibrations than titanium, aluminum, or steel fork (learn more).
The Lynskey's framesets are covered by a lifetime warranty. You can also take advantage of their 30-day money-back guarantee.
Naturally, they also offer components and geometry customization. You can simply customize the bike as you want to fulfill your vision.
---
List of the best titanium road bikes that includes info about the warranty, custom finish, components, fit, and groupset.
---
My Verdict
The following titanium road bikes stand out from the rest:
Planet X Hurricane for its excellent price-value ratio. It is one of the most affordable titanium road bikes on the market.
Sage Skyline for its high-built quality, customizability, attention to detail, lifetime warranty, and great price-value ratio.
Mason Aspect for its top-tier components, highest quality standards, minimalistic look, lifetime warranty, and customizability.
---
How to Choose the Best Titanium Road Bike?
This is a shortened version of my How to Choose a Road Bike guide. If you want to learn more about road bikes, I recommend reading it. However, even after reading this shortened version, you will know what to expect and how to choose a titanium bike.
Road Bike Type
Did you know there are eight road bike types? Yes, even gravel, CX, TT, and triathlon bikes are classified as road bikes.
However, this article only includes standard road bikes with more relaxed (endurance) and more aggressive (performance) geometry.
Due to the nature of titanium and the manufacturing processes, there are no titanium aero, TT, or triathlon road bikes.
CX titanium bikes are niche-specific. If you are interested in gravel bikes, check out this article on titanium gravel bikes.
Endurance Titanium Road Bikes
Endurance road bikes have a more relaxed geometry. They allow you to ride in a more upright, comfortable position. They are ideal for beginners or less flexible riders.
Due to the more upright position, you won't be as aero, so you will be slower. But if you buy a titanium road bike, you want to enjoy the ride.
COMFORT > SPEED
Do you agree?
Performance Titanium Road Bikes
Performance road bikes are also sometimes called 'race' or 'lightweight' bikes. Their geometry is more aggressive, allowing you to ride in a more aerodynamic position with a lower drag coefficient.
There are titanium performance road bikes out there. They are ideal for performance-oriented riders who enjoy speed.
Groupset
Titanium road bikes come mostly with 2X groupsets. They provide a wide gear range (2×10spd, 2×11spd, 2×12spd) to allow you to conquer steep climbs and ride fast in descents or on flats.
NOTE: You may also encounter 1X groupsets. They are lighter and easier to maintain, but they have fewer gears and bigger jumps between them.
Here is a little tip: If you ride a 2X (eventually 3X) groupset, avoid cross-chaining. Proper shifting will improve your drivetrain's efficiency, and you prevent damaging the components like the cassette, chainrings, or chain.
Which Groupset Manufacturer to Choose?
Many titanium road bike manufacturers allow you to customize the groupset.
There are three leading groupsets manufacturers:
Shimano
Campagnolo
SRAM
So, which one to choose?
Shimano is by far the most widespread. According to Credit Suisse, it had about 80% of the global share in bike components in 2016.
Campagnolo is an Italian classic and SRAM modern challenger. Choose the brand depending on your preference and budget.
Check out the following table that shows groupset ranges from various manufacturers and how they compare to each other.
Level
Shimano
SRAM
Campagnolo
Type
Entry
Claris
Mechanical
Entry
Sora
Mechanical
Entry
Tiagra
Apex
Mechanical
Mid-range
105
105 Di2¹
Rival
Rival eTap AXS¹
Centaur
Mechanical
Mid-range
Force
Chorus
Mechanical
Pro
Ultegra Di2
Force eTap AXS
Chorus EPS
Electronic
Pro
RED
Record
Super Record
Mechanical
Pro
Dura-Ace Di2
RED eTap AXS
Super Record EPS
Electronic
A comparison of road bike groupsets (from entry-level to pro) of the major manufacturers (Shimano, SRAM, and Campagnolo) and their type.
¹Shimano 105 Di2 and Rival eTap AXS are electronic groupsets.
Mechanical or electric?
Another consideration is whether you opt for a mechanical or electric groupset.
I summarized their advantages and disadvantages in the table below.
Shifting
Pros
Cons
Mechanical
• More affordable
• Doesn't require recharging
• Lower weight
• No need for recharging
• Easier to troubleshoot
• Not as smooth
• Manual front derailleur adjustment
• No multiple shift points
• Require routing of multiple cables
• Not customizable
Electronic
• Effortless and fast shifting
• Automatic front derailleur adjustment
• Multiple shift points
• Customizability
• Cleaner look (fewer cables needed)
• More expensive
• Needs to be recharged
• Higher weight
• More difficult to troubleshoot eventual issues
This table shows the pros & cons of mechanical vs. electronic shifting used in the cycling industry.
Sources: theproscloset.com, cyclingtips.com
Brakes
Titanium road bikes mostly come with hydraulic disc brakes. Very few models come with rim brakes.
Based on my research, about 85% of road bikes available on the market features disc brakes. So, how do these two compare?
Rim brakes are cheaper, lighter, and easier to maintain than disc brakes. However, their main downside is their low effectiveness in wet conditions or in long descents (especially if you have carbon wheels).
Disc brakes are much more effective in various weather conditions, so your stopping power is not affected. Their downside is the weight, more difficult maintenance, and higher price.
Learn more in my rim and disc brakes comparison.
Wheels & Tires
When choosing road bike wheels, you need to consider the following three features:
Wheel type
Tire width
Rim depth
Wheel Type – Clincher vs. Tubular vs. Tubeless
Clinchers are the most widespread type of wheels/tires. Clinchers have an inner tube that can be made of rubber or latex. They are popular thanks to their easier maintenance and lower costs.
Tubular wheels are more common among professionals than among amateurs. The tire is glued to the rim, which allows you to inflate lower pressures. They are also more puncture-resistant and more comfortable. Their downside is difficult maintenance.
Tubeless tires are getting more popular in recent years. You need tubeless-ready wheels for them. The sealant that is put inside the tire fills out eventual holes, so they have the self-repairing capability. They are also pretty comfortable but more expensive than standard clincher tires.
NOTE: If the wheels are 'clincher tubeless-ready,' you can use them with tubeless tires.
The following table lists the advantages and disadvantages of different types of wheels/tires.
Wheel/Tire
Pros
Cons
Clincher
• Easy to replace
• Easy to repair
• More prone to puncture
• Heavier than tubular or tubeless
Tubular
• Allows very low and high tire pressure
• Less prone to puncture
• Lightweight

• Difficult to replace
• Difficult to repair
• More expensive than clincher
Tubeless
• Allows lower tire pressure
• Self-repairing capability (sealant
fills out small holes, quality sealant required)
• Tricky installation without an air compressor
• Difficult to replace
• Difficult to repair
• More expensive than clincher
Pros & cons of clincher, tubular, and tubeless wheels/tires
Sources: cyclistshub.com, theproscloset.com, cyclingtips.com
Tire Width
The recommended tire width is often discussed and changes every few years.
A few years ago, road cyclists used 18mm tires, then 23mm, 25mm, and nowadays, 28mm is becoming a standard.
Wider tires are more comfortable because you can inflate lower pressures. Lower pressure means that the tire can absorb more bumps and road vibrations.
What about the rolling resistance and aerodynamics?
According to bicyclerollingresistance.com, 28mm tires have lower rolling resistance (lower means better) than 25mm or 23mm at the same tire pressure.
But, I cannot forget to mention aerodynamics. If the rim width is not designed for 28mm tires (e.g., it is too narrow), the transition from the tire to the rim won't be smooth, and vortexes start to form. These vortexes cause drag that slows down the wheel.
I recommend watching the following video by Hambini, a former aerospace engineer and aerodynamics expert, if you want to learn more about wheel aerodynamics.
Conclusion
Get 28mm tires. They are more comfortable and have lower rolling resistance. They are slightly heavier than narrower tires and less aerodynamic on narrower rims that are not optimized for 28mm tires.
Rim Depth
The general rule of thumb is that the deeper the rims, the more aero they are.
Based on my discussions with people who are considering buying a titanium road bike and various titanium bike owners, they don't purchase deep wheels for better aerodynamics but the appearance.
Deeper, for example, 45mm wheels look great on bikes. Rims deeper than 50mm start to remind TT bikes.
Deep-section wheels have one downside. They require more focus on riding in crosswinds because the wind can cause loss of control and eventual crash.
Road Bike Size
When you spend thousands of dollars on a titanium road bike, you must ensure it fits you.
Some titanium bike manufacturers can build a custom geometry based on your dimensions. Otherwise, follow their bike size charts.
Road bike size is usually given in centimeters (48cm, 50cm, 52cm…) or descriptive sizes (S, M, L, XL, etc.).
You can also use my road bike size calculator to get recommended bike size based on your inseam length.
The bike geometry that fits you is also essential. If you are a rider who prefers comfort over speed, go for 'endurance' geometry that is more relaxed, and you will sit more upright.
Otherwise, 'performance' geometry that will push you into a more aggressive and aerodynamic position is the way to go.
I recommend using the Bikeinsights tool for comparing bike geometries.
---
Titanium Road Bikes FAQ
Browse More Titanium Bikes-Related Content
---
This post is regularly updated to provide the most up-to-date product tips. If you find a product that is not up to date, please, contact me.
Preview picture source: Sage Titanium