CyclistsHub is supported by its readers. We may receive a commission if you buy products using our links (learn more).
These are the highest-end and most expensive production road bikes money can buy. I included aero, lightweight, and all-rounder superbikes for over $10,000.
I selected them based not only on reviews but also on their originality, impact on the industry, and brand reputation.
To make this roundup more interesting, I also commented on the criticism surrounding some bikes.
Furthermore, I highlighted marketing claims that are probably untrue and should be taken with a grain of salt.
SPOILER ALERT: Specialized S-Works SL7 is not the most expensive!
So, without any further ado…
Let's dive in.
What Are the Best Road Bikes Over $10,000?
The best road bikes over $10,000 have the best components available. Their price is so high because, except for the R&D, you also pay for the social status associated with the brand (learn more).
Specialized S-Works SL7 (Most Iconic)
"One bike to rule them all" – for only 14 grand…
Price $14,250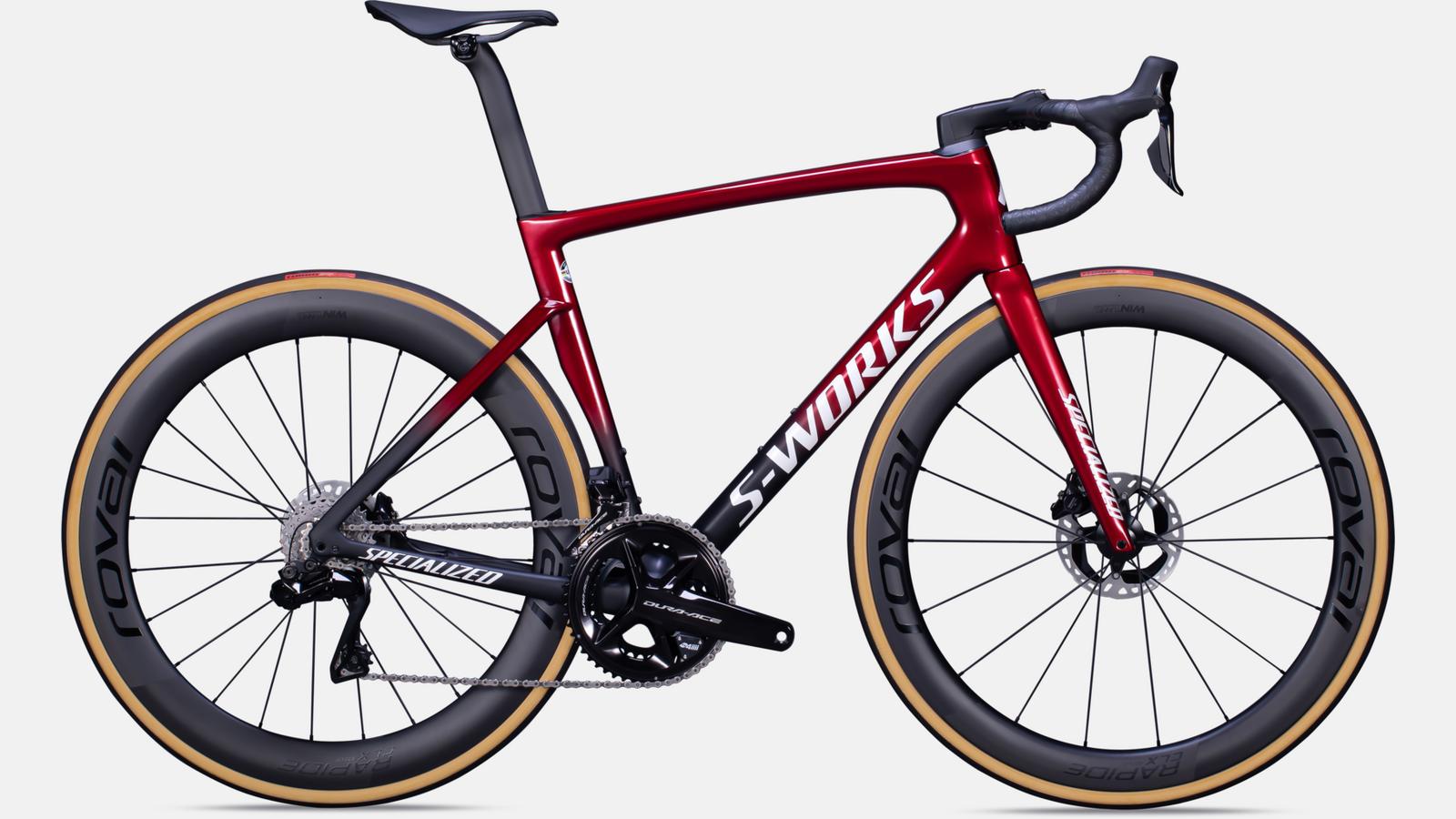 Specialized S-Works SL7 became one of the first road bikes heavily marketed as a bike that is lightweight yet aerodynamic.
It combines some of the aero properties of Specialized Venge and keeps the low weight of the Tarmac.
SL7 was introduced in 2020, and since then, the approach of manufacturing only one* high-end road bike has become more popular.
*One bike used for all stage types in World Tour racing.
I selected it as the most iconic because many other manufacturers started to inspire themselves with its design and copy it.
Although it's not perfect (the integrated cockpit doesn't look as sleek as other manufacturers) SL7 is one of the easiest recognizable and prestigious road bikes.
BMC Teammachine SLR01 ONE (Best Lightweight)
When the Swiss create a lightweight bike…
Price $14,999.99
Switzerland is well known for its luxury watches, great chocolate, and beautiful countryside, which you can explore on a BMC bike. This brand was made famous by, among others, Cadel Evans, now a retired professional cyclist and Tour de France winner.
BMC, like Pinarello, has a certain signature. For example, some shapes are more angular than other manufacturers, making their bikes unique.
The Teammachine SLR01 ONE is a bike designed for a variety of terrains. It is characterized by its comfortable geometry and low weight. You'll feel at home on it in the mountains. However, aerodynamics was also kept in mind in its design.
If you want a more aerodynamic bike from BMC, check out the Timemachine Road 01 One. This is the aero alternative to this lightweight road bike.
Personally, I like its luminous red-orange color. But it may not suit everyone. Unfortunately, it's the only color to choose from.
Cannondale SystemSix Hi-MOD (Best Aero)
The fastest aero bike on the market…
Price $13,049.99
When you look at SystemSix Hi-MOD, you know this bike will be fast. According to some experts, like Hambini, it's one of the most aerodynamic road bikes.
Cannondale also claims it's the most aero-UCI-compliant road bike. Can we believe all their claims? Well, it seems so. See their whitepaper.
This is thanks to the low aerodynamic drag achieved by the tiny gaps between the wheels and the frame, integrated cockpit, aerofoil-like tube shapes, dropped seat stays, etc. Cannondale engineers have put a lot of thought into this bike.
It's a pity that the color combinations of this bike are quite boring. I think this is one area where Cannondale could improve.
Anyway, if you're looking for a road rocket, you just found it.
Pinarello Dogma F
All-rounder bike with a unique signature…
Price $15,500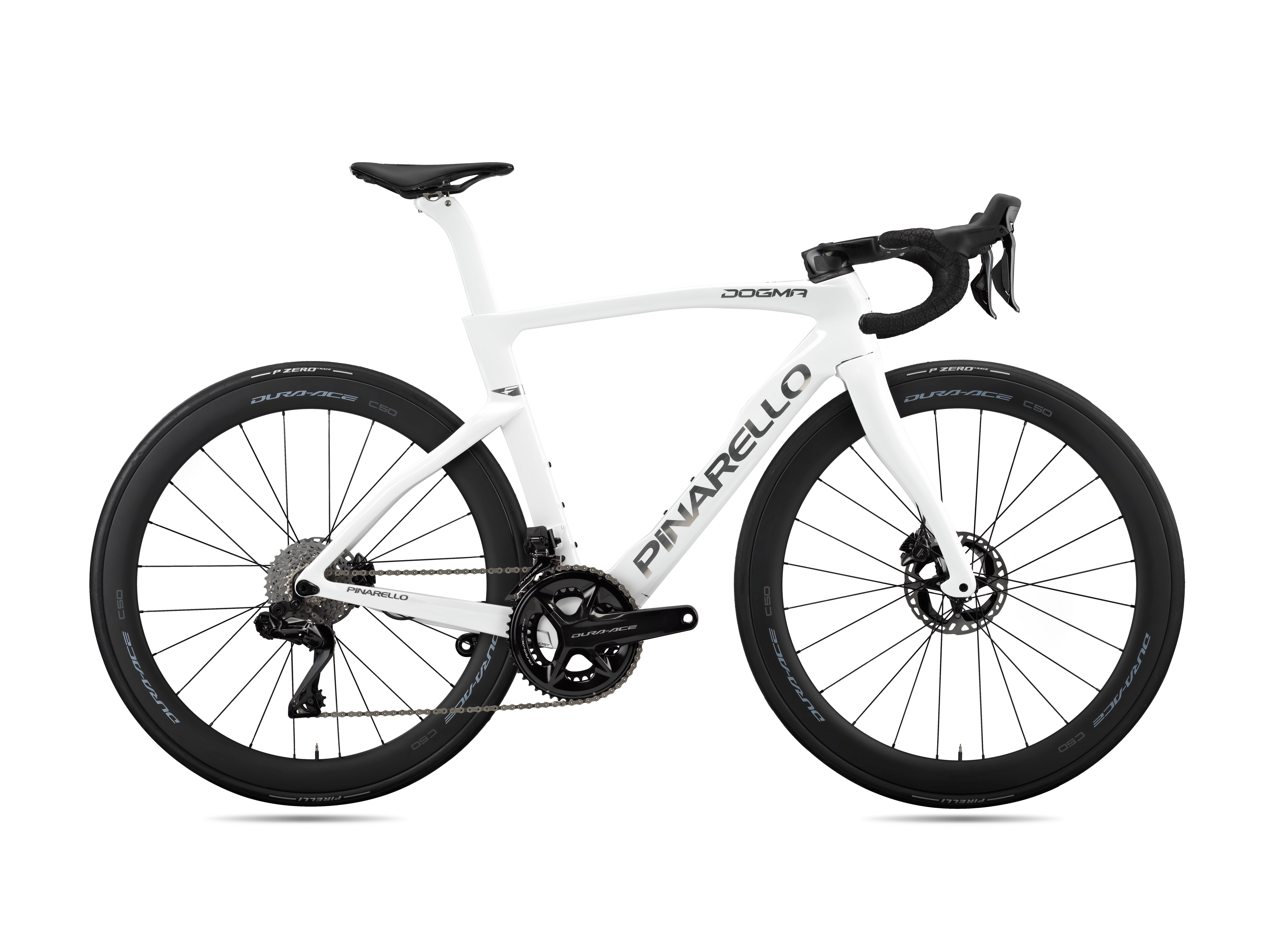 If there's one thing I admire about Pinarello, it's their unique, wave-shaped-like design.
Their road bikes are almost unmistakable with other brands because, as far as I know, no other manufacturer has yet come up with a similar design.
Like the SL7, the Dogma F is a versatile road bike – lightweight but aerodynamic.
It's based on its predecessor, the Dogma F12, and was introduced in 2021. Unlike Cannondale, for example, you can choose from many colors.
However, you'll pay extra for exclusivity. The Pinarello Dogma F is one of the most expensive road bikes on the market.
Trek Madone SLR 9
Reimagined bike frame…
Price $13,199.99
When the 7th generation of the Madone SLR 9 was introduced, many people were surprised.
This is mainly due to the unique design of the frame and seatpost. Previous generations used IsoSpeed. A mechanism that absorbed minor shocks and increased ride comfort. The downside, however, was its weight and failure rate.
The seventh generation got rid of this technology and introduced IsoFlow. Trek claims it improves aerodynamics and reduces weight. Unfortunately, the aero claims sound more like marketing claims.
We can also put a question mark over the stiffness. As Hambini explains in his video, the stiffest shape for a bike frame is a triangle (3 joints). However, the Madone Gen 7 resembles a trapezoid (4 joints). This can influence structural integrity.
But the fact is that this version of Madone is original, and Trek deserves admiration for breaking the established rules and trying new things.
Cervélo S5
Aero rocket with an unusual fork and cockpit…
Price $12,999.99
While preparing this article, I expected to come across at least two manufacturers claiming that their aero bike is the fastest.
I mention Cannondale SystemSix above. However, Cervélo also claims their S5 is the fastest aero road bike. So, where is the truth?
I trust Cannondale more because I couldn't find any white paper and specific data on Cervélo's website for the S5.
However, again, it should be noted that if you are a mere mortal, you probably won't even notice the speed differences between these frames.
So you may be intrigued by the original design – especially the V-shaped stem and rear end – and the color combinations.
How do you like it?
Scott Foil Ultimate
Is it even worth it? Well…
Price $15,999.99
The Scott Foil Ultimate's rear is similar to the Cervélo S5. I don't like this design, but it has its aero advantages.
What surprised me most about the Foil Ultimate was its high price, which is much higher than, for example, the SL7 (which gets a lot of backlash for it).
Scott is no exception (and, like Cannondale and Cervélo), claims their bike is the fastest aero bike on the market.
Unfortunately, like Cervélo, Scott doesn't provide specific testing data to support these claims.
What's also interesting about the Foil is the seatpost. Part of it is cut out and filled with a "shock absorber" that increases ride comfort.
What do you think? Is the Foil Ultimate worth it?
Wilier Filante SLR
Italian tradition meets simplicity…
Price $12,785.99
Wilier is one of the top Italian bike brands. Their Filante belongs among the most beautiful road bikes on the market.
This is mainly thanks to their color options. The 2023 paint job for Astana Qazaqstan Team is probably the best Wilier has introduced. I love it.
The Filante SLR is a simple racing bike with relatively aggressive geometry suitable for all terrains.
One of the features I want to highlight is the aligned front fork, and seat stays, improving the wind flow around and through the bike.
I recommend watching the following presentation to learn more about this bike.
Giant TCR ADVANCED SL DISC 0
Simplicity at its finest…
Price $12,199.99
TCR Advanced SL Disc is one of the bikes that prefer practicality and simplicity over sophisticated features.
I'm referring to the cockpit, which does not yet have integrated cable routing, as is usual for bikes in this price range. So you can adjust the handlebar position to maximize fit.
The seatpost is integrated, reducing overall weight, marginally improving aerodynamics, and eliminating seatpost slip. But I recommend following the motto "measure twice and cut once."
Despite the external cable routing, this Giant still provides excellent value for the money at this price.
Colnago V4RS
Colnago's most advanced bike yet…
Price $16,214
For a long time, Colnago stuck to its traditional signature – rounded-like tubes and unique joints.
However, this has started to change in recent years. The pressure from other manufacturers to innovate, especially in aerodynamics, has forced Colnago to keep up.
The result is the V4RS, which was also designed based on feedback from professionals such as TdF winner Tadej Pogačar.
With all respect to Colnago, note the similarities with, for example, the S-Works SL7 or the Wilier Filante SLR.
But if you value tradition, simplicity, and social status, the V4RS is for you.
My Verdict
I hope you like this roundup of the best, most expensive road bikes on the market. I tried to select the best from the best.
Please, comment below and share which bikes are your favorite, eventually, which ones you would add, and why.
How to Choose the Best Road Bike Over $10,000?
Before spending 10+ grand on a new bike, I would set my expectations for that bike.
In the following section, I explain what you should look for when buying a road bike in this price range.
It's a shortened version of my How to Choose a Road Bike guide.
Brand
Let's be honest. When someone wants to spend 10+ grand on a bike, they don't only buy the product but also the social status. You want a bike from the best bicycle brands.
Some brands have a longer history than others, and the stories of their founders are associated with them.
However, the track record of brands sponsoring the World Tour teams cannot be overlooked, nor their marketing efforts.
For example, 6 of the 8 world road cycling champions between 2015 and 2022 won on Specialized bikes.
Specifically, Specialized is also one of the brands with the most World Tour wins and brands investing in marketing. (Source)
In addition to the above, customer service and warranty are also important.
Road Bike Type
There are many road bike types, and you can buy any of them with this budget. However, the $10,000+ price range mainly includes aero and all-rounder / lightweight performance-oriented road bikes.
So, which one should you choose?
That's a good question, but the answer is not so simple. Despite aero bikes being the fastest in most scenarios (source), they tend to be too stiff and uncomfortable unless you ride on smooth roads.
On the other hand, all-rounder / lightweight road bikes (with shallow wheels) are more responsive and give you a sense of responsiveness when you go out of the saddle when climbing. But they lack the momentum on flats.
Ultimately, it will boil down to your riding style, the area you live in, and your geometry preference.
Frame Material & Bike Weight
Road bikes over $10,000 have carbon frames. Their weight varies depending on the bike type.
The general rule is that aero road bikes are slightly heavier (about 0.5 kg) than lightweight road bikes. This is mainly because of the deeper tubes and deep-section carbon wheels.
Expect the weight of lightweight road bikes of around 6.8 kg and aero road bikes to be around 7.3 kg. (Source)
TIP: Learn more about road bike frame materials.
One of the main differences between individual frames (except for their design) is how well they are made.
For example, what parts of the frame are reinforced to ensure the desired riding characteristics, how clean is the inside of the frame, how aero it is, etc.
Unless you are a carbon fiber expert, it's extremely difficult to evaluate the build quality without 3rd party input.
That's why I recommend waiting a few months after the bike's launch and checking out independent reviews.
Groupset
Road bikes above $10,000 use 2X electronic groupsets from Shimano, SRAM, or Campagnolo.
Check out the following table that shows groupset ranges from various manufacturers and how they compare to each other.
Not so long ago, 2×11spd groupsets were popular. However, 2×12spd groupsets are becoming a standard.
The question is:
Which groupset manufacturer to choose?
Shimano (with their Dura-Ace) dominated the market in pre-covid years. According to Credit Suisse, they had about 80% of the global share in bike components in 2016.
However, SRAM started to gain momentum, and thanks to the availability of their parts during the COVID pandemic, we started to see more and more superbikes with SRAM.
Campagnolo is not as widespread due to its "exclusivity" strategy.
I prefer Shimano because of its reliability. On the other hand, SRAM pushes the technology by using wireless groupsets, and Campagnolo uses premium materials like carbon.
However, whichever manufacturer you prefer, I believe you will get used to the groupset.
Wheels & Tires
Let me explain them in more detail.
Wheel Type – Clincher vs. Tubular vs. Tubeless
Clinchers are the most widespread type of wheels/tires. The tire is supported by an inner tube made of rubber or latex. They are used on most low-end road bikes, but thanks to their user-friendliness, they are also popular among more expensive bikes.
Tubular tires are more common among professionals. You probably won't find them on production superbikes.
Tubeless tires are the most modern ones and can also be found on high-end road bikes. In addition, tubeless-ready wheels allow you to use a tube-free tire because they use sealant instead of the inner tube.
NOTE: If the wheels are 'clincher tubeless-ready,' you can use them with tubeless tires.
The following table lists the advantages and disadvantages of different types of wheels.
Tire Width
The wider and more volume tire, the more comfort you get, and the more difficult terrain you will be able to ride in.
Nowadays, 25mm and 28mm tires are the most common. Some aero bikes have 25mm tires in the front (to reduce the frontal area) and 28mm in the rear (to improve riding comfort.
You can always experiment and try different tire widths to find the best suits you. I use 28mm tubeless tires because of the comfort, and would never return to 25mm.
Rim Depth
The general rule of thumb is that the deeper the wheels, the more aero they are. But they are also heavier.
Aero road bikes come with deeper wheels (50mm and more), while all-rounder and lightweight bikes have shallower wheels (sub 50mm wheels).
Remember that the deep section wheels require more focus in cross-winds.
Bike Size and Geometry
One of the most important decisions you will have to make is to order the correct frame size and choose a suitable geometry.
You avoid injuries caused by the wrong bike fit and increase overall riding comfort.
I believe this won't be your first road bike, so you probably know what geometry will suit you.
Less flexible riders prefer more relaxed geometries for increased comfort. More flexible (or performance-oriented) lean toward more aggressive geometries.
I also recommend trying the Bikeinsights tool that helps you compare different bike geometries.
---
Road Bikes Under $10,000 FAQ
---
This post is regularly updated to provide the most up-to-date product tips. If you find a product that is not up to date, please, contact me.
Preview picture source: Specialized