CyclistsHub is supported by its readers. We may receive a commission if you buy products using our links (learn more).
This is my selection of the best road bikes under $2000 for men and women.
I've been road cycling for more than five years, so you can take advantage of my road cyclist perspective.
I will tell you what road bikes are worth it and why. You will also learn how to choose the best road bike under $2000, what to expect at this price range, and much more.
So, without any further ado.
Let's dive in.
What Are the Best Road Bikes Under $2000?
Nowadays, the best road bikes under $2000 mostly come with disc brakes and an aluminum or carbon frame. Aim for 2X groupsets from manufacturers like Shimano (Tiagra, 105), SRAM, or Campagnolo, and an overall weight of around 9 kg (20 lbs).
Below are the selected road bikes under $2000. I recommend reading the How to choose a road bike section first if you are unsure what features to look for in a road bike at this price range.
Polygon Strattos S7 Disc (The Best Overall)
Polygon became a king of excellent value bikes. The S7 Disc is a full-carbon road bike with fully integrated cable routing. This combination is rare in this price range.
You will also appreciate the performance-focused geometry and Shimano 105 groupset (with 2×11 gears).
The Entity rims are tubeless-ready, so you can use them with tubeless tires. Just remember to buy tubeless valves.
Another great feature is the hydraulic disc brakes, which are easier to use than mechanical ones.
The full-carbon frame provides better stiffness and riding comfort than its aluminum counterparts. That's because carbon is better at absorbing road vibrations.
It's honestly hard to find any significant downsides to this bike. That's why I believe the Polygon S7 Disc is the best road bike for under $2000 you can buy.
Co-op Cycles ADV 2.1 (The Most Versatile)
Co-op Cycles ADV 2.1 is a well-built, versatile, and affordable road bike. Thanks to its comfortably tuned geometry, it is ideal for long rides and training sessions.
It comes with 35mm tires, which is also the maximum tire clearance. Such wide tires are very comfortable on the tarmac and can handle riding in light terrain, so you will not have to limit yourself too much.
As you might have noticed, specs-wise, this is not the best bike on this list. But it's the most affordable. You can also use the saved money on better equipment or other upgrades.
It has a carbon fork, though, which can better absorb vibrations and contribute to increased riding comfort.
The main disadvantage is the Shimano Claris groupset which only offers 2×8 gears.
Giant Contend AR 1 & Liv Avail AR 1 (The Best for Women)
Giant is known for its good value bikes. They also have a brand focused on women's bikes (Liv), so the Giant Content AR 1 and the Liv Avail AR 1 are almost the same bikes except for a few details.
Both have a carbon fork and seatpost that absorb vibrations and improve comfort. The 32mm tires also contribute to this.
The good news is that the bikes are tubeless-ready (learn more). But if you plan to ride mainly on tarmac or paved roads, you can replace them with 28 or 25 mm.
Giant is one of the largest bicycle manufacturers in the world, so you can rely on the high quality of their frames. A lot of my friends ride Giant bikes, and can't praise them enough.
Both Content AR 1 and Avail AR 1 are equipped with the Shimano 105 groupset, which is absolutely sufficient for beginners and moderately advanced riders. These bikes also have hydraulic brakes for effective braking even in the rain.
Overall, Giant and Liv bikes are perfect endurance road bikes suitable for people who want the best bang for the money.
Canyon Endurace AL Disc 7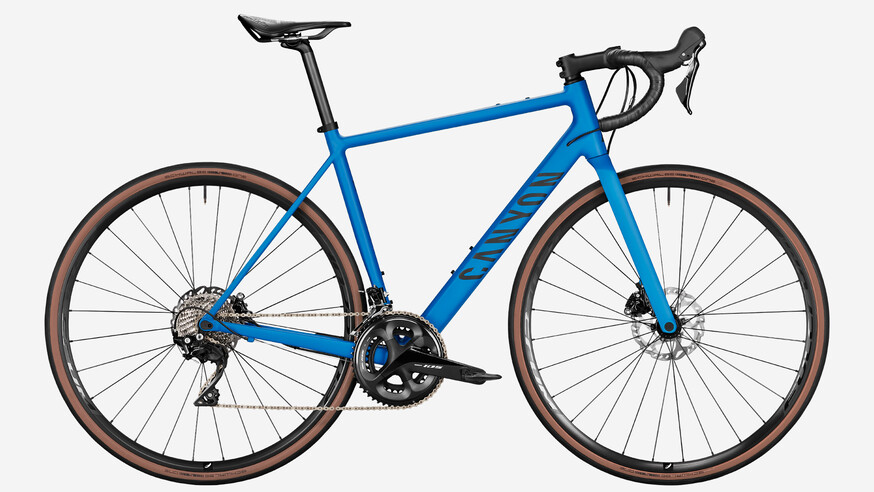 Canyon is known for the good price-value of its products, thanks to its direct-to-customer business model. They can offer products of the same quality but at a much better price than other popular bicycle brands.
Proof of this is also their Endurance road bike series. Although their prices have increased in recent years, they still provide good value.
The geometry of the Endurance line is designed for maximum comfort. These bikes also have wider tire clearance (up to 33mm) to accommodate wide tires – suitable for tarmac and light gravel.
The individual lines of Endurance aluminum bikes differ in their components. Endurance AL 8 is equipped with the Shimano 105 groupset. A cheaper Endurance AL 6 comes with a lower-end Shimano Tiagra.
Surprisingly, the past versions of this bike were lighter. The 2023 Endurance 8 Disc weighs 9.22 kg, about 300g more than the 2021 Endurance 7.0.
The AL 7.0 comes with hydraulic brakes, with which you will have no problem stopping even in the rain.
The main disadvantage of Canyon bikes is the long delivery time (due to high demand, it can even take several months).
Unfortunately, the 2023 lineup of the Endurance AL 8 Disc doesn't include a women's version.
Orbea Avant H40-D
The Orbea Avant H40-D is a road bike with endurance geometry that allows you to sit more upright. Therefore, it is ideal for long rides and workouts.
Comfort is further supported by 28mm tires and a carbon fork that absorbs vibrations.
Avant's heart is the Shimano Tiagra groupset, which provides 20 speeds so that you can find the right gear in any terrain. For comparison, the previous generation had a 2x11spd groupset.
A big design and aero benefit is the integrated cable routing (which is led under the bar tape and the stem directly into the frame). This solution is very rare for road bikes in this price category.
The disadvantages of this road bike are mechanical disc brakes, which are not as convenient as hydraulic disc brakes, and the absence of tubeless-ready wheels.
Trek Domane AL 5 Disc
The Domane AL 5 Disc is the highest range of Trek Domane aluminum bikes. It is equipped with the best components (compared to the lower series), which are lighter and more reliable.
The 2022/23 version has no significant updates except the new colors, a slightly higher price, and about 100g lower weight.
Trek also continues the trend of comfort – in addition to endurance geometry, this bike comes with 32mm tires. These are very comfortable on coarse asphalt and can also handle dirt roads or light gravel.
Domane AL 5 is also suitable for longer trips and bike touring, as it is compatible with up to 3 water bottle cages, fenders, and a top tube mount for extra storage. With these accessories, you will make this endurance road bike a great adventure bike.
In addition to today's standard disc brakes, the AL 5 is also compatible with the DuoTrap S sensor (not included). This sensor is useful if you like numbers and tracking your progress. For example, it measures the distance traveled, the average speed, etc.
The disadvantage is the higher weight exceeding 10 kg, which is 1 kg more than Canyon Endurance AL Disc 7.0.
Interested in Chinese bikes? Check out this selection of the best Chinese carbon road bikes. It includes performance and aero carbon road bikes from established Chinese manufacturers.
Cannondale Topstone 2 WMN
The Cannondale Topstone 2 WMN is a versatile road bike for women that you can use without any worries for lighter terrain, such as dirt roads and light gravel, thanks to wide tires. In addition to versatility, you will also experience great comfort, thanks to 37mm tires.
Although Topstone 2 WMN is more like an all-road gravel bike, I included it here. It has a Shimano GRX 400 groupset with a wide-enough gear range.
Its frame is women-specific, respecting slightly different women's physiology.
Topstone is compatible with up to three bottle cages, which you will appreciate for longer rides. You will also be pleased by the carbon fork, which absorbs small vibrations and improves your comfort. The dropped saddle nose is also perfect for a more aggressive riding position.
Shimano GRX 400 hydraulic brakes ensure effective braking in all weather conditions and terrain, so you will stop when needed.
The disadvantage of the Cannondale Topstone is the lower attention to detail – like the welds.
Don't forget that most bikes come without pedals. Choose from the best road bike pedals on the market if you don't have clipless pedals yet.
Orro Gold Evo 105-FSA R800
Orro Gold Evo is one of this selection's few fully carbon bikes. Its frame is endurance-oriented, allowing you to ride long distances and train hard (on flats or hilly terrain, the gears are too hard for climbing mountains).
It is equipped with a combination of the Shimano 105 groupset with an FSA chainset, thanks to which the transitions between gears will be fast and smooth.
Gold Evo features Fulcrum R900 DB alloy wheels that spin smoothly so you can ride fast.
The disadvantage of this bike is the mechanical disc brakes that are not hydraulic, probably because of the carbon frame.
My Verdict
Polygon Strattos S7 Disc is the best road bike under $2000 overall. Thanks to the full-carbon frame, internal cable routing, full Shimano 105 groupset, and hydraulic disc brakes, it provides the best price-value ratio.
Liv Avail AR 1 is the best road bike under $2000 for women. It has a women-specific geometry and sizes to provide the best fit possible. It also features a carbon fork and seatpost that can absorb vibrations and make your ride even more comfortable.
Co-op Cycles ADV 2.1 is the most versatile road bike for under $2000. Thanks to its wide tire clearance for up to 35c tires (without fenders), you can equip it with wide tires. This way, you transform it into a gravel/adventure bike for trips that include dirt roads, light gravel, or paved roads with potholes.
If you want to learn more about road bikes and how to choose them, I recommend reading the following section.
How to Choose the Best Road Bike Under $2000?
This is a shortened version of my How to Choose a Road Bike guide. If you want to learn more about road bikes, I recommend reading the entire guide.
Road Bike Type
Before buying a road bike, you should decide what type you want because the $2000 range offers many options. Read more about them below.
Endurance Road Bikes
Endurance road bikes are a great option for beginners and people who want to take long trips. These bikes have more relaxed geometry, so you can ride more upright. As a result, it doesn't require too much flexibility and is more comfortable.
The main downside of endurance road bikes is the more upright position; you will be slower than on a performance road bike, which pushes you to a more aggressive aerodynamic riding position.
Performance Road Bikes
Performance road bikes (you can also find them under "lightweight" or "race" road bikes) are like endurance bikes except for their more aggressive geometry. Thanks to it, the rider sits in a more aerodynamic position with a lower drag coefficient. The weight is also slightly lower than on endurance road bikes. Thus, performance road bikes are ideal for hilly or mountain terrain and racing.
This type of road bike is not very suitable for beginners or riders who are not too flexible. It takes some time to get used to the racing riding position.
Aero Road Bikes
Aero road bikes are – yes, you guessed it – aero optimized. This means they have thicker tubes and deep-section wheels for better aerodynamics. As a result, they excel on flats, descents, hilly terrain, and cross-winds because they can maintain speed easily. Their geometry is similar to performance road bikes.
Aero road bikes have a few small disadvantages – they are more expensive than the previous two types (they start at around $2500), they are heavier and less agile.
Other Types of Road Bikes
There are also touring road bikes, cyclocross, gravel, time trial, and other types of road bikes. To learn more about gravel and adventure bikes, I recommend reading the following guide: How to Choose a Gravel/Adventure Bike?
The other types of road bikes (CX, TT, triathlon) are very niche-specific, so I don't explain them further in this article.
Frame Material & Bike Weight
Road bikes below $2000 come with frames made of aluminum combined with a carbon fork. Carbon frames are not very common in this price range, but some bikes feature a carbon frame. Below, I explain the benefits and disadvantages of these materials.
Aluminum is a relatively cheap material that is not as labor-intensive as carbon. Aluminum frames are less stiff and heavier than carbon frames, but they are more affordable. This means that the other components (like the groupset or wheels) are usually better than on carbon bikes for the same price. The downside of aluminum frames is that they may corrode over time.
Carbon road bikes are stiffer and lighter than aluminum road bikes. Carbon is more labor-intensive and more expensive. However, the $2000 price range offers bikes with carbon frames. The main downside is that internal cracks can appear and cause failure under additional pressure if you crash. Therefore, an inspection after a crash is highly recommended.
Steel road bikes are not very common for endurance, performance, or even aero road bikes. Steel is heavier than aluminum or carbon. On the other hand, it is more durable and easier to repair. Therefore, steel frames are pretty common on touring road bikes. Many people also like the thin steel tubes and unique riding characteristics of steel road bikes.
Sources: SheldonBrown, ScienceDirect, CyclingWeekly
TIP: Learn more about road bike frame materials.
Groupset
Road bikes for up to $2000 use mainly 2X groupsets. The gear selection (mostly 2x10spd or 2x11spd) is wide enough for most types of terrain (it also depends on the cassette and chainring gear ratio). In addition, the 2X groupsets are simpler and lighter than the 3X groupsets.
NOTE: Higher-end road bikes may come with 1X groupsets. But they are not by far as widespread as 2X groupsets.
When riding a road bike with a 2X or 3X groupset, make sure to avoid cross chaining to improve efficiency and prevent damaging the components.
What Groupset Manufacturer to Choose?
There are 3 main manufacturers of groupsets – Shimano, Campagnolo, and SRAM. Shimano dominates the market. According to Credit Suisse, Shimano had about 80% of the global share in bike components in 2016.
Road bikes under $2000 are usually equipped with Shimano Tiagra or Shimano 105 or other similar groupsets.
Check out the following table that shows groupset ranges from various manufacturers and how they compare to each other.
Brakes
Wheels & Tires
Let me explain them in more detail.
Wheel Type – Clincher vs. Tubular vs. Tubeless
Clinchers are the most widespread type of wheels/tires. The tire is supported by an inner tube that can be made of rubber or latex. They are used on most low-end road bikes, but thanks to their user-friendliness, they are popular among more expensive bikes too (including road bikes under $2000).
Tubular tires are more common among professionals. However, some hobby riders also use them because they allow you to inflate lower pressures. This means they are more puncture-resistant and more comfortable.
Tubeless tires are the most modern ones and can also be found on road bikes below $2000. In addition, tubeless-ready wheels allow you to use a tube-free tire because they use sealant instead of the inner tube.
NOTE: If the wheels are 'clincher tubeless-ready,' you can use them with tubeless tires.
The following table lists the advantages and disadvantages of different types of wheels.
Tire Width
The wider and more volume tire, the more comfort you get, and the more difficult terrain you will be able to ride in. When I started riding a road bike, almost everybody used 23mm tires. According to the road.cc, it was a common standard. Nowadays, riders prefer 25mm, 28mm, or even wider tires on their road bike, thanks to the increased comfort.
The good news is that you can always experiment and try different tire widths to find the one that suits you best.
Rim Depth
The general rule of thumb is that the deeper the wheels, the more aero they are. Aero road bikes are very rare in the below $2000 range, and performance road bikes usually come with shallow wheels.
Keep in mind that the deeper wheels have one huge downside, and that's their handling in cross-winds. You have to be very focused and hold your handlebar firmly to avoid crashing.
Road Bike Size
Once you decide what bike you like, make sure to choose its correct size. You avoid injuries caused by the wrong bike fit and increase overall riding comfort.
Road bike size is usually given in centimeters (48cm, 50cm, 52cm…) or descriptive sizes (S, M, L, XL, etc.).
I recently discovered the Bikeinsights tool that helps you compare different bike geometries. Speaking of geometry, I recommend watching the following video or reading this guide by Bikeradar.
---
Road Bikes Under $2000 FAQ
---
This post is regularly updated to provide you with the most up-to-date product tips. If you find a product that is not up to date, please, contact me.