CyclistsHub is supported by its readers. We may receive a commission if you buy products using our links (learn more).
These are the best road bikes for under $5000 for men and women based on in-depth research of options on the market and customer & expert reviews.
A friend recently asked me if I could find him a road bike in this price range. So I thought, why not share my findings with others?
I'm an avid road cyclist and I can recommend these bikes. You will also learn what to expect and how to choose a road bike in this price range.
Let's dive in!
What Are the Best Road Bikes Under $5000?
The best road bikes under $5000 have a carbon frame, aluminum or carbon wheels, and hydraulic disc brakes. Aim for electronic groupsets like Shimano 105 Di2 (or Ultegra Di2) and SRAM Rival eTap, an overall weight of around 8 kg (17.64 lbs), and internal cable routing.
I recommend reading the How to choose a road bike section first if you are unsure what features to look for in a road bike in the $5000 price range.
TIP: If you have a $5000 budget, you can buy a cheaper bike (around $4000) and upgrade its wheels. Wheels like these best road bike carbon wheels are one of the best upgrades you can make to become faster.
Polygon Helios A8X (The Best Overall)
I admit Polygon is not a well-known brand yet but their bikes provide excellent value for the money.
The Helios line is marketed as performance aero road bikes with electronic shifting. A7X has Shimano 105 Di2 and A9X Dura-Ace Di2 groupset.
Helios' geometry is not as aggressive, considering it's a performance bike, making it more suitable for less flexible riders.
It's also one of the few bikes in this price range with a full Shimano Ultegra Di2 R9100 2x12spd (!) groupset.
A8X also has a fully integrated cable routing. This feature became a standard in this price range recently.
One of the weaknesses of this bike is the Entity WR5 Carbon Disc wheelset. I couldn't find much information about it.
However, thanks to the low price of this bike, you can sell them and replace them with one of these Chinese carbon road bike wheels, for example.
Another question mark is the aerodynamics. Polygon has not released any data. The frame also doesn't look as fast as, say, the Cannondale SystemSix and similar high-end aero bikes.
But considering its price and used components, it's the best road bike for under $5000.
Trek Émonda SL 6 Pro Di2
The Émonda family are road bikes with more aggressive geometry than Domane and lower weight than Madone.
SL 6 Pro Di2 is a simple yet timeless bike suitable mainly for climbers and those who like responsive bikes.
It comes with a Shimano 105 Di2 (R7100) groupset that was widely criticized for its high price compared to the older Shimano 105 mechanical (R7000). But it's now electronic and has 2×12 gears (instead of 2×11).
SL 6 Pro has Bontrager Aeolus Elite 35 wheels that are stable in crosswinds thanks to their shallow depth and more responsive than deep-section wheels.
You probably noticed that its weight is not as low as you might expect from a climbing bike.
That's because Trek also tried to make it aero, and some components are heavier. For example, the wheelset weighs 1665g, which is a lot. The disc brakes also add some weight.
Overall, you can't go wrong with Émonda. However, you will pay a little extra for an established brand and a worldwide network of distributors.
PS: You can also buy Émonda SL 6 Pro with SRAM Rival AXS and a power meter for a few hundred bucks more.
Cannondale SuperSix EVO 3 and EVO Disc 105
The SuperSix is Cannondale's series of lightweight road bikes. It's often mixed up with SystemSix (aero road bikes).
The SuperSix EVO is a mid-range lightweight road bike with Shimano 105 Di2 (released in 2022). The 2023 version is called EVO 3 and has slightly redesigned frame and cockpit. Both making the bike more aero.
Considering the relaxed geometry, you shouldn't experience back or neck pain from a too-aggressive aero position. Just ensure you set the bike fit right.
The other components of these bikes are the same – they only differ in the groupsets and color options.
The weakness of this road bike is its wheels, I'd recommend upgrading to some carbon wheels over time.
Don't forget that most bikes come without pedals. Choose from the best road bike pedals on the market if you don't have clipless pedals.
BMC TeamMachine SLR Five
TeamMachine or TimeMachine, what's the difference? Well, TeamMachine is lightweight, while TimeMachine is an aero road bike.
TeamMachine SLR Five has relatively relaxed geometry that allows you to sit more upright. Therefore, it is ideal for long rides and less-flexible riders.
I recommend switching its 25mm to 28mm tubeless tires for increased riding comfort.
The heart of this carbon frame is Shimano 105 Di2 (R7100) groupset, which provides 24 speeds and wider gear ratios than the Shimano 105 mechanical groupset. So, you will find the right gear in all terrains.
It's a shame it doesn't have fully integrated cable routing like many other bikes on this list.
But still, it's a BMC which is a well-known brand in the road bike industry and this is their best road bike for under $5,000.
Canyon Ultimate CF SL 8 Disc Di2
Canyon is known for its direct-to-customer business model. They offer products of the same quality but at lower prices than competitors.
Proof of this is also their timeless Ultimate CF series. Although their prices have increased recently, they still provide good value. And similarly to the Polygon Xelios A8X, this Ultimate has the latest Shimano Ultegra Di2 groupset.
The geometry of the Ultimate series is more aggressive than the Endurance series, making it more suitable for performance-oriented road riders.
Surprisingly, unlike the lower-end Ultimate CF 8 Disc, this one has no power meter. However, thanks to its relatively low price, you will have enough money left from the $5,000 budget to buy it. Here are the reasons why you should consider using a power meter.
Anyway, Ultimate CF SL 8 Disc is also one of the lightest bikes on this list, weighing 7.48 kg in the M size!
So, why it's not the best overall? First, it's often sold out. And second, direct to consumer model means that in case of issues, you have to rely on Canyon customer support which is not great (see Canyon Trustpilot reviews).
Giant TCR Advanced Disc 1+ AR & Liv Langma Advanced Disc 1+ AR (Best for Women)
Giant is known for its good-value bikes. They also have a brand focused on women's bikes (Liv), so the Giant TCR Advanced Disc 1+ AR and the Liv Langma Advanced Disc 1+ AR are almost the same bikes except for a few details.
Both have a carbon frame, fork, and seatpost that absorb vibrations and improve riding comfort.
They have 28mm tubeless tires. I use the same combination (tubeless + tire width), and it's my favorite.
TCR Advanced and Langma Advanced come with the SRAM Rival eTap 2x12spd wireless electronic groupset for quick and precise shifting.
Overall, Giant and Liv are well-known brands offering quality bikes for a good price. Their only flaw is not fully internal cable routing.
ROSE XLITE 06 Ultegra
ROSE XLITE 06 Ultegra is one of the simplest yet best-looking road bikes on this list. I love its original chameleon finish and internal cable routing. It looks so clean.
It's a perfect bike for racing because it has a relatively aggressive stack and reach, pushing you into a more aerodynamic riding position.
Thanks to the light frame and components, it has a low weight of 7.3 kg, making it one of the lightest bikes in this price range.
It has a Shimano Ultegra mechanical groupset and hydraulic disc brake tubeless-ready wheels.
I understand that the mechanical groupset can be a no-go for some people. But you can eventually sell it and upgrade to an electronic one later.
One of its disadvantages is that ROSE is not widespread in the US, so you have to order it from Germany and pay about 250€ (270$) for the shipping. But even with the shipping, it will fit the $5,000 price range.
Cervélo Soloist Rival AXS
The Soloist has a rich history and in 2022 (the 2023 version), it was redefined to be more aero yet still lightweight. It differs from the R5 series by being lighter and from the S5 by being more aero. It's a compromise between the two.
Thanks to its relaxed geometry and 28mm tires, this bike is suitable for casual and serious cyclists who appreciate riding comfort.
It has internal cable routing, although the cockpit is not as sleek as on other bikes. But you can easily adjust the handlebar as needed.
Of course, it has electronic shifting, this time from SRAM and their Rival eTap AXS, with 24 speeds and a wide range of gear ratios.
So if you don't mind spending a little more than $5000, this bike shouldn't escape your attention. It will excel in the hills and with deeper wheels on the flats as well.
Focus Izalco Max 8.9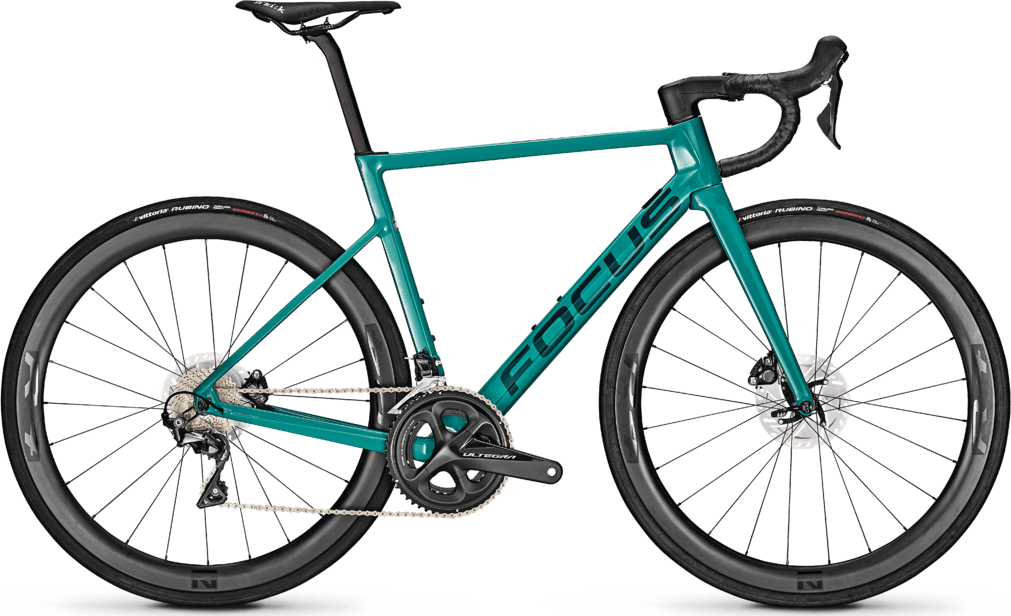 Focus is one of the less popular cycling brands, but its Izalco Max 8.9 is a modern road racing bike.
It's specific mainly due to its more angular shape and thicker tube profiles reminiscent of aero bikes.
Like many other manufacturers, Focus opted for internal cable routing for a cleaner look and better aerodynamics.
It's nice to see the 45mm deep Novatec R4 carbon wheels. Those are ideal for most conditions (flats, rolling terrain, and climbing).
On the other hand, it only has a mechanical groupset, the older generation of Shimano Ultegra (R8000). You would have to pay much more for wireless shifting from SRAM.
What Are the Best Aero Road Bikes for Under $5000?
This part includes only the pure-blood aero road bikes for under $5,000. They are characterized by their thicker tubes and deeper section wheels that lead to better aerodynamics.
Trek Madone SL 6 (Best Aero)
Madone SL 6 is Trek's most affordable pure-blood aero road bike. The higher-end versions have a higher number (SL 7), and there are also high-end SLRs. You can learn more in my Trek Madone comparison.
So, what can you expect from it? It's a fast and very stiff bike. My friend has it, and he struggles during long rides due to the vibrations this frame transfers.
The IsoSpeed decoupler helps a bit because it improves riding comfort. However, it adds weight and another point of possible failure.
Madone SL 6 has a mechanical Ultegra groupset, but it's also available with electronic Shimano 105 Di2 (SL 6 Di2).
One of the disadvantages of SL 6 is the cockpit. It's not as seamless and clean as other bikes on this list (like the Vitus ZX 1). On the other hand, it's easily adjustable.
Vitus ZX 1 EVO CRS Di2
Vitus, like Polygon, offers bikes that provide excellent value for money.
The Vitus ZX 1 EVO CRS Di2 has the latest Ultegra Di2 groupset, which is very rare in this price range on aero road bikes.
Furthermore, your average speed will benefit from the Reynolds AR carbon wheels. The front wheel is shallower (58mm), and the rear wheel is deeper (62mm).
The main catch with this bike is its availability. Due to the great value it offers, it's often sold out.
It also doesn't look as fast as Trek Madone. Unfortunately, real-world and comparable data are not available. Vitus only claims this version has 45% less drag than its predecessor. Is it only a marketing claim? Only Vitus knows.
However, these things don't change the fact that the Vitus ZX-1 EVO series is one of the most affordable aero bikes on the market.
Also available at vitusbikes.com
Canyon Aeroad CF SL 7 Disc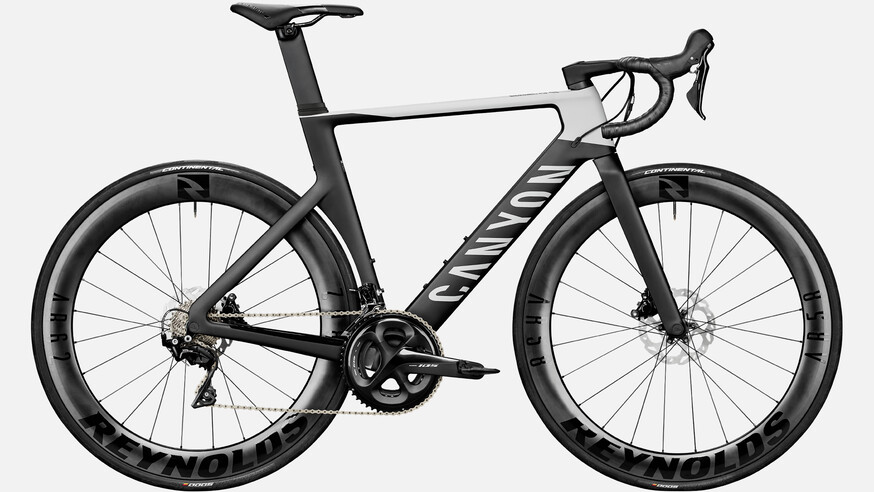 Aeroad is Canyon's line of aero road bikes. The Aeroad CF SL 7 is their most affordable model.
You'll have to make do with just the older Shimano 105 groupset. However, the frame is the same as the higher versions.
Like the Vitus ZX-1 EVO, the Canyon has Reynolds AR carbon wheels with 58mm front and 62mm rear. So you'll have to be careful when riding in crosswinds.
It's also a shame that this Aeroad doesn't have fully integrated cables, which adds minor wind resistance and degrades the aesthetics.
On the other hand, this is an often appreciated and relatively lightweight aero bike at a great price that will allow you to purchase additional accessories—for example, a bike counter or a power meter.
List of the best road bikes under $5000 with the info about their type, frame material, groupset, and weight.
My Verdict
Polygon Helios A8X is the best road bike under $5000 overall. Thanks to the full-carbon frame, internal cable routing, and the latest Shimano Ultegra Di2 groupset. It provides one of the best price-value ratios of all bikes on this list.
Liv Langma Advanced Disc 1+ AR is the best road bike under $5000 for women. It has a women-specific carbon frame and sizes to provide the best fit possible. It also features SRAM Rival eTap wireless groupset.
Trek Madone SL 6 is the best aero road bike under $5000. It has an aero-optimized frame with deep-section Bontrager wheels and Shimano Ultegra mechanical groupset. It's also very stiff, making it a fast rocket, especially for flats and rolling terrain.
If you want to learn more about road bikes in this price range and how to choose them, I recommend reading the following section.
How to Choose the Best Road Bike Under $5000?
This is a shortened version of my road bike guide. I adjusted it to comply with this price range.
Road Bike Type
The $5000 budget offers mainly performance (lightweight/all-rounder) and aero road bikes. You may also find 'premium' endurance road bikes.
Performance Road Bikes (All-Rounders)
Performance road bikes (you can also find them under "lightweight," "race," and "all-rounder" road bikes) are like endurance bikes except for their more aggressive geometry.
Thanks to it, the rider sits in a more aerodynamic position with a lower drag coefficient. The weight is also slightly lower than on endurance road bikes. Thus, performance road bikes are ideal for hilly or mountain terrain and racing.
This type of road bike is unsuitable for people who are not too flexible. Beginners may also struggle with them. It takes some time to get used to the racing riding position and high stiffness.
Recently, manufacturers started to focus more on optimizing their aerodynamics, taking the best from the aero and lightweight worlds. That's why we can call them all-rounders.
Aero Road Bikes
Aero road bikes have thicker tubes and deep-section wheels for better aerodynamics.
As a result, they excel on flats, descents, hilly terrain, and cross-winds because they can maintain speed easily. Their geometry is similar to performance road bikes.
On the other hand, they are more expensive than all-rounder and endurance bikes, heavier, and less agile.
Endurance Road Bikes
Endurance road bikes are a great option for beginners and people who want to take long trips.
These bikes have more relaxed geometry, so you can ride more upright. As a result, you don't have to be as flexible and you will enjoy more comfort.
On the other hand, you will be slower than on a performance road bike, which pushes you to a more aggressive aerodynamic riding position.
Frame Material & Bike Weight
Road bikes below $5000 have carbon framesets (you may also encounter expensive aluminum frames). Below, I explain the benefits and disadvantages of these materials.
Carbon road bikes are stiffer and lighter than aluminum road bikes. Carbon is more labor-intensive and more expensive. The main downside is that internal cracks can appear and cause failure under additional pressure if you crash. Therefore, an inspection after a crash is highly recommended.
Aluminum is a relatively cheap material that is not as labor-intensive as carbon. Aluminum frames are less stiff and heavier than carbon frames, but they are more affordable. This means that the other components (like the groupset or wheels) are usually better than on carbon bikes for the same price. The downside of aluminum frames is that they may corrode over time.
Sources: CyclistsHub, SheldonBrown, ScienceDirect, CyclingWeekly
The following table shows road bike weights based on the frame material.
Groupset
Road bikes for up to $5000 use 2X groupsets. The gear selection (mostly 2×11spd or 2×12spd) is wide enough for most terrains (it also depends on the cassette and chainring gear ratio).
Avoid cross-chaining to improve efficiency and prevent damaging the components when riding a (road) bike with a 2X.
Which Groupset Manufacturer to Choose?
There are 3 main manufacturers of groupsets – Shimano, Campagnolo, and SRAM. Shimano dominates the market.
According to Credit Suisse, Shimano had about 80% of the global share in bike components in 2016. More recent estimates speak rather of 70%.
Road bikes under $5000 usually have Shimano 105 Di2, Ultegra (Di2), or SRAM Rival eTap AXS groupsets. I recommend my Shimano vs. SRAM road bike groupsets comparison for more details.
Bikes with Campagnolo groupsets are almost non-existent in this price range.
Check out the following table showing groupset ranges from various manufacturers and how they compare.
TIP: Learn more about the pros and cons of electronic and mechanical groupsets.
Brakes
Road bikes under $5000 have hydraulic disc brakes. Rim brakes are almost dead in this price range. Below I explain disc brakes' pros and cons compared to rim brakes.
Disc brakes are much more effective in various weather conditions, so your stopping power is not affected. They also don't require as much force to be applied to the brake levers.
Their downside is the weight, more difficult maintenance, and higher price. This means that a bike with disc brakes will have worse components than a bike with rim brakes at the same price.
Road bikes below $5000 come with hydraulic disc brakes. They are more convenient than mechanical ones, but also more expensive.
Wheels & Tires
Let me explain them in more detail.
Wheel Type – Clincher vs. Tubular vs. Tubeless
Clinchers are the most widespread type of wheels/tires. The tire is supported by an inner tube made of rubber or latex. They are used on road bikes of all price ranges.
Tubular tires are more common among professionals, but you hardly ever find them on production road bikes.
Tubeless tires are the most modern and can be found on road bikes below $5000. They don't use an inner tube but have a tire sealant instead. They have lower rolling resistance and are more comfortable. On the other hand, replacing them is more difficult than replacing clinchers.
NOTE: If the wheels are 'clincher tubeless-ready,' you can use them with tubeless tires.
The following table lists the advantages and disadvantages of different types of wheels.
Tire Width
The wider and more volume tire, the more comfort you get, and the more difficult terrain you will be able to ride in.
When I started riding a road bike, almost everybody used 23mm tires. According to the road.cc, it was a common standard.
Nowadays, 25mm and 28mm tires are the most popular. Some road bikes use a combination of a 25mm tire in the front and a 28mm tire in the rear, and some bikes come with 30mm tires (usually endurance road bikes).
You can always experiment and try different tire widths to find the ones that suit you best.
Rim Depth
The general rule is that the deeper the wheels, the more aero they are.
Aero road bikes in the below $5000 range use wheels deeper than 50mm. All-rounder bikes usually have sub-50 mm wheels.
Remember that the deep-section carbon wheels have one downside. Their handling in cross-winds requires more focus because they are less stable than shallow wheels.
When shopping for a road bike in this price range, double-check its wheels. Sometimes, it's better to sell the stock wheels and invest in these carbon road bike wheels or Chinese carbon wheels for maximum performance gain.
Road Bike Size
You have to choose the correct bike size and geometry to avoid injuries caused by the wrong bike fit and increase overall riding comfort.
Road bike sizes are given in centimeters (48cm, 50cm, 52cm…) or descriptive sizes (S, M, L, XL, etc.).
Geometry-wise, things are a little more complicated. Simply put, endurance road bikes will push you into a more upright position, while performance bikes will push you into a more aggressive (aero) position.
I recommend the Bikeinsights tool that helps you compare different bike geometries. Avoid reach, which is too long, or drop, which is too large, if you are less flexible. Feel free to watch the following video or read this guide by Bikeradar to learn more.
---
Road Bikes Under $5000 FAQ
---
This post is regularly updated to provide the most up-to-date product tips. If you find a product that is not up to date, please, contact me.