CyclistsHub is supported by its readers. We may receive a commission if you buy products using our links (learn more).
This is a selection of the best road bikes under $1000 for men & women. They are ideal for beginners, people with a limited budget, or those who need a spare bike for winter training.
I've been doing road cycling for more than five years now. However, I was always very budget-limited, so I tried to find the best value for my money.
That's exactly what I did when putting this selection together – I found bikes I would ride myself as a beginner.
The best road bike under $1000 for men is Trek Domane AL 2 – endurance geometry, carbon fork, and Shimano components. This bike is all about riding comfort.
The best road bike under $1000 for women is Liv Avail AR 4 – women-specific geometry, carbon fork, disc brakes, and Shimano components. This bike is perfect for ladies.
Continue reading to learn more about the selected bikes, how to choose a road bike under $1000, what to expect at this price range, and much more.
Let's dive in!
---
IMPORTANT NOTE: Due to the shortage of bike components and high demand for bikes, many bikes are out of stock online. Unfortunately, it is necessary to wait even several months for some bikes.
As pinkbike.com predicts, the prices of bicycles will probably keep increasing in 2022 due to multiple factors like increased labor, shipping, and material costs.
Therefore, if you like a bike and its size is suitable for you, I recommend buying it.
What Are the Best Road Bikes Under $1000?
The best road bikes under $1000 have aluminum or steel frames. They mostly come with rim brakes that are lighter and cheaper than disc brakes, allowing manufacturers to equip these bikes with better components (like the groupset). They feature either 2X or 3X gearing and weigh around 10 kg (22lbs).
If you are not sure how to choose a road bike under $1000, please check the buyer's guide section first. You find out more about the features and what the market offers.
Trek Domane AL 2 (Best Road Bike Under $1000)
Domane – Treks' family of endurance road bikes features Domane AL 2. A great bike that is affordable and ideal for beginners.
Its geometry allows you to ride in a more upright position that is more comfortable for most riders who are just starting with road cycling or are not flexible.
Domane AL 2 features a carbon fork that can absorb road vibrations that would otherwise be transferred to your hands, wrists, elbows, and, eventually, shoulders. As a result, it further increases your comfort.
Trek Domane AL 2 comes with 28mm puncture-resistant and tubeless-ready tires suitable for light gravel sections.
The frame is also compatible with DuoTrap S speed sensor (not included). It is a great accessory for more performance-oriented people because it tracks speed, cadence, average speed, distance, and other useful data.
With this bike, you can do bikepacking too, because it is compatible with a rear rack that allows you to equip panniers that extend your storage capacity for bikepacking essentials.
I see a small disadvantage in the 2x8spd gearing, limiting some riders who enjoy climbing steep sections. But the Shimano Claris groupset is standard in this price range.
There is also Trek Domane AL 2 Disc, which is a bit more expensive (and heavier). So if you are a disc brakes enthusiast who doesn't mind spending a few hundred bucks more. You have the option.
TIP: Upgrade the stock wheelset with these budget road bike wheels to make the bike faster.
Polygon Strattos S2
Polygon Strattos S2 doesn't try to be a bike that it's not. Instead, it's a simple rim brake road bike for a good price.
Surprisingly, it has a carbon fork to absorb vibrations better than steel or aluminum forks.
What I like the most, however, are the 28mm tires. Those are much more comfortable than 25mm tires.
Thanks to the included mounts, you can equip it with panniers, racks, and additional accessories and make it a bike touring machine.
The 2022 model of Strattos S2 differs from the 2021 model in the frame color and components, but they are comparable.
If you are willing to expand your budget, I recommend checking out other models from the Strattos line. It ranges from (S2 to S8). The higher-end models have better components.
Giant Contend 3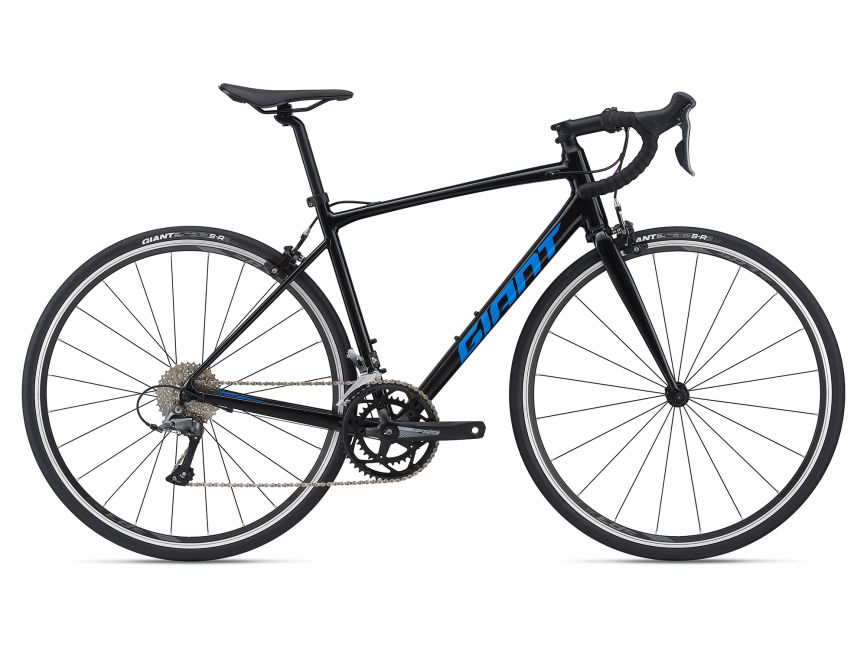 The Giant Contend 3 is an affordable road bike offering a great price-value ratio. Its endurance geometry allows you to sit in a more upright position which is more comfortable than an aggressive racing position.
What is a nice-to-have feature is the wide tire clearance. Contend 3 can accommodate up to 32mm tubeless tires. This means you get even better comfort on roads with a bad surface or ride in light gravel.
Contend 3 is stiff, so you get a good power transfer and quick acceleration. Its main downside is that it offers 2x8spd only. This may be limiting for riders who want to climb steep sections.
Thanks to the partial internal cable routing and lack of decals, the bike looks clean. Additionally, you can choose from 2 colors (red and black).
If you don't mind spending a little bit more, you can get Giant Contend 3 – it is the same bike but with disc brakes.
Tommaso Imola
This is probably the most affordable bike in this selection. Tommaso Imola could be your next bike if your budget is really tight.
It comes with 25mm tires and a durable steel fork. In addition, you can equip it with a rear rack and panniers if you want to take long trips and for which you need a large storage capacity.
When you look at the picture of this bike, you also notice it has very beginner-friendly geometry. This means it will allow you to sit in a more comfortable, upright position.
What I don't like about this bike is the 3X groupset. It is heavy, and too complicated, and you have to think more about cross-chaining. The positive thing about it is that it's made by Shimano, so the quality is guaranteed.
You may also be interested in the Best Beginner Road Bikes.
Specialized Allez and Specialized Allez for Women
Allez line is the most affordable road bike line from Specialized. It has an aggressive, performance-oriented geometry, so if you want to hunt your local KOMs (or QOMs) on Strava, commute, or have a spare bike for winter training, Allez may be a good option for you.
It features a Shimano Claris 2x8spd groupset. Yes, this gear range is limited, and jumps between gears are larger, but you will always find the right gear if you don't ride steep sections.
Specialized Allez comes with a FACT carbon fiber fork. FACT means that Specialized used their rich know-how when designing the fork. In other words, the fork is stiff yet flexible to absorb road vibrations and increase your riding comfort.
Allez has partial internal cable routing, and it is compatible with a rear rack and fenders. So, you can use it for large distance trips thanks to the extended storage capacity you get with panniers.
Cannondale CAAD Optimo 4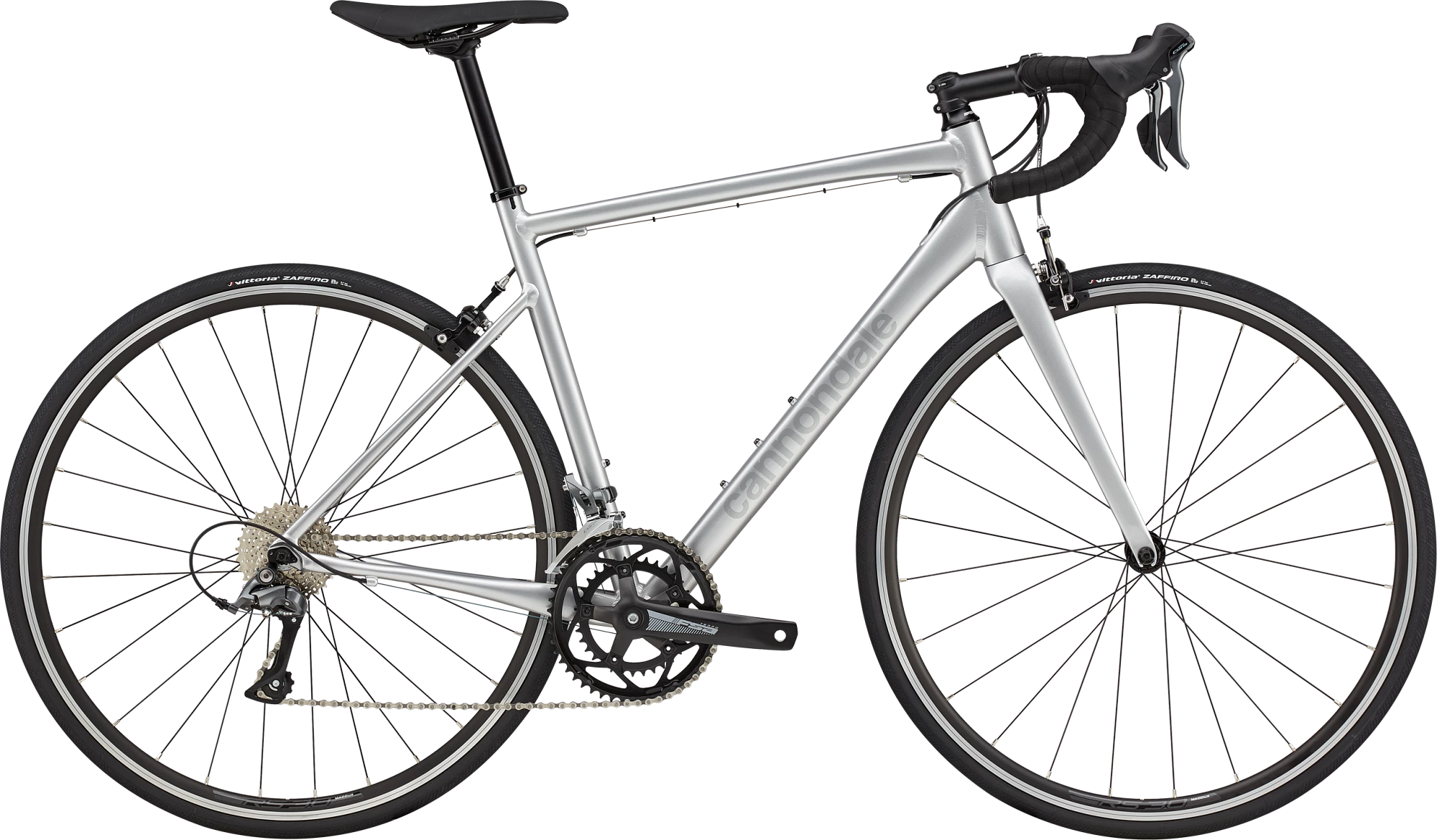 CAAD Optimo 4 is a perfect bike for riders who want to ride fast. Its more sporty – performance-oriented – geometry allows you to ride in a more aerodynamic riding position.
You can take advantage 2×8 Shimano Claris groupset that does not provide a large gear selection but is relatively quick, precise, and reliable.
I am also a huge fan of the simplicity of this bike. Nice, clean paint job. No extra decals. This is how I like it.
Optimo 4 comes with a carbon fork that can better absorb road vibrations and improve riding comfort.
If you are looking for an affordable road bike that is quick, this one is worth your attention.
Don't also forget to buy a pair of road bike pedals. Most road bikes come without them.
Liv Avail AR 4 (Best Road Bike Under $1000 for Women)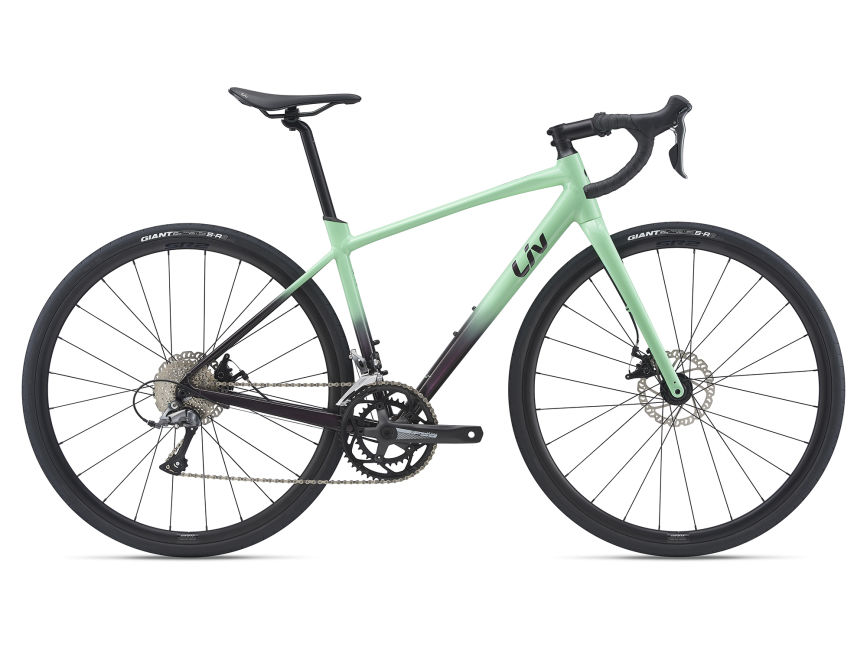 Liv Avail AR 4 is a hidden gem. It offers an excellent price-value ratio that makes it one of the best road bikes for women in this price range.
Its endurance geometry was designed specifically for women. It is perfect for beginners or women with limited flexibility because it allows them to sit in a more comfortable, upright position.
Avail AR 4 comes with mechanical disc brakes that will stop you in wet conditions or long descents within a blink of an eye. Well, not as fast, of course, but you know what I mean – they are effective.
The carbon fork provides stiffness yet a good amount of comfort because it will absorb road vibrations.
Probably the only downside is the Shimano Claris groupset that offers 2x8spd. It would be great if AR 4 comes with Shimano Sora or Tiagra. But these groupsets are rare in this price range. So if you want to get a better groupset with a wider gear selection and lower weight, you have to pay more for Liv Avail AR 3.
For under $1000, Liv Avail AR 4 is a good bargain. Do you agree?
Schwinn Volare 1400
I know there are many Schwinn fans out there, so I had to include Volare 1400 in this selection. Although when you compare its features with other bikes, it may seem like a no-brainer. So why should you buy Schwinn Volare 1400?
It is probably the most beginner-friendly bike in this selection. It comes with a quick-release seatpost clamp to adjust the seat height without any necessary tools.
The packing includes platform pedals with straps, so you don't need any road cycling shoes. A kickstand is also included. Thanks to it, you don't have to put the bike on the ground, so you avoid scratching it.
Volare 1400 is shipped semi-assembled, so you will need just a few basic tools to install handlebars or pedals.
The main downsides of this bike are relatively high weight and limited gear selection (2x7spd). It is, therefore, ideal for commuting and not for races, endurance rides, or climbing steep sections.
You can choose from 2 colors – matte purple (ideal for women) or red (ideal for men).
Triban RC500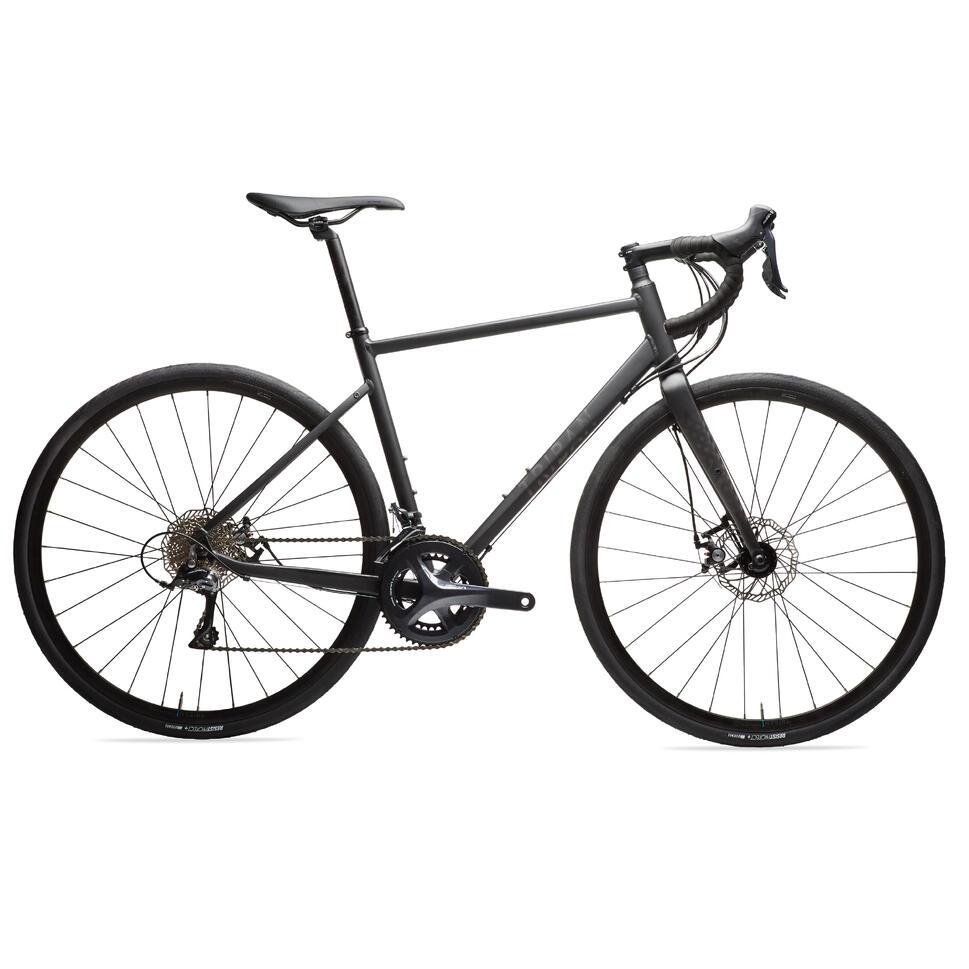 Triban RC500 is one of the most versatile road bikes in this selection. It is compatible with 700c or 650b wheel size, so it is like a gravel bike.
These two-wheel sizes allow you to equip it with various tire widths – up to 36mm with 700c wheels or 40mm with 650b wheels. This tire width is great for dirt roads or gravel, so you don't have to limit yourself to paved roads only.
However, the RC500 comes with 700c tubeless-ready wheels and 28mm tires ideal for rough tarmac. Please, remember that the bike does not come with tubeless-ready tires.
RC500 features are the Shimano Sora 2x9spd groupset, so you will always find the right gear and disc brakes that provide you with enough stopping power under any conditions.
Triban RC500 packing includes platform pedals, so you don't have to buy them separately (although I recommend you get a pair of road bike shoes for better comfort and pedal efficiency).
If you decide to go for a long trip or bike packing adventure, you will be pleased to hear that RC500 is compatible with a rear rack and mudguards.
Decathlon also offers a lifetime frame warranty. Can this be any better?
If you are interested in bike packing that includes a large variety of terrains, check out my selection of gravel bikes.
Triban Regular Women's Road Bike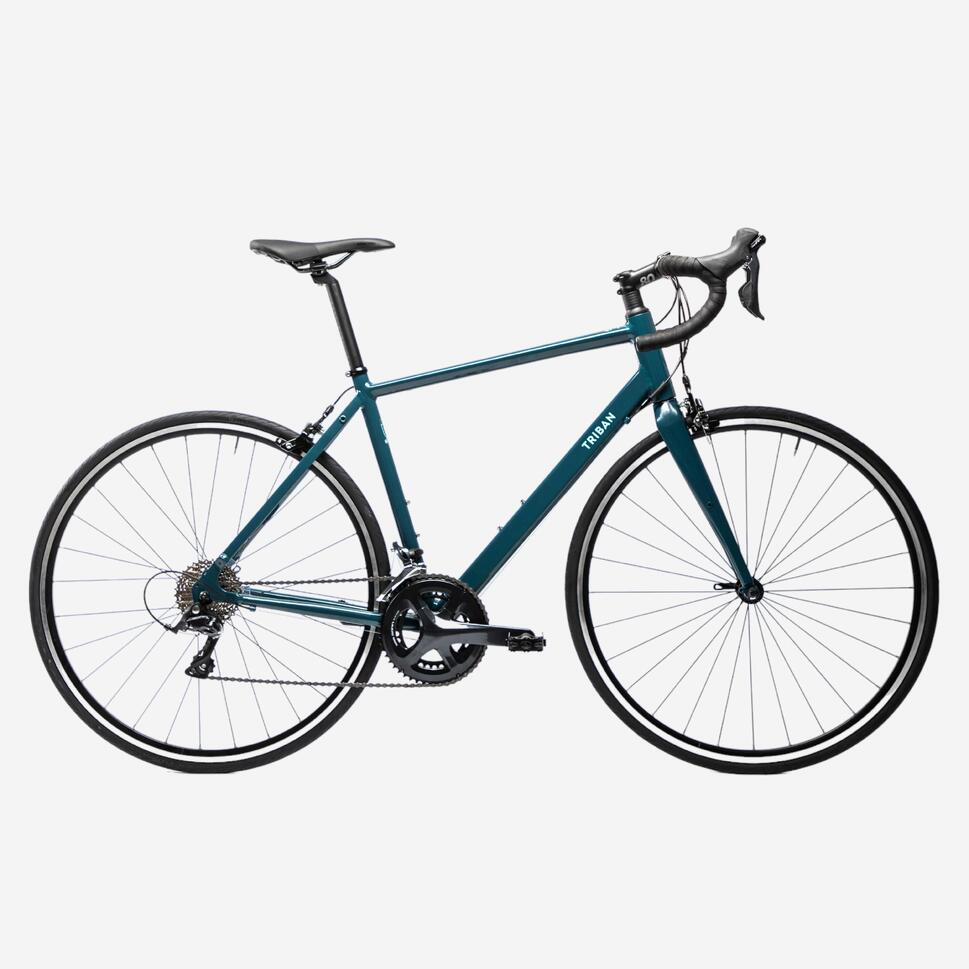 The Decathlon didn't forget about women either. This road bike was designed specifically for women. It is ideal for ladies who want to try road cycling because of its upright, endurance geometry that is more comfortable than performance geometry.
Thanks to the carbon fork that can absorb minor road vibrations, your ride will be even more comfortable.
Thanks to the Shimano 2x9spd Sora groupset, you will always find the right gear that will be easy enough to climb your local hills.
Another benefit is that this bike comes with platform pedals, so you don't have to buy them separately.
A lifetime warranty covers the frame, and you can choose from snow-white or dark petrol blue.
My Verdict
The best road bike under $1000 for men is the Trek Domane AL 2.
Domane AL 2 has a relaxed geometry ideal for people who want to start with road cycling. You will also enjoy more comfort thanks to 28mm puncture-resistant tires and a carbon fork.
It comes with a Shimano Claris 2x8spd groupset that will allow you precise and quick shifting to tackle any terrain.
This bike is compatible with the rear rack and other accessories like mudguards, so it will be your perfect companion even for bikepacking.
The best road bike under $1000 for women is the Liv Avail AR 4.
It comes with women-specific endurance geometry that is comfortable even for long-distance trips.
You will also take advantage of the mechanical disc brakes that don't lose their efficiency when it rains as the rim brakes do.
And last but not least, the carbon fork and 32mm wheels will make your ride super comfy, and you can also ride on light gravel thanks to the puncture-protect tires.
How to Choose the Best Road Bike Under $1000?
NOTE: This is a consolidated version of my How to Choose a Road Bike guide. Feel free to read it to learn more about all types of road bikes.
Road Bike Type
The first thing you have to decide before buying a road bike is what type of road bike you want. Frankly, the $1000 price range does not offer too many options. You will most likely find endurance, performance-oriented, or touring/adventure road bikes only.
Endurance Road Bikes
Endurance road bikes are beginner-friendly because of their geometry. They allow you to ride in a more upright position that is more comfortable and does not require much flexibility. So if you are starting with road cycling, an endurance road bike may be a good option. However, the downside of endurance road bikes is that you will be slower due to less aerodynamic position.
Performance Road Bikes
Performance road bikes are also sometimes called lightweight or race road bikes. They are very like endurance road bikes. The main difference is their more aggressive geometry. It pushes the rider into a more aerodynamic position with a lower drag coefficient. They also tend to be very lightweight and stiff. This type of road bike is perfect for performance-oriented riders. Pro riders use performance road bikes for mountain stages with a large elevation.
Aero Road Bikes
Aero road bikes sometimes fall into the "performance road bike" category. They are optimized to be as aerodynamic as possible while maintaining other important features like stiffness. Their geometry is similar to the geometry of performance road bikes. Aero road bikes are popular among sprinters and racers, especially for criteriums, flats, and hilly races. Their main downside is higher weight than performance road bikes and high price. Aero road bikes start at around $2500.
Other Types of Road Bikes
There are also other road bike types like touring road bikes, cyclocross, gravel, time trial, etc. However, they are very niche-specific, so I don't explain them further in this article.
Frame Material & Bike Weight
Road bikes below $1000 are mostly made of aluminum, steel, and sometimes even carbon (e.g., carbon fork). So what are the benefits and disadvantages of these materials?
Aluminum is a relatively cheap material that is not as labor-intensive as carbon. Aluminum frames are less stiff and heavier than carbon frames. Their downside also is that they may corrode over time. Nevertheless, aluminum road bikes are the perfect entry-level point because of their affordability. Some experienced riders choose aluminum road bikes as their spare bike for winter training.
Steel road bikes are more common among touring road bikes. They are durable and easy to repair. They provide good power transfer and unique design thanks to thin tubes. Their biggest downside is that they are heavy.
Carbon road bikes are not very common in the under $1000 price range because of the carbons' high costs (which is probably its biggest downside). On the other hand, carbon is the stiffest and lightest material of these 3 (carbon has the highest stiff-to-weight ratio).
Sources: SheldonBrown, ScienceDirect, CyclingWeekly
You might also be interested in my in-depth comparison of bike frame materials.
Groupset
Road bikes for up to $1000 use mainly 2X or 3X groupsets. 3X groupsets may seem like a better option thanks to the wider gear range, but is it true?
Well, 2X groupsets are much more popular among road cyclists. They provide a wide enough gear range (mostly 2×8, 2×9, 2×10, 2×11) and are not as complicated and heavy as 3X groupsets.
I don't recommend buying a road bike with a 3X groupset unless the bike provides other major benefits, like a very good price-value ratio. 3X groupsets have no real advantage over 2X groupsets for road cyclists.
NOTE: Higher-end road bikes may come with 1X groupsets. But they are not by far as widespread as 2X groupsets.
What Groupset Manufacturer to Choose?
There are 3 main manufacturers of groupsets – Shimano, Campagnolo, and SRAM. Shimano dominates the market. According to Credit Suisse, Shimano had about 80% of the global share in bike components in 2016.
Road bikes under $1000 almost always come with cheaper mechanical groupsets like Shimano Claris or Sora. Some road bikes feature components made in-house or from less-known brands.
These groupsets differ mainly in their efficiency, weight, and shifting (which is up to your personal preference).
The following table shows groupset ranges from various manufacturers.
Brakes
Road bikes under $1000 almost always come with rim brakes. There are a few exceptions that feature disc brakes.
Rim brakes are cheaper, lighter, and easier to maintain than disc brakes. However, their main downside is their effectiveness during wet conditions or long descents.
Disc brakes are much more effective in various weather conditions, so your stopping power is not affected. On the other hand, they are heavier than rim brakes, more difficult to maintain, and more expensive.
Cheaper road bikes come with mechanical and more expensive bikes with hydraulic disc brakes. Mechanical are less effective than hydraulic but still provide a very good stopping power.
Source: cyclistshub.com (disc vs. rim brakes)
Wheels & Tires
There are many features to look for in wheels (wheel type, tire width, rim depth, etc.). Luckily, things are relatively simple in the below $1000 range.
Wheel Type – Clincher vs. Tubular vs. Tubeless
Let me briefly explain 3 basic types of tires:
Clinchers are the most widespread type of wheels/tires. The tire is supported by an inner tube made of rubber or latex. They are used on most low-end road bikes.
Tubular tires are more common among professionals. Some hobby riders use tubular tires as well because they allow you to inflate lower pressures. This means they are more puncture-resistant and more comfortable.
Tubeless tires are the most modern ones. Tubeless-ready wheels allow you to use a tube-free tire because they use sealant instead of the inner tube. Tubeless-ready wheels are relatively rare in the below $1000 range.
Learn more in my comparison of clincher vs. tubeless vs. tubular wheels/tires.
NOTE: If the wheels are 'clincher tubeless-ready,' you can use them with tubeless tires.
Tire Width
The wider and more volume tire, the more comfort you get, and the more difficult terrain you will be able to ride in.
According to road.cc, the common standard was 23mm tires, but it slowly changed to 25mm tires. Nowadays, road bikes are designed to fit 28mm and sometimes even wider tires.
I recommend you do a few experiments and test rides with various tire widths inflated to different pressures to find which one best suits you.
Road Bike Size
The last thing you should consider is the right size of your new road bike. Road bike size is usually given in centimeters (48cm, 50cm, 52cm…) or descriptive sizes (S, M, L, XL, etc.).
Try the Bikeinsights tool to compare the geometries of different road bikes.
---
Road Bikes Under $1000 FAQ
---
This post is regularly updated to provide you with the most up-to-date product tips. If you find a product that is not up to date, please, contact me.