CyclistsHub is supported by its readers. We may receive a commission if you buy products using our links (learn more).
These are the best endurance road bikes suitable for beginners and people who prefer comfort over chasing seconds in the $1000 to $4000 price range.
I entered road cycling by buying an endurance road bike and it was one of the best decisions I made.
The upright riding geometry contributed to overall riding comfort, encouraging me to cycle more. This might not happen with performance geometry because of the aggressive riding position. They are also pretty versatile (as seen from the preview picture).
So I rolled up my sleeves, dug into the reviews and discussions, and wrote this article.
Thanks to my buyer's guide below, you learn what to expect, what to look for, and what mistakes to avoid when shopping for an endurance road bike.
Let's dive in!
What Are the Best Endurance Road Bikes?
The best endurance road bikes have relaxed geometry (short reach, upright stack) and tire clearance for wider tires (up to 36mm). Depending on the price range, they have aluminum or carbon frame, mechanical or disc brakes, and aluminum or carbon wheels.
I recommend reading the How to choose an endurance road bike section first for detailed information.
Trek Domane SL 5 Gen 5
The Domane SL 5 Gen 5 is one of Trek's most affordable carbon endurance road bikes.
It has a few unique features. The first is the IsoSpeed decoupler which increases riding comfort by absorbing vibrations.
The second is an internal storage compartment where you can store multitool and other small things (for example, emergency gels).
Unlike many other bikes on this list, Domane SL 5 has fully internal cables, making it look clean.
Trek engineers also didn't underestimate aerodynamics. At first glance, you can see that the frame is designed to combine aerodynamics and low weight. So it follows today's trends.
Although you'll pay a little extra for this bike, you can count on investing in quality. Trek is a world-renowned brand with a long tradition and high attention to detail.
Canyon Endurance AL 8 (Best Aluminum Endurance Road Bike)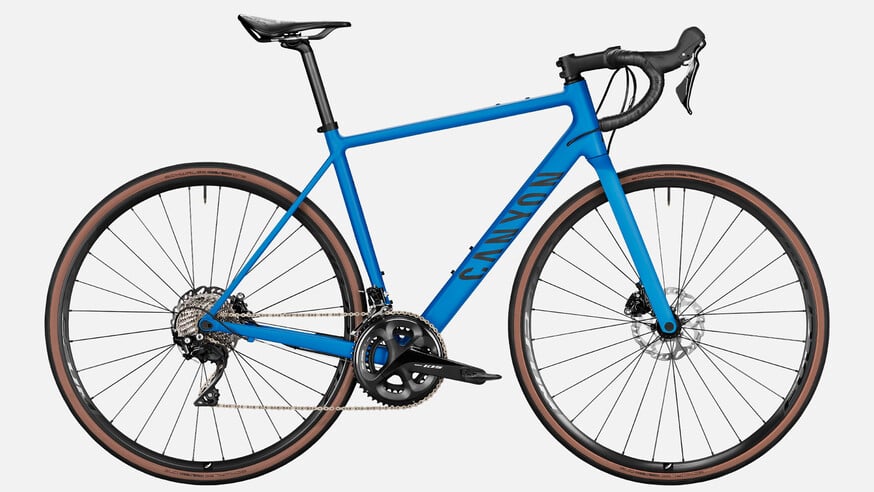 My first proper road bike was from Canyon. From looking at the close-up photos, I can say that the Endurance AL line has improved considerably.
You know, I've seen hundreds of bicycles already. But I am impressed with where Canyon has taken the build quality.
Their aluminum frames look almost as good as their carbon frames. Look at how smooth each weld is!
Add quality Shimano components to that and a great price compared to similar bikes from the competition, and you get a top aluminum endurance bike that won't ruin your budget.
The downside, however, is that you'll probably have to wait for the bike. Canyon's bikes are often in high demand and sold out.
Marin Gestalt 2
I know, I know. This is not exactly a road bike, by definition. But I believe Gestalt 2 deserves its place here.
You will appreciate its up to 35mm tire clearance, so you will be able to tackle rougher terrains than with narrower tires.
It's a shame that it doesn't have Shimano 105 (2x11spd), but only the lower-end Tiagra (2x10spd), but if you are not too demanding, it shouldn't be a problem.
If you can appreciate the original design and the additional mounts for accessories or mudguards, you will also forget that the brakes are only mechanical and not hydraulic.
So, if you want a nice-looking and versatile bike that won't break your budget, I can recommend it.
Eventually, check out these gravel bikes for under $2000 for more inspiration.
ROSE Reveal Four Disc 105
ROSE Reveal Four Disc 105 is one of the simplest yet best-looking road bikes on this list. I love its original chameleon finish and internal cable routing. It looks so clean.
It's a perfect bike for less-flexible people or those who prefer comfort over speed. This is thanks to its relaxed geometry that allows you to sit more upright.
It has a Shimano 105 groupset and hydraulic disc brake wheels. Unfortunately, the wheels are not tubeless-ready.
The main disadvantage is that ROSE is not widespread in the US, so you have to order it from Germany and pay about 250€ (270$) for the shipping.
Don't have pedals yet? Browse road bike pedals for your new bike!
Specialized Roubaix Sport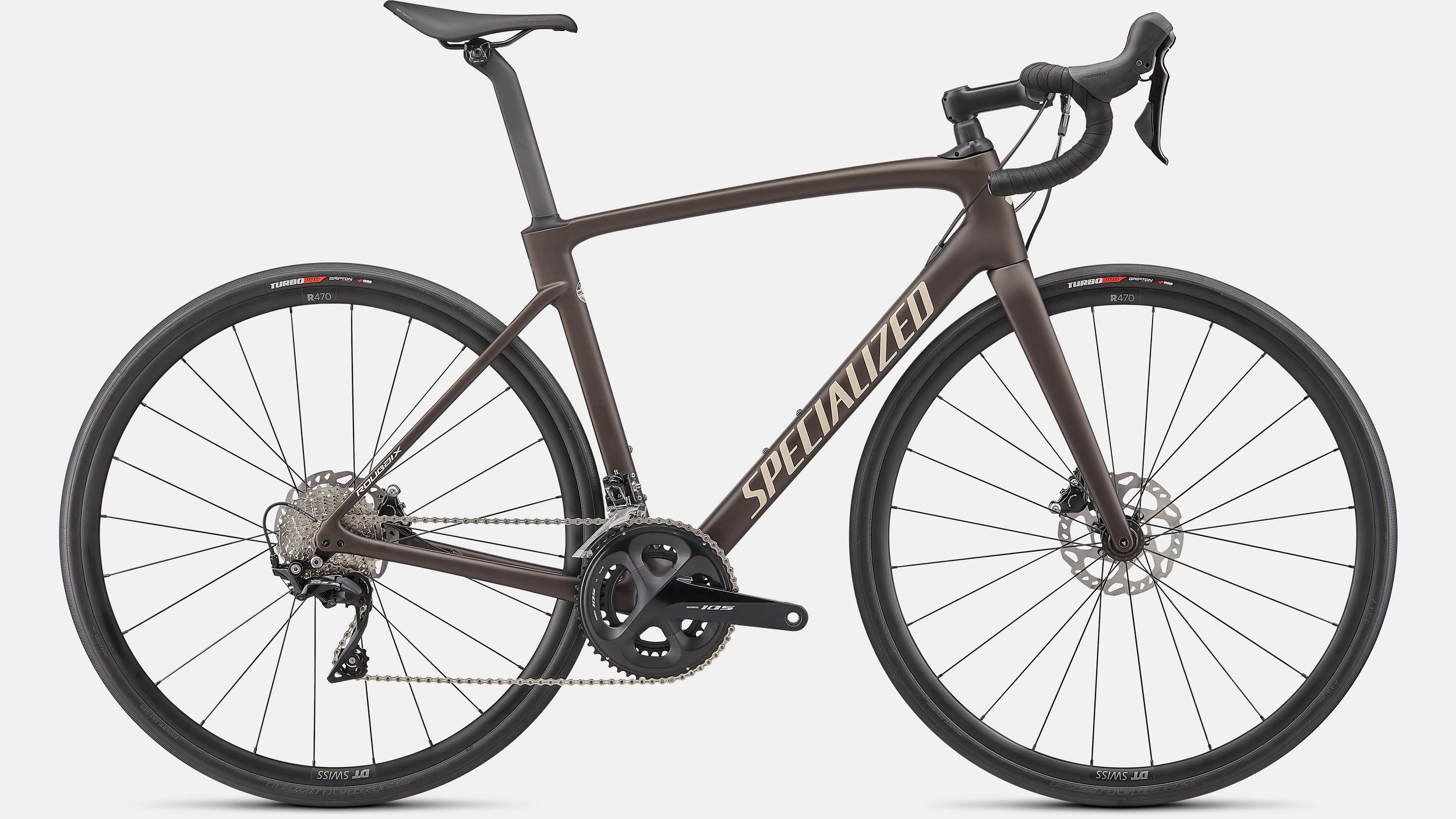 Specialized Roubaix Sport has two technologies worth pointing out.
The first is the Future Shock 1.5 (20mm travel), which basically acts like a dampener. It reduces the shocks that would otherwise be transmitted through the handlebars into your hands.
The second technology is the compliant seat post, which reduces vibration and increases ride comfort.
This makes this bike an ideal candidate for rough tarmac or worse roads, or cobbles and light gravel.
Not for nothing, this bike is named Roubaix, after one of the most famous road races (Paris–Roubaix).
The other components are pretty much average in this price range. But you also pay for a well-known and reputable brand.
Cervélo Caledonia
If you don't want to compromise too much between comfort and speed, you should consider the Cervélo Caledonia.
This road bike not only looks good but can also act as a race bike. Its geometry is not overly relaxed but not overly performance oriented.
The Caledonia family is ideal for long-distance riding. And thanks to the up to 34mm tire clearance, you won't have to limit yourself to paved roads only.
This bike is, like most bikes on this list, available with different groupsets. It just depends on how much you want (or can) invest in your new bike.
It's just a pity that the cockpit is not integrated, as is the case with e.g., Rose Reveal or Trek Domane.
Also available at competitivecyclist.com
Ribble Endurance Ti Disc – Sport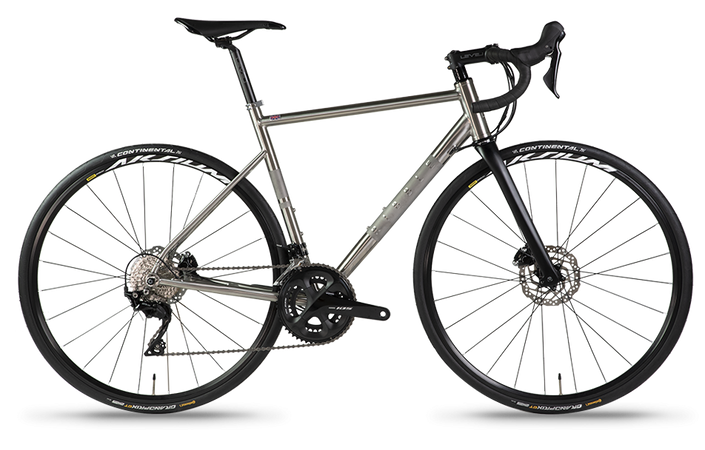 Who doesn't like titanium road bikes? I had to include at least one on this list.
English Ribble offers a wide range of road bikes, but their Endurance Ti Disc fits the bill.
Surprisingly, it's not even too expensive, which can't be said for most boutique titanium bike brands.
At the same time, you can customize it. You have a variety of components to choose from, including groupsets, wheels, tires, and many more.
So if you like to stand out from the crowd with a unique bike and appreciate the attention to detail, the Ribble Endurance Ti Disc deserves your attention (and maybe your money).
Shipping from the UK to the rest of the world is available.
Giant Defy Advanced 2 & Liv Avail Advanced 2
Giant is known for its good-value bikes. They also have a brand focused on women's bikes (Liv), so the Giant Defy Advanced 2 and the Liv Avail Advanced Disc 2 are almost the same bikes except for a few details.
Both have a carbon frame, fork, and seatpost that absorb vibrations and improve riding comfort.
They come with 32mm tubeless Giant Gavia Fondo 1 tires for better riding comfort.
It's a shame they have old Shimano FC-R510 cranksets. You would expect at least Shimano 105 R7000 in this price range.
But overall, they look modern. In addition, Giant and Liv are well-known brands with a worldwide presence of distributors.
Pinarello X1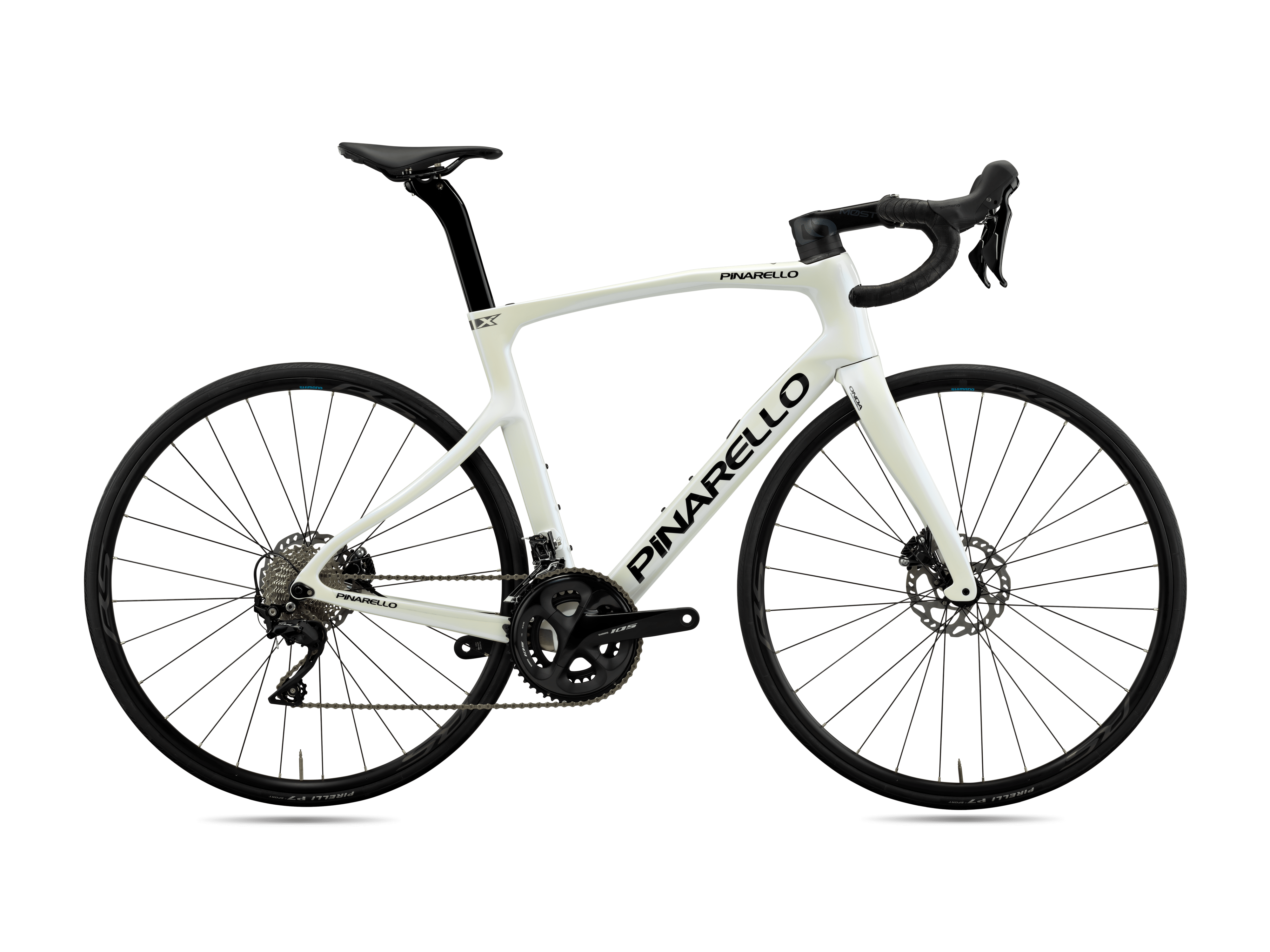 Most people know Pinarello only thanks to the Dogma series, which is performance oriented.
However, Pinarello also has endurance-oriented 'X' road bikes, suitable for long rides while not sacrificing comfort.
I have included this bike because friends who tried it in Mallorca were full of praise.
Although you pay extra for the brand, you get a comfortable bike that doesn't resemble all the others, thanks to the Pinarello tube shaping.
Didn't find the bike you were looking for? Check out the road bikes under $5000. Maybe you'll find your new bike there.
List of the best endurance road bikes with info about their frame material, groupset, weight, and price range.
My Verdict
Based on thorough market research and my insights, I included endurance road bikes in the $1000 to $4000 price range in this article.
The following three stand out among the rest (even considering the alternatives in their price range):
The Trek Domane SL 5 is the best endurance road bike overall thanks to its fully integrated cables, aero-optimized frame, and IsoSpeed decoupler that enhances ride comfort.
Canyon Endurance AL 8 is the best aluminum endurance road bike, thanks to its build quality. Canyon has taken weld smoothness to a new level. This bike almost looks like a carbon bike.
Marin Gestalt 2 is the best "all-road," although this is more of a gravel bike, the wide tire clearance and additional mounts make it an all-around bike that you'll have a lot of fun with.
To learn more about endurance road, read the following buyer's guide.
How to Choose the Best Endurance Road Bike?
I have tailored the following guide to endurance road bikes. If you want to learn more about road bikes in general, read my complete guide: 'How to Choose a Road Bike guide.'
Road Bike Type
There are many road bike types. Below, I explain how endurance road bikes differ from others.
Endurance road bikes are a great option for beginners and people who want to take long trips.
They have more relaxed geometry, so you can sit more upright. As a result, you don't have to be as flexible and will enjoy more comfort.
On the other hand, you will be slower than on a performance or aero road bike, which pushes you to a more aggressive aerodynamic riding position.
Endurance road bikes also have wider tire clearance, so you can use them for riding light gravel, dirt roads, etc. They are more versatile than aero road bikes, for example.
Their weight is somewhere between lightweight and aero road bikes. Of course, they are less aero-optimized.
Frame Material & Bike Weight
Endurance road bikes have frames from one of the following 4 materials:
Aluminum endurance road bikes are more affordable but heavier and less than carbon frames.
Carbon endurance road bikes are considered "higher-end." They are stiffer and lighter than aluminum road bikes.
Steel and titanium endurance road bikes are rare. There are two types – low and high-end. The mass-produced bikes are more affordable, while the custom-made ones are more expensive and luxurious. The bikes made from these materials are unique thanks to the rounded tube shape and riding characteristics.
TIP: Learn more about bike frame materials.
The following table shows road bike weights based on the frame material. The general rule is that high-end endurance road bikes can weigh under 7 kg, but low-end ones can easily exceed 10 kg.
Groupset
Endurance road bikes use 2X groupsets with 2×10, 2×11, or 2×12spd. The gear ratios are lighter than on performance/aero road bikes, thanks to cassettes with more teeth (e.g., 11-34T).
When riding a (road) bike with a 2X, avoid cross-chaining to improve efficiency and prevent damaging the components.
Which Groupset Manufacturer to Choose?
There are 3 main manufacturers of groupsets – Shimano, SRAM, and Campagnolo.
According to Credit Suisse, Shimano had about 80% of the global share in bike components in 2016. More recent estimates speak rather of 70%.
SRAM is also pretty popular, thanks to their wireless groupsets. Campagnolo is rare on endurance road bikes.
See the following table to see the road bike groupsets hierarchy.
Brakes
Endurance road bikes have rim or disc brakes, depending on the price range. Low-end ones have rim brakes, while the higher-end ones have disc brakes.
Disc brakes are much more effective in various weather conditions, so your stopping power is not affected. They also don't require as much force to be applied to the brake levers.
Their downside is the weight, more difficult maintenance, and higher price. This means that a bike with disc brakes will have worse components than a bike with rim brakes at the same price.
Wheels & Tires
Let me explain them in more detail.
Wheel Type – Clincher vs. Tubular vs. Tubeless
Clinchers are the most widespread type of wheels/tires. The tire is supported by an inner tube made of rubber or latex. They are used on road bikes of all price ranges.
Tubular tires are more common among professionals, but you hardly ever find them on production road bikes.
Tubeless tires are the most modern and can be found on endurance road bikes. They don't use an inner tube but have a tire sealant instead. They have lower rolling resistance and are more comfortable. On the other hand, replacing them is more difficult than replacing clinchers.
NOTE: If the wheels are 'clincher tubeless-ready,' you can use them with tubeless tires.
The following table lists the advantages and disadvantages of different types of wheels.
Tire Width
The wider and more volume tire, the more comfort you get, and the more difficult terrain you will be able to ride in.
When I started riding a road bike, almost everybody used 23mm tires. According to the road.cc, it was a common standard.
Today, 28-, 30-, and 32mm tires are the most popular for endurance road bikes. But their tire clearance is often wider, allowing you to fit tires with threads for riding through light gravel, for example.
You can always experiment and try different tire widths to find the ones that suit you best.
Rim Depth
The general rule is that the deeper the wheels, the more aero they are.
Endurance road bikes usually come with shallower wheels for increased riding comfort (they are more comfortable than deep-section wheels).
Remember that the deep-section carbon wheels have one downside. Their handling in cross-winds requires more focus because they are less stable than shallow wheels.
Road Bike Size
You have to choose the correct bike size and geometry to avoid injuries caused by the wrong bike fit and increase overall riding comfort.
Road bike sizes are given in centimeters (48cm, 50cm, 52cm…) or descriptive sizes (S, M, L, XL, etc.).
Geometry-wise, things are simple when talking about endurance road bikes. They allow you to sit more upright, easing the pressure on your lower back, neck, and other body parts.
That's why they are popular among more casual riders or beginners. Performance road bikes tend to be less comfortable due to the more aggressive riding position.
I recommend the Bikeinsights tool that helps you compare different bike geometries. Feel free to watch the following video or read this guide by Bikeradar to learn more.
Other Features to Consider
When buying an endurance road bike, you will encounter features that are not as common on other road bike types.
For example, some endurance road bikes have suspended seatpost (Trek IsoSpeed, Canyon VCLS seatpost) or handlebars (Specialized Future Shock)
You can also find road bikes with hidden compartments for multitools and other small things to extend your storage capacity.
In-build compatibility with fenders and other accessories thanks to the additional mounts.
Always consider which features you will need and use before you buy. Don't be tempted by unnecessary features.
---
Endurance Road Bikes FAQ
---
This post is regularly updated to provide the most up-to-date product tips. If you find a product that is not up to date, please, contact me.